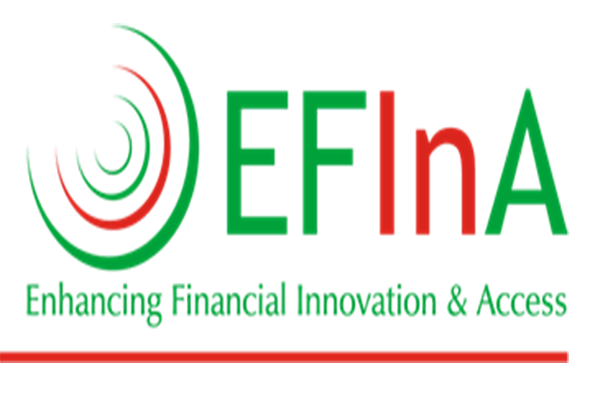 By Nume Ekeghe
As part of efforts to promote financial inclusion in Nigeria the Enhancing Financial Innovation & Access (EFInA) said it has so far invested about $18 million in grants to help advance financial inclusion and promote financial literary in Nigeria.
This was disclosed by the chairman of EFInA's board chairman, Mr.Segun Akerele, on the sidelines at the maiden edition of a capacity building programme for journalists that was organised by the organisation in Lagos, recently.
He said: "About 41 million Nigerians are financially excluded with the bulk of it coming from the north-west, north-east and north-central one of our focus areas is the north. So, are going to target quite a lot of effort to the north, there will also be a focus on women as there is a huge gender gap when it comes to financial inclusion.
"From the last dispensation i think we have spent a lot of money, almost $17 to $18 million so far through our grants.
"The essence of the forum is to try and find out how we can engage with the media and other strategic partners to drive financial inclusion.
"We are aware that financial inclusion is very important in Nigeria today. We have 41 million people that are excluded and we have a target of 12 per cent exclusion by 2020, but it is important that we get all the stakeholders involved in driving this message."
According to Akerele, EFInA has been able to discover the obstacles that lead to financial exclusion. Some of these he listed to include education and infrastructure.
"In fact, most of the products that we are creating now are for urban areas. So, the first thing is to identify what they need in the rural areas and how to move the infrastructure there."
Also speaking, the Grant Manager at  EFInA, Suzanne Adeoye, noted that irregular income, lack of employment and long distance to financial access points are also barriers to ensuring financial inclusion, saying only available products and services targeted at low income earners would help boost financial inclusion.
Adeoye, stressed that no organisation can drive financial inclusion alone. To this end, she said EFInA would be working with the media to increase financial services awareness and literacy to the under banked.
She therefore urged private sector operators as well as journalist to help harness technology and dissemination of credible information.