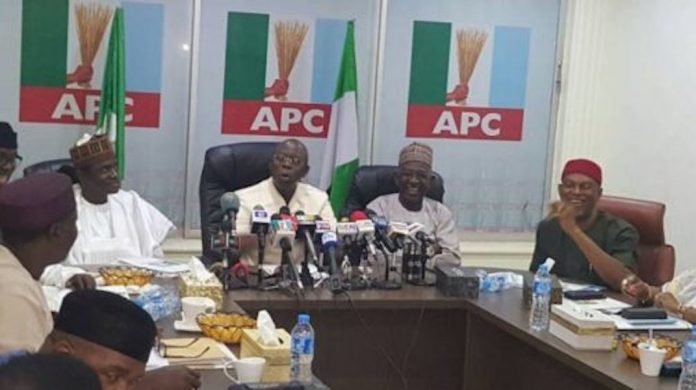 • Oshiomhole accuses Aisha Alhassan of anti-party activities
The National Chairman of the All Progressives Congress (APC), Adams Oshiomhole has said that the party was still expecting the result of the primary election held yesterday across the country to elect its presidential candidate.
Oshiomhole, who addressed journalists in Abuja, said the party was in the process of collating the results of the exercise and would make it public as soon they were ready.
"The process entails collating the results from ward levels to local council and then state level, to know how many persons participated in the primary election. These are well thought out ideal meant to return the country to democratic ideals," he said.
When asked the membership population of the party and the number of people that participated in the presidential primary, Oshiomhole said that although the APC boasts of 16 million members, but that he could not say the actual number that voted at the primary until the results were collated.
While reacting to the barrage of criticisms trailing the rerun governorship poll in Osun State, conducted by the Independent National Electoral Commission (INEC), Oshiomhole said those who were castigating the commission, including the Senate President, Bukola Saraki had no basis to do so.
He said that as far the party was concerned, INEC performed creditably well in the Osun state election. He also said that going by the narrow margin with which the winner emerged it was clear that the exercise was credible.
Oshiomhole, who vowed that the ruling party would not accept minority party members to superintend at the National Assembly, said that Senator Saraki should reconvene the legislative chamber so that the budget for 2019 general elections could be passed.
On the victory of the APC's candidate, Adegboyega Oyetola, the APC national chairman said the party worked hard to seal a deal with the candidate of the Social Democratic Party (SDP), Senator Iyola Omisore while the PDP was busy protesting against the rerun election.
"That we agreed that we are going to give him opportunity to contest for a senate seat, that is correct. Not just the Senate but House of Representatives and House of Assembly seats. Going forward, we discussed how to work together," he said.
He said that Omisore was a deputy governor to the founding national chairman of the APC, Chief Bisi Akande in 1999 when he was governor, adding that Omisore was not a fake progressive because he had an early working relationship with the progressives.
Oshiomhole also disagreed that APC sponsored intimidation against the opposition parties, saying that it was not in the interest of the ruling party to engage in such act.
Giving reasons for the disqualification of the Minister of Women Affairs, Hajia Aisha Alhassan, the chairman said the party took the decision because of her alleged disloyalty and antiparty activities