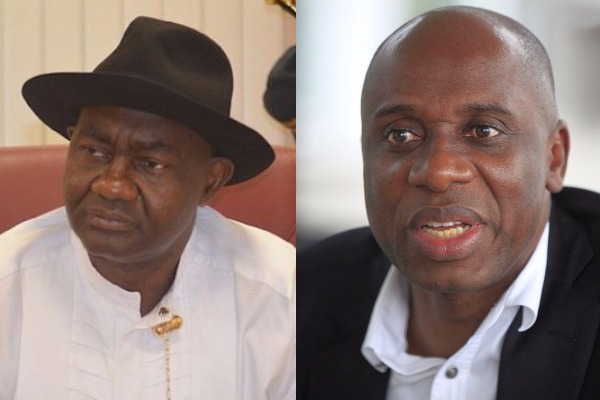 Senator representing Rivers South-east in the Senate, Magnus Abe, has denied a series of accusations leveled against him by the Minister of Transport, Rotimi Amaechi, assuring the former governor that contrary to his allegation, he would never betray him.
Abe who admitted that Amaechi had played crucial roles in his life and family, disclosed that if the story of his life were to be told in 10 chapters, six of the 10 chapters would be about Amaechi alone.
The senator who itemised the series of allegations against him by Amaechi, regretted Amaechi's accusations before some notable leaders of the All Progressives Congress (APC) including the National Chairman of APC, Adams Oshiomhole.
He said his decision to run for the governorship of Rivers State, a position to which Amaechi can no longer aspire "does not constitute a stab in the heart" as alleged by the minister.
Abe who also said he never intended to make public issues of disagreement between him and Amaechi, apologised that he was forced to do so because the former governor had proceeded to make false accusations against him in the public with the intention of tarnishing his reputation.
He said his major agitation was a call on the party to conduct governorship primaries
with a level playing field provided for him, promising that if this is done, he will gladly throw his weight behind the winner if he loses.
Responding clearly to the allegations, Abe described as a lie, Amaechi's insinuations that he arranged for his associates to write a petition to British police against him and his wife, saying even Ameachi himself knew his allegation was untrue and challenged the transport minister to bring up his evidence.
He also faulted Amaechi's allegation that he was not elected as the minority leader in their days in Rivers State House of Assembly but that he (Amaechi) was rather the one who imposed him on the House.
Against this background, Abe who disclosed that he was rather elected by his colleagues in the minority caucus, proceeded to name those who contested against him prior to his election.
Abe also described as laughable Amaechi's allegation that he did not win elections in Gokana, but instead, one Chief Victor Giadom forced the electoral officer to change results in his favour at gun point, emphasising that such incident never took place.
He also denied Amaechi's accusation that he was a serial betrayer having allegedly betrayed Chinwe Aguma, the late former Attorney- General of Rivers State who passed on recently, and another person standing trial over incidents involving his (Abe) elections, submitting that "both stories are also false to your knowledge."
He added: "l will supply the phone number of Hon. Igo Aguma for anyone to call him and ask Igo to give the details and particulars of this betrayal for public consumption. Till that happens I will respect the memory of my late friend and hold my peace."
On the allegation that he deceived Amaechi into appointing one Mr. Derek Mene as an Executive Director of the Niger Delta Development Commission (NDDC), Abe said: "I did not deceive you. I merely reminded you of the promise you made to me that in the event of an APC victory in 2015 that my interest in the national government will be placed above every other interest in Rivers State including your own interest. That clearly has not been the case."
Abe also described as lies allegations by Amaechi that he was working with Rivers State Governor, Nyesom Wike, against his party, APC, and also collected N34 million from the governor for his own thanksgiving, adding that to "continually drag Wike's name to the crisis created by deliberate acts of injustice to others, is nothing but a cheap smear campaign. It will surely fail."
On other allegations, Abe added: "I was particularly sad when you told the National Chairman that I cornered all NDDC contracts in Rivers state. All contracts in NDDC are approved by the MD who is your friend.
"I have not cornered any contract at all from the Commission. It is on record that simple courtesies and favours extended to Niger Delta Senators including PDP senators are not extended to me. The only issue you have with the NDDC is the fact that Mr. Mene refused to lead the campaign against me in Ogoniland despite all threats and intimidation including the threat to hand him over to the EFCC.
"You said I deceived you into sacking Mrs. Ibim Seminatari so I could appoint Mr Mene. This is, of course, a chronological impossibility. I was one of the defenders of Mrs Seminatari even in our meetings and the issue of Mr Mene did not come up until the new board was to be set up, in other words Mrs. Seminatari was sacked by the decision to set up a new board.
"You said I am only a friend to power and I only followed you because you were powerful. Time will tell, because it is in the nature of power to move. So one day we will either leave power or power will leave us, then we will know those who follow us because we have power. When we started our political journey you did not have the power you have today.
"I can still remember several times when it was just me and you together during your battle to be governor, and even more so when you were fighting the power of President Goodluck Jonathan. If I were only a friend to power as you claim today, I would have moved on long ago. I have tried to live by some rules. That is why I have decided to contest for the governorship of our state even under these very difficult circumstances and against your stated decision.
"You said Chief Victor Giadom told you that I did not support you when you were in court, fighting for your mandate and you named some Ogoni leaders as those who came to tell you that the Ogoni people are not with me. I will refrain from mentioning their names here but you may make their names public if indeed they told you so. Please believe whatever is convenient for you today. It will not change anything.
"Finally, I have tried to go over everything you said about me, including the fact that if the story of my life is in ten chapters you will occupy six of it."
Attachments area