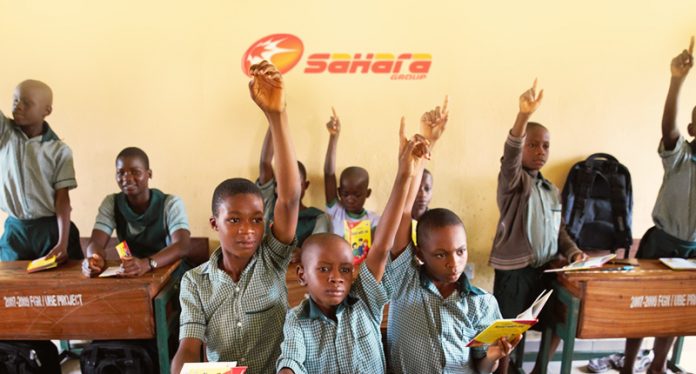 Sahara Group, has reiterated its commitment towards improving youth and child literacy and development across it's locations in Asia, Europe, Africa and the Middle East.
Speaking at a programme held to commemorate the International Literacy Day in Lagos, the Head, Corporate Communications of the organisation, Mrs. Bethel Obioma described literacy as the basis for lifelong learning and plays a crucial foundational role in the creation of sustainable, prosperous and peaceful societies.
"It equips people with the abilities/skills to make a living and develop key resources for their growth and development," he said, adding that his organisation has invested in and supported various projects and programmes aimed at improving youth literacy.
According to him, "In 2014 and 2015, Sahara Foundation implemented a book drive aimed at improving the interest of children in reading. The intention was to build up an interest in the children to learn early the importance of life-long learning. Staff members also volunteered to read to children in those schools. "The sessions remain evergreen in the minds of the children, providing the foundation for a strong bond between Sahara and the beneficiaries. Helping people pursue and realise their dreams is a venture that Sahara is passionate about."
She added that undergraduates of the University of Lagos, through AIESEC Lagos were also supported in their drive to equip young students with the knowledge of the Sustainable Development Goals (SDGs) and how it relates to their development.
"Sahara foundation's support for the vocational centre in Surulere represents a sustainable platform for propagating skills acquisition and development. At the centre, young people are equipped with vocational skills in catering, hairdressing, photography, and ICT among others. Sahara's core support for the centre was for the upgrade of the industrial kitchen to a modern one for the beneficiaries to acquire skills that they needed to become self-sufficient catering entrepreneurs. The foundation's Manager, Mr. Oluseyi Ojurongbe, said the organisation will continue to seek avenues for promoting literacy and skills development.
"At Sahara, we believe that education is essential to economic sufficiency. As such, we support education and execute literacy and education programmes. The subject of literacy (and skills development) is so important to us that from inception, Education and capacity building has been one of the four pillars of our personal and Corporate Social Responsibility (CSR) focus. We have and will continue to support the literacy and skills development of young people."