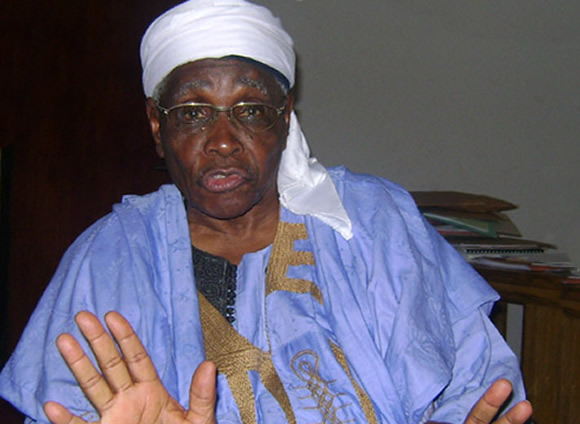 By John Shiklam in Kaduna

The spokesman of the Northern Elders Forum (NEF), Prof. Ango Abdullahi has advocated a return to parliamentary system of government, describing the presidential system in Nigeria as corrupt, expensive and also responsible for the challenges facing the country. 
Speaking at thef national moral awareness campaign, organised by a youth group in Kaduna yesterday, Abdullahi, a former Vice Chancellor of the Ahmadu Bello University (ABU), Zaria, said  for the country to tackle the challenges facing it, the presidential system should be abolished and replaced with the parliamentary system. 
He maintained that the presidential system is responsible for the backwardness of the country after about 60 years of independence.  "If I have the power, I will throw away this presidential system and return Nigeria to parliamentary system of government, because of so many reasons. 
"The most important of those reasons is that, parliamentary system is not as expensive as the one we operate today. 
"Sir Ahmadu Bello, the Sardauna of Sokoto led the entire Northern Nigeria alone with just few people and a governor seated in Kaduna. 
"This system we operate today does not give birth to anything other than waste, stealing and the corruption that we are all making noise about," he added. 
Speaking further,  Abdullahi argued that "in the  parliamentary system, you don't become minister except you are elected from your constituency, which means that, you have where to account for your stewardship. 
"But today, once you master the acts of bootlicking, lying and hypocrisy, you will just be called to come and be commissioner or minister. 
"That is why up till tomorrow, we cannot stop talking about Sardauna. No matter how close you were to him, he never gave appointment to people who were not capable of delivering the responsibility."
He blamed the former military Head of State, late Gen. Murtala Mohammed (rtd) for changing the system of government from parliamentary system to presidential system without allowing Nigerians to debate and look critically at the differences between the two systems.
"This is what brought us to where we are now in a state of waste and expensive government. 
"Now, the people in government don't want to look at this option of parliamentary system and they don't want us to talk about it, this is because the presidential system suits them, and they are not bothered whether it suits Nigerians or not. 
"This is why Nigeria is referred to as the headquarters of poverty in the world, and Nigeria is not poor, very few countries are as blessed as Nigeria in terms of mineral resources. 
"Our problem is that of good leadership, because China that has seven times Nigeria's population has in five years brought 750 million people from its population from abject poverty to better life. 
"So, our problem is that of leadership. If you see a nation in a bad state like ours, it is good leadership it lacks. 
"We must therefore stop lamentations and look for good leadership for our nation. And we should be able to identify good leaders and elect them, and if we fail to do this, we will continue to lament till eternity", he said.  
Also in a lecture at the event, Chief of Staff to the Senate President, Dr. Hakeem Baba Ahmed, stressed the need to create  awareness on  immorality and the promotion of peace and love among Nigerians for the nation to "turn the tide against moral decay, the drift towards anarchy and the descent into the nightmare of the rule of terror, evil and violence.