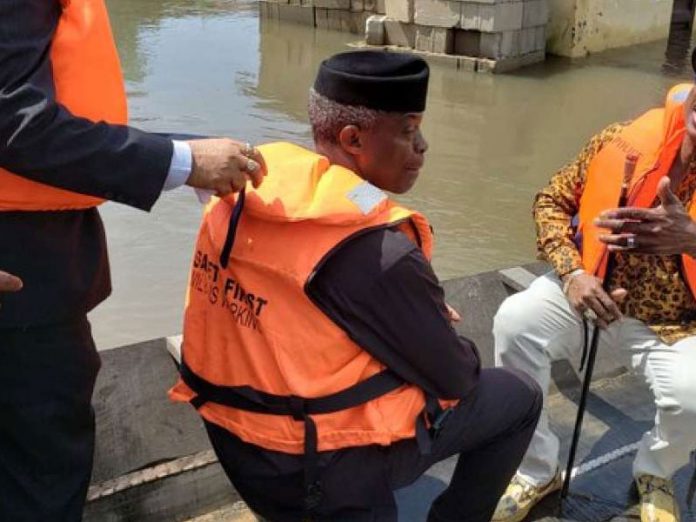 David-Chyddy Eleke in Awka
Vice president, Prof Yemi Osinbajo, Thursday visited Anambra State where he moved round parts of the state submerged by flood.
The vice president who visited internally displaced people who were parking their property from their submerged homes betrayed emotions, while commiserating with the people over their plight.
He announced the support of the Federal Government of Nigeria for the victims, stating its unending support in supplying food and relief materials to the victims of flood disaster in the state.
Prof Osinbajo who visited Umueze Anam, Anambra West local Government Area, said the federal government had declared the affected areas as natural disaster zones, saying it would deploy more federal resources to alleviate the plight of the people.
He said, "I flew over those disaster areas and I witnessed the rise in water level, especially in Onitsha, Ogbaru, Awka North, Coscharis farm and other places.
"We have directed the National Emergency Management Agency (NEMA), to continue deploying relief materials to various IDP Camps and some home settlements who have refused to evacuate from their homes."
He commended Governor Willie Obiano for his prompt response to the situation, stressing that he would partner the state government to ensure proper management of the resources.
Obiano while receiving the vice president who was accompanied by Governor Ifeanyi Okowa of Delta state and the minister of Labour and Productivity, Dr. Chris Ngige recalled that he had earlier visited the affected areas to ascertain the level of disaster.
He observed that the flood disaster did not only submerge their homes, but their farms, which is the major source of livelihood for the people.
Some of the victims lamented that their major problem was that their farmlands were all submerged and their crops destroyed.
Mrs. Chinelo Ibe, an indigene of the area said, "Some of us borrowed money to cultivate crops, and with this flood, we will be left with huge debt to pay, even as our houses have all been submerged by flood.
"We are begging government to help us, because we are in big difficulty. We sleep by the roadside, cook here too and live our lives by the roadside. We are afraid of going to the IDP camps because thieves will come and loot our belongings. That is why we refused to go."