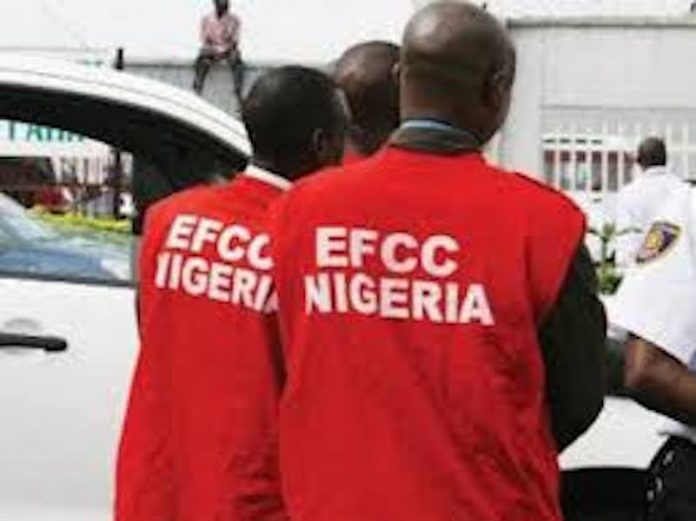 By Obinna Chima

About 20 operatives of the Economic and Financial Crimes Commission (EFCC) on Friday, stormed the Ahmadu Bello Way, Victoria Island, Lagos, head office of Standard Chartered Bank Nigeria Limited.
However, the Commission denied raiding the head office of Standard Chartered Bank in Lagos, adding in a statement by its Head of Media and Publicity, Mr. Wilson Uwujaren that,"There was no raid on the bank by its (EFCC) officers."
A former Lagos State Attorney General and Commissioner for Justice, Mr. Olasupo Shasore, disclosed this on his Twitter handle.
"Disturbing news – 20 EFCC Agents at Standard Chartered Bank HQ to arrest Managing Director, Mrs. Bola Adesola, happening now!" Shasore wrote, adding, "Now private sector under siege."
The bank which confirmed the development in a statement, did not state why the EFCC agents visited the bank.
"We can confirm that law enforcement officials entered our head office building on 14th September 2018. We are clear there was no basis for this entry, and the law enforcement officials left the building shortly afterwards," the statement explained.
Standard Chartered Bank and three other banks in the country were recently fined a total of N5.87 billion by Central Bank of Nigeria (CBN) for alleged violation of extant laws and regulations of the Federal Republic of Nigeria, including the Foreign Exchange (Monitoring and Miscellaneous Provisions) Act, 1995, and the Foreign Exchange Manual, 2006.
They were accused of illegally repatriating funds on behalf of MTN Nigeria and the telecom company was directed to immediately refund $8,134,312,397.63 to the coffers of the bank.
Standard Chartered got the highest fine of N2,470,604,767.13 and the CBN has since debited the bank.
 But the EFCC statement added: "The raid by operatives purportedly wearing the jackets of the commission might have been the handiwork of errant officers who acted without authorisation.
"The action is in flagrant violation of the standard operation procedures of the Commission as it is not the style of the EFCC to openly raid the offices of banks and other financial institutions.
"Officials of such institutions who are wanted by the commission, are usually invited for questioning after discreet investigation. Over the years, banks have been cooperative in releasing their officers to the commission for questioning.
"The commission will investigate the circumstances leading to this illegal raid by errant officers and those found culpable would be subjected to the internal disciplinary mechanism of the commission.
"EFCC again reassures Nigerians that it is an agency which adheres strictly to the rule of law and will, as much as possible, avoid draconian measures in its fight against corruption."