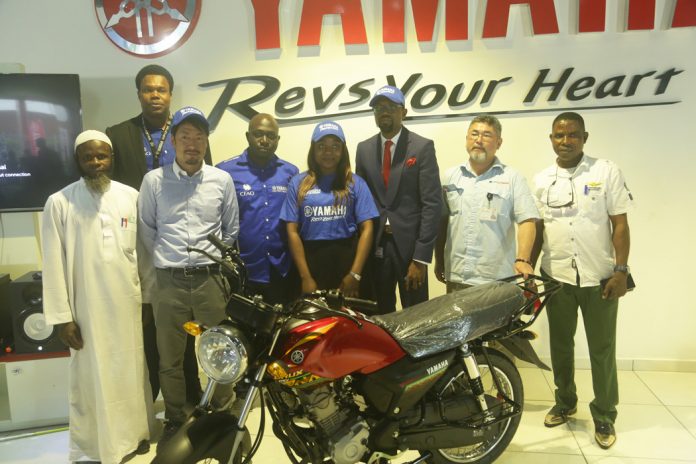 The much awaited Crux Rev Motorcycle has been launched into the Nigerian commercial motorcycle market by CFAO Yamaha Motor Nigeria Limited.
Unveiled in Nigeria by the management team led by the Managing Director, Mr. Boye Ajayi, and other commercial motorcycle stakeholders, the product was presented as the first strategic Yamaha motorcycle built for Africa.
The Managing Director stated that the Yamaha Crux Rev was developed after series of thorough local surveys from end users on their needs, comfort and safety requirements.
Explaining the key features of the new product, the company's Sales Manager, Mr. Enifadhe Abugo, said the main features are 1) class-leading excellent fuel efficiency from its BLUE CORE engine (improved by approx. 20% in comparison to existing models), 2) High performance with full torque, powerful at low speed, strong and smooth passing acceleration 3) Easy handling with newly engineered diamond frame chassis which optimises body size weight and layout creating a balanced body design 4) Stylish design with modern curves, LED headlight, and a plastic tank cover that can be interchanged with the different colour variations.
Other features are reinforcement ribs on the inside which improves toughness and shape retention, a newly developed blue-core engine that increases combustion efficiency, cooling efficiency and reduction in power loss.
The ABS plastic tank cover combines utility, knee grip ease and a stylish design; long, wide and flat seat easy to ride for both rider and passenger; large rear carrier rack with greatly increased luggage area; and rear suspension with dual-rate springs for a pleasant ride..
On the unique selling points that make the Crux Rev superior to other 110cc Motorcycles, the Sales Manager said "The Yamaha motorcycle has a number of features that differentiates it from other brands such as the all new "blue core" engine with excellent fuel economy: 72.2km/p/l; unbreakable plastic  fender; stronger front engine guard frame: light weight with optimum rigidity; strong rear suspension: adjustable; advanced air cooled engine; good ground clearance: 160mm; and strong, long and comfortable seat".
On the fuel economy, the company says a rider who works for six days a week, covering 140kilometres a week, saves N144,000 per annum from fuel versus competitors motorcycles. Also on engine oil economy, the rider saves up to 10 % per week with YAMALUBE – Yamaha's genuine engine oil.
CFAO Yamaha Motor Nigeria Limited boasts of a skilled technical team trained by the manufacturer – production and quality control according to Yamaha standards. It also has a strong After-sales network across Nigeria through dealers and local mechanic training.
The company also provides adequate mechanic training, provision of Special Service Tools and Service Manuals for repairs, as well as genuine spare parts.
Explaining the background of the company, the Marketing Manager, Funmi Abiola said CFAO Yamaha Motor Nigeria Limited is a joint venture between the CFAO group and Yamaha Motor Corporation of Japan.
"Strengthened by its Brand Statement 'Empowered by a passion for innovation', we create exceptional value and experiences that enrich the lives of our customers." Yamaha's line of products includes motorcycles, marine products and other motorized products.
Yamaha Motor Corporation's core technical competencies include small engine technology, chassis and hull technology and electronic control technology, just as its manufacturing systems covers Europe, Asia, North America, Japan and South America.