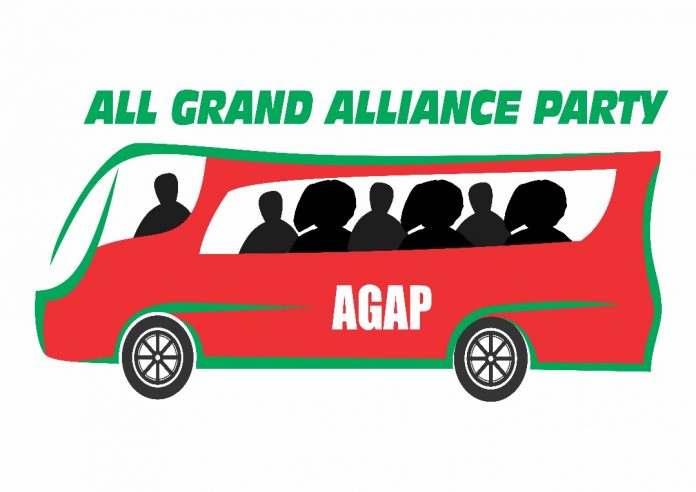 By Udora Orizu in Abuja

A newly registered political party, All Grand Alliance Party (AGAP) has welcomed Dr. Adeline Iwuagwu-Emihe, who declared her interest to run for the office of the President of Nigeria in 2019, under the platform of the party.
Speaking at the declaration event in Abuja, Emihe said she wanted to be President in order to change the status quo.
"We need to make more positive, expunge the negativity, create jobs for the youths, industrialise agriculture, bring technological innovation, ensure that the civil service, banks, parastatals and everywhere in Nigeria that needs improvement has to be innovated and revamped so that our country can move forward in 2019," she said
She also urged women to come out and participate more in politics. 
"Women are not fully participating in politics, the percentage is very low. We were supposed to have 35 per cent for now based on the affirmative action, so we need more women on the platform and I'm happy to hear that the government is doing something about that."
The party's National Chairman, Okey Chikwendu said the party was happy to welcome a female presidential aspirant, adding that the party was trying to woo more women to participate in politics.
"We want more women to participate in politics, women are the mothers of the family, we checked the history of Nigeria and we saw that the women given chances to play a part in leadership have done well, so we are trying to woo more women to come and participate in politics, we believe that with their motherly nature they will play a better role."
He further said, the party if victorious will deliver a prosperous Nigeria.
"We have come out to take power from the leadership of APC because we feel we have something much better, we have a motto which says that we swore to deliver security, education and agriculture to the people so we want the people to be prosperous, a lot of Nigerians are starving, they are impoverished and it's terrible, that is why we have the problem of vote buying and so many other issues, we want to deliver a leadership whereby the citizens can benefit from the government".
"Nigerians should look well before voting, look at people who have capacity, credibility and integrity because it is not all about somebody who you have known before so that we can be able to deliver leaders that will take us to the height where we want our country to be". Chikwendu advised