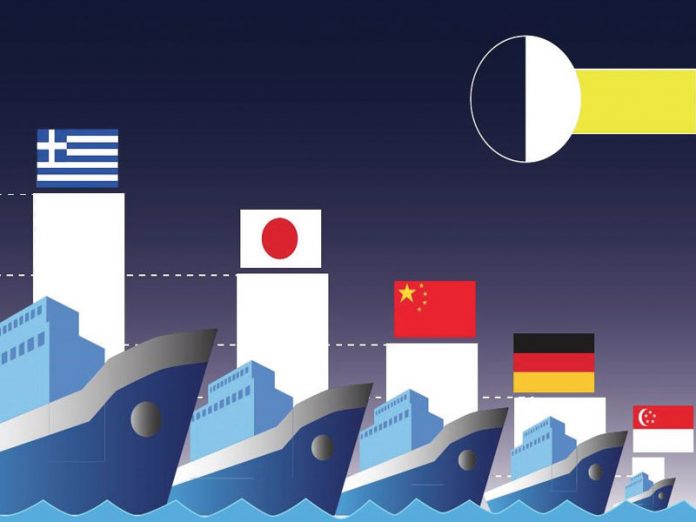 Eromosele Abiodun writes that the promise by Nigerian Maritime Administration and Safety Agency to disburse the Cabotage Vessel Financing Fund and an earlier move by the Nigerian National Petroleum Corporation to change terms to enable Nigerian shipping companies lift Nigeria crude will ultimately boost indigenous capacity
Over the years, shipping has been recognised as one of the catalysts for socio-economic development. This is because shipping has since the ancient times been at the fore front of opening up of the world and thus a major driver in of the process of globalisation. Specifically, container shipping has been both a cause and effect of globalisation. Container shipping is believed to be the world's first truly global industry.
Container shipping could claim to be the industry which, more than any other, makes it possible for truly global economy to work, it connects countries, markets, business and people, allowing them to buy and sell on a scale not previously possible. As a matter of fact, it is impossible to imagine world's trade, and ultimately our lives as consumers, without container shipping. Shipping has led to a phenomenal growth in world merchandise trade, which has consistently grown faster than output.
In 2006, goods loaded at ports worldwide are estimated at 7.42 billion tonnes, up from 5.98 billion tonnes 2000. The value of total world export increased from $6.454 trillion in 2002 to $40.393 trillion in 2005 representing an increase of 64 per cent. However, the reverse seems to be the case in Nigeria. It is on record that no fewer than 90 per cent of shipping companies owned by Nigerians have either completely shut down their operations or are barely struggling to survive.
Some of the indigenous shipping companies include: Equitorial Energy, Oceanic Energy, Morlap Shipping, Peacegate, Pokat Nigeria Limited, Al-Dawood Shipping, Potram Nigeria Limited, Joseph Sammy, Genesis Worldwide Shipping and Multi-trade Group, all in Lagos; Niger-Delta Shipping in Warri, Delta State; and Starzs Investment Group in Port-Harcourt, Rivers State.
Of all the companies listed above, only two can be said to be operating viable businesses while others, representing 83 per cent of the companies are either completely dead or are in comatose condition.
Ironically, all the shipping companies based in Lagos are either dead or struggling to survive while the ones in Warri and Port-Harcourt are thriving.
The companies, which the General Secretary of the Indigenous Shipowners Association of Nigeria (ISAN), Capt. Niyi Labinjo, described as "struggling heavily", have mostly downsized and are operating with less than 20 per cent of the workers they had about two years ago.
THISDAY findings also revealed that all the companies are heavily indebted to banks and are mostly unable to service the loans they took to buy ships.
Labinjo, who is also the President of Al Dawood Shipping, disclosed that most of the ship owners have resorted to selling their landed properties to enable them service their bank loans, while others have lost prime properties to the banks.
The companies, sources volunteered also owe their crew arrears of salaries ranging from six to 14 months, while some have sold off their vessels.
THISDAY also learnt that Genesis Worldwide Shipping, which was once seen as a thriving indigenous shipping company just four years ago, has completely gone under with not a single ship to operate. The company, at its peak, had six ships. This is also the story of Joseph Sammy Nigeria Limited with one of its staff describing it as "almost dead." The only vessel left in the company's fleet, MT Kemepade, was stolen recently. The ship was taken to a ship breaking yard in Ghana and the breakers were about to commence work on it before the owners found out. The case is in court in Ghana.
NIMASA to the Rescue
However, all is not lost if the promise by the federal government disburse the Cabotage Vessel Financing Fund (CVFF) in line with set down regulations, next year is anything to go by.
The Director General of the Nigerian Maritime Administration and Safety Agency (NIMASA), Dr. Dakuku Peterside, following relentless agitation by the Nigerian ship owners, promised recently that the agency would commence the disbursement of the CVFF in 2019.
Peterside, who stated this in a chat with journalists, in Lagos State, said the fund, which has increased to $124 million (N44.64 billion) and domiciled at the Central Bank of Nigeria (CBN), would be disbursed as soon as the Ministry of Transportation concludes the review of the guidelines for disbursement.
Also, at a parley for stakeholders on Ship and Maritime Infrastructure Financing organised by the Nigerian Ship Finance Conference and Exhibition (NISFCOE) in Lagos, Peterside assured Nigerian ship-owners that the agency is making frantic efforts to disburse the CVFF. Peterside said the fund is with the CBN due to the Treasury Single Account (TSA) policy.
He said that in line with its cargo support initiative for indigenous practitioners, the agency is already getting the support of the presidency to change the Nigerian terms of trade from Free-on-Board (FOB) to Cost Insurance and Freight (CIF).
He, however, lamented that many Nigerian ship-owners are not ready to take advantage of the opportunity when it finally arrives.
Peterside identified lack of debt facility from Nigerian banks and high interest rates as major challenge confronting Nigerian ship-owners. He vowed that NIMASA is ready to crash the interest rate in order to allow Nigerian ship-owners compete favourably against their international counterparts.
According to him, "We are determined to disburse CVFF according to the law and according to regulation. We are dedicated, we are committed and we are passionate about disbursing it.
"We would match the CVFF fund with some money coming from the financial institutions, this will crash the rate of borrowing, and that is why we are passionate about disbursing CVFF to bring our own funds to come almost at the cost of nothing and match it with their own fund coming at the rate of 25 per cent, the first thing that would happen is that the rate would crash from 25 per cent to a one digit interest rate. CVFF is lying at the CBN under TSA arrangement, we are working hard to disburse it, and it is over a hundred million dollars.
"We are in talks with the CBN. We want to change the terms of trade from FOB to CIF, but how many persons are prepared for this regime? If we get NNPC to change the terms of trade and we are getting the support of the presidency, if we get it changed, how many of us are ready?"
Peterside said that the NISFCOE is apt because it would enable NIMASA meet critical private sector investors who would translate its vision.
According to him, NIMASA depends on private sector energy to set frame work and it is ready to partner anybody that has concepts that can change its story.
Also speaking, moderator of the conference and former DG of NIMASA, Temi Omatseye said that the Minister of Transport needed to be properly guided on how to draw attention of financial institutions to benefits of supporting shipping trade in Nigeria.
He said changing the terms of trade from FOB to CIF would only require a presidential order.
On her part, a ship-owner and former President of Trawler Owners Association, Mrs. Margaret Orakwusi said it is wrong for government to keep holding on to the CVFF fund. Rather, she advocates that the fund be used as seed money to set up a maritime bank.
According to her, "CVFF does not belong to the federal government. It is our money, the government is only to monitor it, but they are now squeezing life out of us."
Convener of the Nigerian Ship Finance Conference and Exhibition, Mrs. Ezinne Azunna said that the parley was held preparatory to the actual NISFCOE conference 2017 billed to hold in November 2017.
She noted that the Nigerian maritime sector, although endowed with huge potential, cannot be called a maritime nation because it lacks ships and many other maritime infrastructure.
She said that one of the aims of the conference is to look at how to raise money to acquire ships by bringing the regulators, banks and the private sector together to design a way out.
The NNPC Solution
That is not all, recently, the National Petroleum Corporation (NNPC) announced the desired change in its trade terms from Free On Board (FOB) to Cost Insurance and Freight (CIF) which would enable local shipping companies to begin to lift Nigeria crude and ultimately boost indigenous capacity.
The new encouragement was a fall out from the stakeholders' engagement on changing Nigeria's crude oil affreightment trade term from FOI to CIF which was organised by the NNPC in Abuja.
The Minister of State for Petroleum Dr. Ibe Kachikwu, who declared the event open welcomed the development, noting that the issue on this trade term is an aged long challenge that has lingered too far and charged participants to come out with resounding resolutions that would be of National benefit.
Also speaking at the event the Group Managing Director of the NNPC, Dr. Maikanti Baru stated that the corporation does not have any reason not to allow Nigerians lift crude that there were conditions which made NNPC opt for the FOB trade.
He, however, noted that the NNPC also sees benefits in the CIF trade term but processes have to be followed which may include transition period before finally opting for the CIF trade term.
Shipowners and major stakeholders who spoke at the engagement lauded the initiative.
A former DG of NIMASA, who is also a ship owner pointed out that there is a lot of benefit in the CIF trade term.
He stated further that that it would eliminate crude theft, create employment and ultimately compliment the diversification drive of the federal government.
In the same vein, the President of the Ship Owners Association of Nigeria (SOAN) and MD of Starz Marine Group, Greg Ogbeifun observed that what is needed to make the great CIF initiative to grow the Nigerian shipping industry and the economy is the needed Government support, which is coming at the right time, when the country wants it most to diversify the economy.
All other stakeholders, who spoke at the event including leading members of the Nigerian Shipowners Association (NISA) and Master Mariners unanimously agreed that the CIF trade term would be more beneficial to the country than the present FOB on which the crude lifting is currently based upon.
Operators' Agitation
Piqued by the spiral effects of the death of indigenous shipping due to lack of funds and unfavourable policies, maritime stakeholders had queried the federal government's wisdom in warehousing over $100 million in the CVFF while its purpose suffers.
Speaking at a breakfast meeting organised by the Shipping Correspondents Association of Nigeria (SCAN) for public relations officers of maritime and related organisations recently, the Public Relations Officer of the Association on Nigerian Licensed Customs Agents (ANLCA), Dr. Kayode Farinto, said the problem was due to lack of patriotism.
"Our indigenous ships will continue to die because of the fact that we are not saying the truth. CVFF takes care of assisting our indigenous ship owners with funds. The CVFF holds nothing less than N70 billion in an escrow account. What happens to that fund," he said.
Similarly, the Special Adviser on Seafarers Affairs to the President-General of the Maritime Workers' Union of Nigeria (MWUN), Comrade Henry Odey, said that Nigeria was only able to rescue citizens trapped in Liberia during its civil war because the Nigerian National Shipping Line (NNSL) was still operational.
While stressing that cadets from the Maritime Academy of Nigeria (MAN), Oron are half-baked, the retired sailor recalled that the NNSL, "had a training ship made for cadets, which carried cargo and cadets to give them sea-time."
Faulting the new trend whereby the NIMASA shuttles from country to country seeking assistance with sea-time training, Odey wondered: "How would you think that the other countries would like to train your cadets for you to compete with them?
"It is shame on our country because we are doing nothing. Do you think you can go to The Philippines and ask them to train your cadets so that you can compete with them? I worked onboard the British ship, Dempsa, and if you were not a good sailor, nobody would employ you. But today, nobody wants to care."
On his part, the publisher of maritime daily, Ships and Ports, and Chairman, Board of Trustees of SCAN, Mr. Bolaji Akinola, noted that "indigenous shipping is dead."
He blamed the situation on NIMASA, which he said has lost focus on shipping development.
Akinola regretted that NIMASA was now a money-making agency, as its three per cent freight levy on ships has made it a big attraction for political appointments, adding that while CVFF grows in idle billions of naira in escrow account, MAN Oron continues to churn out ill-trained and ill-qualified cadets.
According to him, no fewer than 6,000 of those cadets are today stuck with their National Diploma programme because they could not get the required one year sea-time training to proceed for Higher National Diploma.