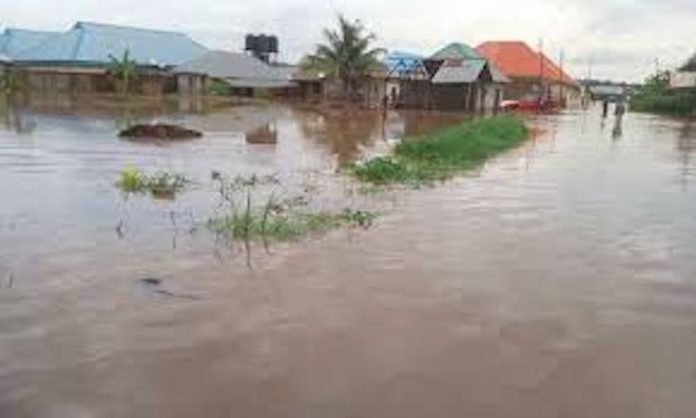 Yinka Kolawole in Osogbo
Heavy rain in most parts of Osun State has resulted in serious flooding which has wreaked havoc in areas like Ifedapo community, Palace Road, Ofatedo, Egbedore Local Government Area in the state.
The flood was reported to have sacked more than 100 residents of the local government area last Tuesday night as well as destroying property worth millions of naira, farmlands and causing death of livestock.
When THISDAY visited the area, it was observed that property belonging to the victims were still trapped inside their houses as they chose to abandoned their property and belongings and run for their lives while also saving their children from drowning in the flood.
In an effort to avert the destruction of documents and some other valuables, youths of the community were mobilised to help scoop water from houses while others watched helplessly as the flood continued to surge into the buildings.
One of the victims, Adedayo Kolawole, said not less than 100 houses were affected. He attributed the flooding to lack of drainage in the Aje market, an international market owned by the state government.
Kolawole said over the years, they have been complaining about the terrible state and the hilly nature of the area as the flood runs down from the hills and cause damage to the houses in the area.
He said though no life was lost, some household appliances and livestock were destroyed by the flood.
Kolawole asked the National Emergency Management Agency (NEMA) and the State Emergency Management Agency to come to their rescue
According to him, "The flood came to us unexpectedly, though the area is flood prone due to the hilly nature of Aje International market owned by the state government. We have complained but nothing has been about it."
Another victim who spoke with THISDAY, Mrs. Amina Badejoko, said: "The flood displaced many families. Take a look at those houses, the level of water in them. You would also observe that the shops have been submerged."