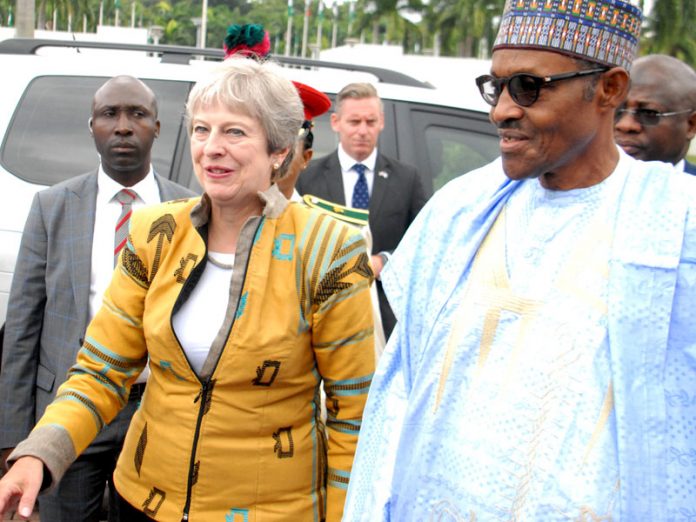 Vincent Obia
The City of London will play an even greater role in financing the fastest-growing economies across Africa and the world as the United Kingdom leaves the European Union by the end of March next year, British Prime Minister Theresa May said wednesday as she visited Nigeria on the second day of her three-day trip to Africa.
The Prime Minister highlighted the opportunities for trade, innovation, professional services, and investment that exist through the city of London to Lagos link.
The visit, which began with closed-door discussions with President Muhammadu in Abuja, included a whistle-stop tour in Nigeria's commercial capital, Lagos State, where the prime minister met the state Governor, Akinwunmi Ambode, and members of the business community, as well as victims of modern day slavery.
May arrived in Nigeria from South Africa and will proceed to Kenya from Nigeria on Thursday.
Nigeria and Britain were reported to have signed two agreements on defence and security partnership as well as Economic Development Forum in Abuja before May headed to Lagos.
The prime minister, who arrived at the presidential wing of the Muritala Muhammed International Airport, Lagos, about 4.20 p. m. aboard a Royal Air Force aircraft, highlighted the opportunities for trade, innovation, professional services, and investment that exist through the city of London to Lagos link.
May said: "Already, the finance and business links between Lagos and London are bringing enormous benefits to businesses and people in the UK and in Nigeria, and today's announcements deepen this burgeoning partnership even further.
"London is a world leading financial centre, and as the UK leaves the European Union, it will play an even greater role in financing the fastest-growing economies across Africa and the world."
In Lagos, May visited securities exchange company, FMDQ, which has played a central role in driving and advancing Nigeria's financial market.
UK-Nigeria trade was worth £4.2 billion last year, up from £3.7 billion in 2016, with British Deputy High Commissioner to Nigeria, Laure Beaufils, saying just before the prime minister's visit that bilateral trade between both countries is expected to more than double by 2030. British companies, including British Airways, GSK, Shell, Diageo, Unilever, and Standard Chartered, have successful and long-established operations in Nigeria, many of which date back to the 1930s. About 111 African companies are said to have come to the UK to list on the London Stock Exchange, to raise money.
The prime minister's Office had said May was expected to welcome a commitment from Dangote Cement to list on the London Stock Exchange during a meeting yesterday with Chairman Aliko Dangote. Also yesterday, oil and gas company, Seplat Petroleum, was expected to commit to list its $350 million eurobond programme on the London Stock Exchange.
To encourage deeper partnership between London and Lagos on capital markets, the prime minister announced new initiatives to support Nigeria's capital markets regulator, the Securities and Exchange Commission (SEC).
The prime minister's office stated: "Britain is a leading global hub for FinTech, which contributes over £5 billion to the UK economy every year, and Lagos is at the forefront of FinTech innovation in Africa. The first UK-Africa FinTech partnership will use the UK's unique expertise to support African entrepreneurs, improve access to financial services for consumers and encourage new investment.
"Nigerian entrepreneurs will be connected with UK FinTech investors and business mentors to get the finance and advice they need to start and grow their companies, while a dedicated fund worth up to £2 million will support Nigerian innovators as they turn their ideas into successful businesses.
"To support African entrepreneurs and help British companies enter this rapidly expanding market, the UK's Financial Conduct Authority (FCA) will work with regulators in Africa to share the UK's successful experience of developing regulation and policies that encourage innovation and protect consumers. The FCA will also explore new mechanisms to help financial innovators try out new ideas."
While in Lagos the prime minister announced the launch of a 12-month skill sharing programme, Legal Services are GREAT, under which UK legal professionals will work with their Nigerian counterparts to support Nigeria's legal industry, share knowledge, skills and experience in areas such as infrastructure and science, and provide advice on issues like cross-border transactions. It is hoped that with collaborations like this, the UK legal system, with its reputation for transparency, would help increase investor confidence in Nigeria's business environment while creating new business opportunities for UK law firms and chambers.
May also announced in Lagos the creation of new innovation partnerships in Nigeria, South Africa, and Kenya aimed at bringing together British and African expertise to address global challenges and provide tailored support to businesses across the continent to connect, grow and trade.
She announced the launch of a new programme to help innovative companies in northern Nigeria attract investment and scale up their businesses. Through such initiative, about three million people, mainly women, are expected to earn more money while about 100,000 new jobs would be created.
The UK government supports trade between the two countries through UK Export Finance agency, which has an envelope of £750 million to support British businesses which want to export to Nigeria. This is in addition to the development finance offer from CDC, which has a portfolio of over $350 million in Nigeria.