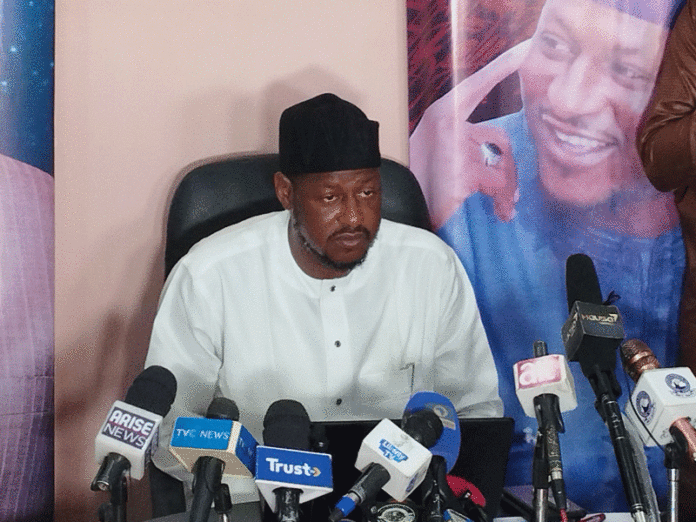 Francis Sardauna in Katsina
The Director-General (DG) of Small and Medium Scale Enterprises Development Agency of Nigeria (SMEDAN), Dr. Dikko Umar Radda, has joined the Katsina State governorship race on the platform of the ruling All Progressives Congress (APC).
Unveiling his manifesto to journalists in Katsina Sunday, the former chief of staff to Governor Aminu Bello Masari vowed to end the state's intractable woes and bring about sustainable economic prosperity.
He added that his government will tackle insecurity, increasing rate of poverty, poor access to social infrastructure, underdeveloped economic sector, lack of integration to national value chains, low-level of education and inadequate support for businesses in the state.
Radda reiterated that if given the mandate as governor, he will focus on public sector reform, education and skill development, social care, agricultural development and healthcare, among other key sectors that will bring development to the state.
He said: "We will provide adequate security to implement our policies and continue to secure the lives and property of the people of Katsina State. Our people deserve a leadership that is concerned about their future, we will work tirelessly to build it."
Radda had earlier presented his letter of notification to the chairman of APC in his electoral ward (Radda) and Charanchi Local Government before moving to the state headquarters of the party where he presented the same letter to its leadership.
The erstwhile National Welfare Secretary of the APC was elected chairman of Charanchi Local Government from 2005 to 2007 and he was a two-time caretaker chairman of the local government under late Umaru Musa Yar'Adua and Shehu Shema administrations respectively.