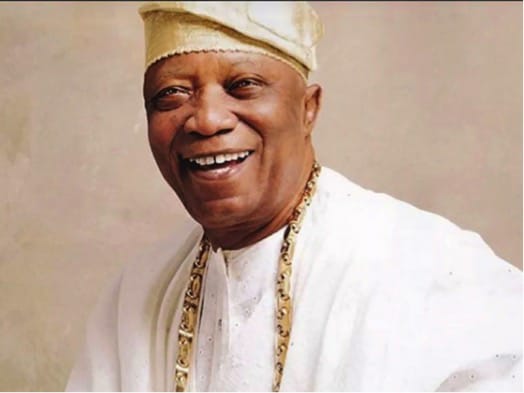 Quintessential businessman, Sir Kessington Adebukunola Adebutu's success story can aptly be described as phenomenal. With many decades in the betting and lotto business, his experience is truly exceptional.
The Ogun State-born billionaire, who started the betting business in the country at the time many were scared of venturing into it, has wrought so many wonders in the past years. With a clear vision, hard work and unwavering dedication to his business, the chairman of Premier Lotto has beaten all odds to become a big player and a glittering light in Africa's business climate.
Today, awards and honours are not new to the philanthropist. He has even lost counts, but the honour accorded him penultimate Thursday by The Nigerian Institute of Journalism (NIJ), Ogba, Lagos, is one the billionaire cherishes so much.
The fellowship award was presented to the man otherwise known as 'Baba Ijebu' at a colourful special convocation in Lagos witnessed by prominent Nigerians, media personalities and traditional rulers.
The award was bestowed on him by the Chairman, NIJ Governing Council, Chief Olusegun Osoba, supported by his vice, Mr. Ray Ekpu, and Provost of NIJ, Mr. Gbenga Adefaye, amid a standing ovation.
The Lagos State governor, who was represented by the Commissioner for Information and Strategy, Mr. Gbenga Omotosho, noted that the institute had trained and produced many journalists in the country.
On the fellowship award, the governor acknowledged the contributions of Adebutu to the economic growth of Lagos and Nigeria as a whole.
Chief Osoba explained that many prominent Nigerians were nominated for the fellowship award but the honour was narrowed down to Adebutu.
He acknowledged Adebutu's contributions in the area of executing projects in health and education as well as his philanthropy towards the less privileged and churches.
In his speech, Adefaye described 'Baba Ijebu' as a household name in Nigeria, as well as his business activities. He acknowledged his philanthropic gestures spread across many states.
The provost said it was based on these outstanding achievements that the governing council and the academic board approved the conferment of the fellowship award on Adebutu.
According to him, "As we honour Sir Kessington Adebutu today, we recommit ourselves to making the dreams of our founding fathers a reality. We will always seek your support."
In his acceptance speech, Adebutu described the fellowship as the highest honour conferred on him, aside from numerous traditional and church titles, adding, "I accept the award. I will support journalism in Nigeria."