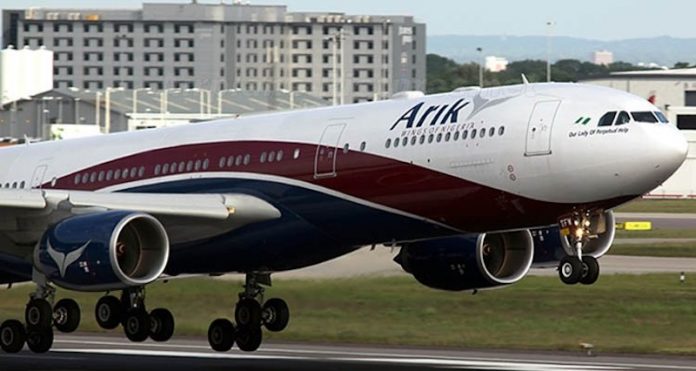 Chinedu Eze
The theft of critical parts of Boeing 737-700 operated by Arik Air at the tarmac of the domestic terminal of the Murtala Muhammed International Airport, known as MMA2 was an act of sabotage and insider job, sources have said.
Informed sources told THISDAY that the suspected thieves accessed inside the aircraft with registration number, EI-ULN, a leased equipment by the domestic operator, and cannibalised it, taking away Flight Management Computer (FMC), Pilot Static Cover and other sensitive parts from the aircraft.
The incident happened on January 19 2022 at about 11:00 pm.
Initial report had wrongly indicated that intruders accessed the airport from outside to wreak havoc on the aircraft, but investigations by the Aviation Security of the Federal Airports Authority of Nigeria (FAAN) and the management of MMA2, Bi-Courtney Aviation Services Limited (BASL), indicated that it was an insider job of sabotage.
THISDAY spoke to some airport officials privy to the preliminary investigation on the incident and found out that Arik Air Chief Security Officer (SCO) reported the incident to FAAN in the mid-day of January 20, 2022 and explained that the Arik Air aircraft with registration number EI-ULN was parked at MMA2 ramp at 4:30 pm the previous day.
The report stated that on commencement of operation the following day at 6:10 am, the pilot in chief, Captain James Johan Lowhoy noticed that the aircraft had been tampered with, as the door was found open and following checks it was revealed that the aircraft Flight Management System had been removed.
The source also disclosed that the Arik Air aircraft engineer in charge of the aircraft stated that at about 4:30 pm on January 19, after the pilot and cabin crew had left the aircraft, the engineers carried out routine checks on the aircraft, which lasted for about one and half hours and when the left, the aircraft was still parked at the apron.
THISDAY also gathered that the aircraft engineers were still at the engineering room when the Arik Air catering personnel came to them at about 8:40 pm and informed them that they wanted to service the aircraft.
"One of the aircraft engineers went with the catering personnel who serviced the airplane, which took about 10 minutes. When the catering personnel left, the engineer closed the airplane and did not go back to the aircraft," the source said.
THISDAY learnt that while all the activities were going on, all the personnel involved were Arik staff; there was no outsider involved.
A team of crime investigation and intelligence was reported to have stated that there was no Arik aircraft security guard under or at the foot of the aircraft on January 19 when it occurred.