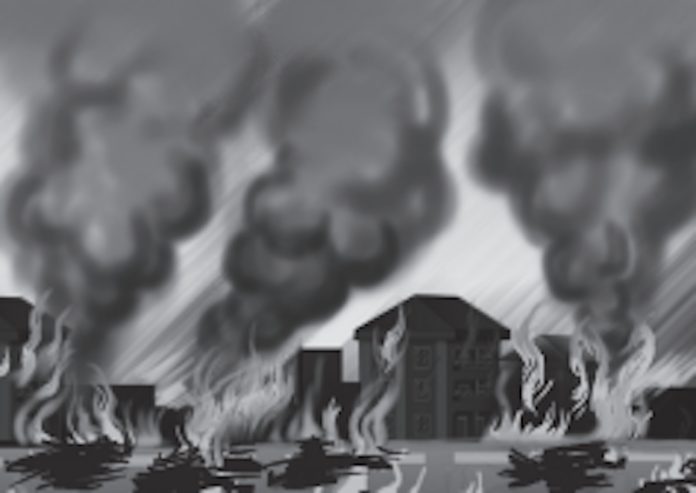 All stakeholders should do more to reduce fire incidents
We have had more than enough fire tragedies that ought to have provided lessons on how to minimise occurrences. Sadly, things continue to get worse by the day to the extent that loss of lives and property to fire outbreaks is becoming a way of life. The Abuja Electricity Distribution Company substation in Minna, Niger State was recently gutted by fire, the second time in two months. On new year day, over 250 shops were gutted by fire in Nnewi, Anambra State. Only recently, Next Cash and Carry supermarket in Abuja, one of the largest in the country, was also razed by fire. Hardly a day passes without reports of fire outbreak, especially in markets.
Indeed, across the country, fire incidents are getting frighteningly common with hundreds of billions of naira lost annually to this menace. The loss in human toll is also huge. Most irksome is that some of the incidents culminating in these tragedies were caused by the careless attitudes of individuals. Majority of the fire cases are avoidable if only a sense of caution had been applied. From Lagos to Onitsha, Kano, and Port Harcourt, we have had cases of fire outbreak from some people putting fuel into an already powered generator, resulting in explosions. Some other causes of frequent fire incidents include electric surges, illegal connection of electricity, burning refuse close to the markets, and careless petrol storage. We have also had cases of wilful sabotage, like the fire incident that consumed the Ebeano Supermarket in Abuja.
From a six-storey building loaded with goods at Oluwole Market in Lagos which went up in flames last December to a shopping mall in the Surulere area of the state recently razed, the losses incurred through fire are enormous, particularly since most of the property is uninsured. Memories of the two shocking Kano market fire incidents which razed over 70 and 35 shops within a period of one week are still fresh in the mind. Last October alone, according to the Kano State Fire Service Public Relations Officer, Saminu Yusuf, no fewer than 10 persons lost their lives to fire incidents in the state.
Apparently worried by the rate at which markets go up in flames across the country, the Market Traders Association of Nigeria (MATAN) president, Jamilu Abbas, recently urged marketers to take necessary precautions, especially during the harmattan season that we are in. "Fires can be regarded as natural disaster. But it could be man-made too. That is why we need to take necessary measures to prevent the ones within our reach," said Abbas. "Traders should be sensitised on the need to be fire conscious, including observance of no smoking. Cooking by restaurants and bukkas should be closely monitored."
Indeed, as we are in a season where little sparks often lead to big conflagration, there is need to be extra careful. We call on the federal, state, and local governments to come up with effective mechanisms to protect important places, buildings, markets, and institutions from fire incidents. We also challenge various governments to as a matter of urgency, revamp and mobilise their fire service departments to perform optimally. Stringent measures should be put in place to punish any individual or group which carry out any activity resulting in inferno. Until this is done, fire incidents will continue to bring irreparable and incalculable losses to the society.