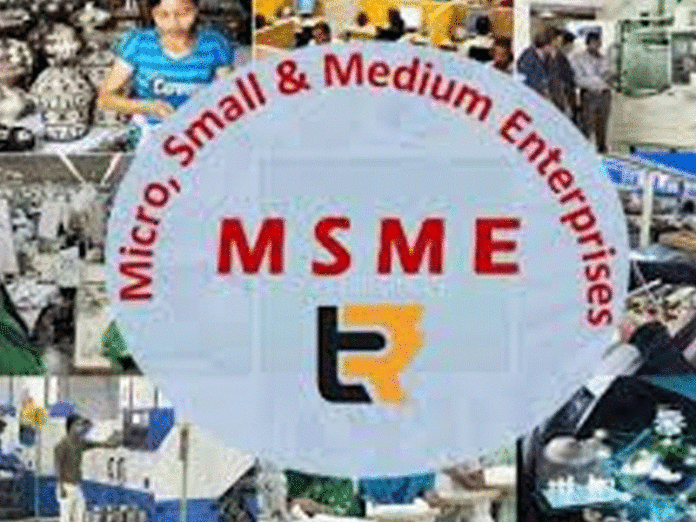 In this interview with Adedayo Akinwale, a member of the All Progressives Congress, Mr. Terlumun Ikya, speaks on his governorship aspiration and his plan to turn Benue State around. Excerpts:
The world of Micro, Small and Medium Enterprises (MSMEs) created skills and also give a sense of independence. How far have you gone into that as the coordinator or the brain behind it in this government?
Not exactly the brain behind it but our company offers advisory services to the office of the Vice President who are the owners of the project. So, we advise them basically on a wide range of issues including from conceptualization of some things. The MSME space in any country is the bedrock of any society and when you look at Nigerian MSME space, you can say it has not had a good deal because if you don't stimulate them, they cannot provide the kind of services that is due to a society including the large corporations because where you have large corporations, you must have SME who provide certain services to them, not matter what the services are. The MSME space is very important because they account for almost 85 per cent of the jobs in Nigeria and account for as much as 47 per cent of GDP but when you look at things like export, I don't think they account for up to 10 per cent . So, there is a problem because if I am providing you 47 per cent of GDP and I am providing you only 7 per cent of export then there is a problem. When this current administration came in, towards the end of 2016, a conversation started from the Vice President about how to come up with an initiative on how to target this space and support it. So, a lot has been going on. The programme, the MSME clinics which we are involved in, I mean it is very unique in the sense that it gives government at both the federal and state levels an opportunity to interface directly with these businesses that have these challenges and I know these clinics have been galvanized in 29 states and His Excellency, the vice president has been to 28. So, he is having a firsthand discussion with these businesses to know their challenges, to know their needs because you know most of the time, you do a very big research and at the end of the day, they might not address the core issues because the issues the businesses are facing in Lagos might be different from the issues businesses are facing in Kaduna, in Benue or Cross River or in Aba or wherever it is.
The President recently said he has done his best for Nigeria; how do you assess him and his government in the last six and half years?
I think he has his strength and he also has his weaknesses. Well, let me not personalize it because government is a collective issue. I will say in the area of infrastructures, I have seen a lot of improvement and I will give you an example. I am from Benue state, the road from Keffi to Makurdi is being dualised. In my life I have never felt it will be dualised. All we wanted was to please come and repair this road. Let's travel at ease. I had an opportunity to ply the Onitsha Bridge and I saw the Second Niger Bridge, it is not completed but a lot of work has been put into it; the prayer is that if this government doesn't finish it, the next government will not abandon it because it is such as important trade route in Nigeria. So, there has been some gains in infrastructure.
What's your take on the rejected Electoral Bill?
Let me analyse this way, there is a lot of cry for direct primary to be reintroduced and people who made these cries have a genuine reason for this and the reason is simple because their fears of imposition at all levels and I mean like I said everybody has a right to that and it is a genuine cry. But my take I want to look at it as to law making. We have seen several judgments from the courts up to the Supreme Court that says internal issues of parties as to how they operate are issues of the party. And I will give you an example; if you want to register a cooperative society, the body responsible for it at the federal level is the Federal Ministry of Agriculture and Rural Development. They do not impose a constitution on you, you write your constitution as to the kind of offices you want to have as to your mode of electing people and replacing people into the executive of that cooperative. So, I think it is my belief that every association should be allowed to operate and determine the way it wants to operate. So I don't necessarily disagree with him for rejecting that particular clause but I will tell you that I understand why many people are clamouring for that to be inserted.
Do you have a political ambition for 2023? If yes, tell us about it.
Yes, I do. I have a desire to lead Benue state as the governor and desire is hinged on the fact that poverty is high in Benue. I have read reports in the past that said when we operated a regional system in Nigeria, in the northern region, in Benue Province or was it Tiv Province as it was known contributed the second highest taxes to the northern region only after Kano, what has happened? Today, we can't even generate enough money to pay salaries not to talk of fixing infrastructures and provide other basic amenities, so we need to look at these issues and I believe I have some ideas and working with my people if elected as governor of Benue state we can address those issues and make the state more prosperous.
Benue as a state has tried PDP and APC. Many would place the results as the same. So on which party platform are you contesting?
I am contesting under the APC. I am a loyal party member. But I will tell you, the issue is not in the party, the issue is in the individual and how that individual, he or she is able to galvanize the support across the board and make the society work. Like I said, I am in the APC. Some of the closest people to me are in the PDP. At times, we argue and it gets heated up, we go back and come back tomorrow. And where I see that the APC has done wrong, I admit and where I see the PDP has done wrong, they admit. So I think when you aspire to be governor, you are not aspiring to be the governor of a party but the governor of a state and you don't have a choice, you must work with everybody because the laws you make, the policies you implement affect everybody. I am not sure you can go around and separate APC members houses and build a road to only benefit them, you cannot because on that the same street there is somebody from APGA, there is somebody from YPP, there is somebody who doesn't even care about politics but he is an indigene and a resident of your state and you have a moral and social responsibility to ensure that your policy affects that person positively.
How do you intend to turn the state around if given the opportunity?
There are many salient issues that need to be addressed. I talked about industrialisation but it goes a lot more deeper than industrialisation. The basics for me, you need to look at the educational sector and in Benue. I know that there are a lot of private schools that have sprung up and I know that even in semi urban areas, people have been forced to move their children to private schools but because of resources, private schools in most cases cannot put the right facilities that will help these children to develop properly. So, government has a responsibility to fix the public schools and not just fix the public schools but also look at the curriculum with which we operate. So, we must change the way we do education, that is one. Two, we must look at our state and what we are hoping to achieve, which is industrialisation. We must look at how we set up our educational system; are we training our students to be farmers? Are we training our children to feed into the industries we are setting up? So, we must give them technical education. We will look at the education very seriously. We will look at healthcare because without healthcare very seriously.