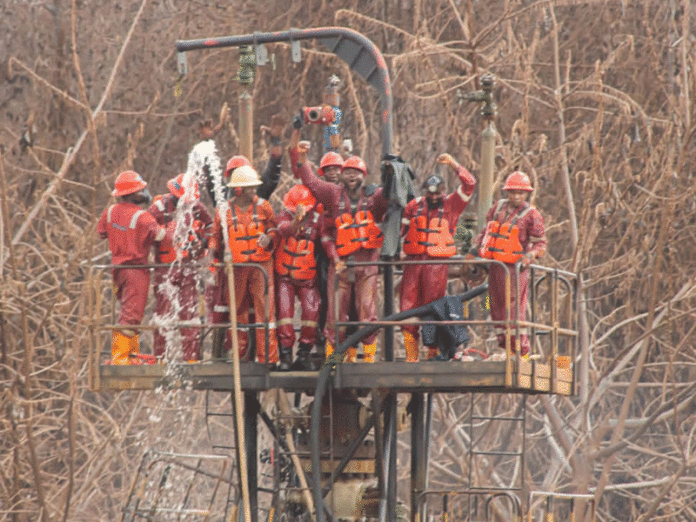 By Emmanuel Addeh in Abuja
Aiteo, operator of the Nigerian National Petroleum Corporation/Aiteo Joint Venture (JV), Oil Mining Lease (OML) 29, Wednesday succeeded in shutting down the leak on its Santa Barbara wellhead in Nembe, Bayelsa state.
The company had on  Friday, November 5, 2021, reported a hydrocarbon wellhead leak  on the facility to the Nigerian authorities.
Aiteo had stated that the well which the company acquired in 2015, had been mostly dormant and had been securely isolated since then, adding that the leak was a high pressure one and therefore needed international support.
Also in preparation for the "well kill", Aiteo had raised a team comprising members from its internal well operations experts as well as a foreign firm, Boots & Coot to hasten the operation.
That was in addition  to the earlier mobilisation of  the Clean Nigeria Associates (CNA), a Nigerian coalition, as part of the attempt to halt the leak which was said to comprise about 20 per cent oil and 80 per cent gas.
A statement from the company on the latest development stated that the leak has now been fully halted while other steps were being taken to consummate the process that started a few weeks ago.
"To the glory of God, we have put out the leak at SBAS-1.  We are grateful for all the support. We have successfully installed control packages on both arms.
" There's a rig up pump on the long string and pump opens the ball valve.  Also, we have closed both control packages and shut-in well flow.  The team is currently preparing to pump 'kill fluid' into the long string.  Note that the short string is already killed and dead with zero pressure," it said in the note.
On the next number of steps, the indigenous oil firm said it will: "Complete pumping of kill fluid into the long string (LS).  Achieve zero psi on surface and rig down pump as well as rig up wireline."
In addition, it stated that another step was being taken to drift both 'tubings' and run in hole to install isolation plugs and non-return valves.
" We will then nipple down Christmas Tree and carry out comprehensive service on wellhead and Christmas Tree as well as install it and secure well. Thereafter, we will clean-up wellhead platform and surroundings," the statement noted.