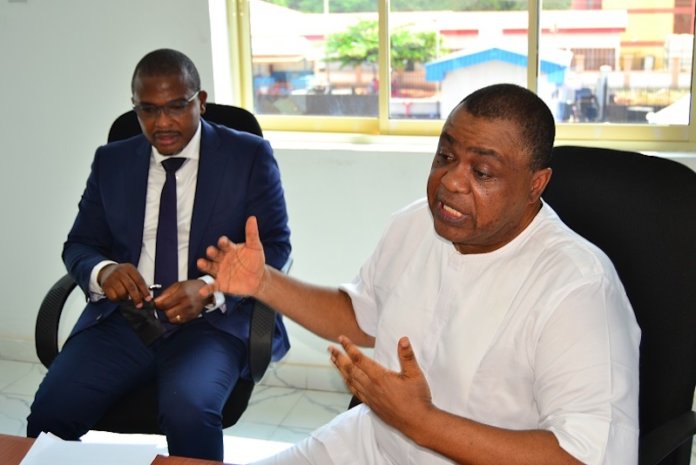 *Congratulate Warri king on coronation
Omon-Julius Onabu in Warri
Delta State Council of Traditional Rulers has lauded Governor Ifeanyi Okowa on the successful inauguration of the multi-billion naira Central State Secretariat Complex in Asaba and the 8.5 Megawats Independent Power Project (IPP).
The two projects were inaugurated in Asaba on Monday by the Vice-President, Prof Yemi Osinbajo, who also commended the governor for the foresight and courage to embark on such strategically important projects despite the economic crunch in the country.
The royal fathers, in a communiqué at the end of the monthly meeting on Wednesday in Asaba and read by the Chairman of the Council, HRM Dr. Emmanuel Efeizomor II, Obi of Owa, said that the new state secretariat complex, named after the Asagba of Asaba, HRM Prof Obi Chike Edozien, will not only engender improved efficiency in the state civil service, but strengthen mutual respect and understanding between the state government and the traditional institution.
They described the successful inauguration of the state-of-the-art complex as a landmark achievement of the Okowa administration, noting that the monumental edifice would enhance governmental operations as well as save it of valuable funds.
HRM Efeizomor, who was flanked by both the First Vice-Chairman, HRM Major-Gen Felix Mujakperuo(Rtd) and Second Vice-Chairman, HRM Pere Stanley Perediegha Luke, Kalanama VIII, Pere of Akugbene-Mein, said, "Professor Chike Edozien Secretariat Complex is a landmark achievement. This is a clear evidence of love, respect and understanding between the state traditional institution and Governor Okowa and (his) government."
The traditional rulers noted that the new central secretariat will not only help government to save funds from the previous rented office accommodation but will provide a conducive working environment for optimal performance of civil servants.
Moreover, the monarchs said that the 8.5 megawatts Asaba Independent Power Plant will also provide adequate power to the new complex and the state capital in general.
Similarly, the state royal fathers congratulated newly crowned Olu of Warri, HRM Ogiame Atuwatse III, on his successful coronation and applauded the positive steps the new Itsekiri monarch was taking to promote peace, unity and progress in the kingdom.
Nevertheless, they urged all parties in any form of dispute in the kingdom "to sheathe their swords in the interest of peace, unity, progress and dignity of Warri Kingdom".
Meanwhile, the state traditional Council also lauded Governor Okowa for setting up a panel of enquiry on Evwreni in Ughelli North Local Government Area, to settle the dispute between the traditional ruler and some of his subjects and prayed that the panel will find lasting solution to the perennial dispute.
The council also hailed the performance of the information Commissioner, Mr. Charles Aniagwu, for the extension of radio coverage across the state.
Furthermore, the traditional rulers urged Christians and other religious faithful in the state to continue to pray for the Okowa administration as well as for continuous peace and unity across the state especially during the forthcoming festive period.