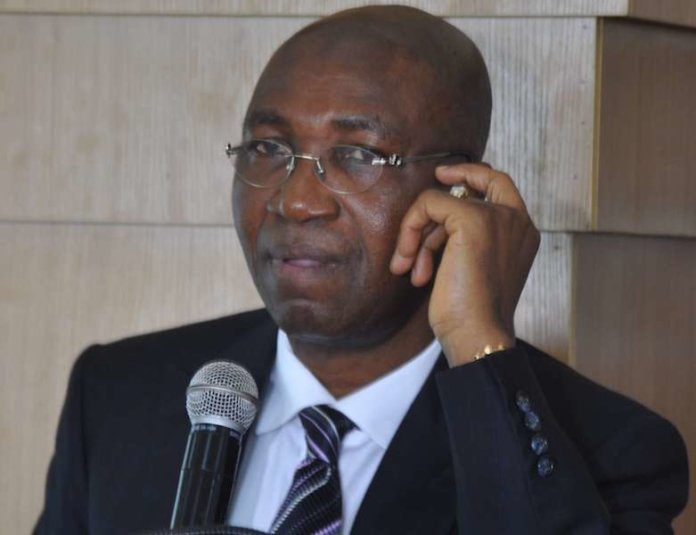 Chief Wole Olanipekun (SAN) means many things to many people: a husband, father, grandfather, principal and a former President of the Nigerian Bar Association. His 70th birthday celebrations had been loaded with the outpouring of goodwill messages from the Presidency, National Assembly, the bench, the bar, professional associations, top universities and corporations, as well as churches and mosques for his contributions to the law, jurisprudence and humanity, Davidson Iriekpen writes
Sometimes referred to as the Big Masquerade', 'The Oracle', 'Cicero of Law', 'the King of Jurisprudence' or 'Legal Wizard', Chief Wole Olanipekun (SAN) boasts of several appellations earned from his antecedents in legal practice. On the occasion of his birthday penultimate week, President Muhammadu Buhari, Vice President Yemi Osinbajo, governors, lawmakers, judges, lawyers, associations, corporate organisations, universities, churches and mosques all congratulated him for attaining the milestone of 70 years.
In his 45 years' post-call to the Bar, Olanipekun has espoused the causes of justice and freedom.
Born in Ikere Ekiti, Ekiti State on November 18, 1951, Olanipekun attended Amonye Grammar School, Ikere Ekiti between 1965 and 1969 where he obtained the West African School Certificate (WASC). His academic brilliance laid the foundation for his appointment as the Senior Prefect. He proceeded to Ilesa Grammar School in 1970 from where he obtained the Higher School Certificate (HSC) in 1971.
At Ilesha Grammar School, the young Olanipekun manifested his innate leadership qualities, thus becoming the Editor-in-Chief of the school magazine (The Spike). He was also the chairman, Students Representative Committee in 1971. In 1972, he gained admission into the University of Lagos where he bagged the Bachelor of Law degree in 1975. Like light-drawing moths, Olanipekun attracted many friends and admirers with his enchanting brilliance, which led to his election as the Secretary-General of the Students' Union between 1973 and 1974.
The senior lawyer had once revealed how he resolved to study Law. While in Amoye Grammar School, Ikere Ekiti, he became extremely close to one of his seniors, Prof. Niyi Osundare, an internationally acclaimed poet. Before and during his days at Ilesa Grammar School, where he did his A-Level, Olanipekun's only ambition was to study English like Osundare. On Osundare's resumption at the Christ's School, Ado Ekiti, where he had just been posted after bagging his first degree in English from the University of Ibadan, young Olanipekun was one of the first visitors from Ikere to visit him in Ado-Ekiti. His mission was clear– to tell the young teacher of his determination to follow his (Osundare's) career path.
Osundare had hardly allowed Olanipekun to finish his rhetoric before telling him frankly that the future belonged to the professionals. The mentor thus advised his mentee to aspire towards studying Law. Reluctantly, the young Wole, quietly haunted by the dashed dream of exploring English and Literature, agreed with Osundare. After settling down in Ikere, where his father was already waiting, Wole relayed the news of his mentor's preference for Law but Pa Isaac Olanipekun kicked against it. As a staunch Christian, the senior Olanipekun was not ready to raise a son who would later become a member of a secret cult. As at then, he believed one must necessarily belong to a secret society to excel in Law. He later settled for Mass Communication and actually attempted to pursue it at the University of Nigeria, Nsukka or Ahmadu Bello University, Zaria.
In his first attempt, he passed the examination, gained admission. However, he missed the admission letter. The following year, he was offered Law at the University of Lagos but he quickly approached the university authority to convey his decision to change the course in deference to his father's wish. In the process of changing the course, he encountered a senior management staff of UNILAG who was an old student of Ilesa Grammar School, where Olanipekun did A-Level. The man didn't only advise Wole against changing from Law to Mass Communication, he sent him to his father in Ikere that the young Wole had gotten the best opportunity with Law admission.
He attended the Nigerian Law School, Lagos from 1975 and 1976 and was called to the Nigerian Bar in 1976. He was a junior counsel in the Messrs Oniyangi & Co in Ilorin between 1977 and 1979. In 1980, he became the Principal Partner of Messrs Wole Olanipekun & Co. Since then, there is now no looking back for this great lawyer who today has become not only a household name in Law in Nigeria, but one of the most sought after lawyers by presidents, governors, lawmakers, businessmen, politicians and corporate organisations.
Olanipekun has ascended to the level of such eponymous figures recognised only on a first name basis such as Awolowo, Balewa, Zik, Soyinka, Chief Frederick Rotimi Alade (FRA) Williams, among others on account of his professional achievements and the noble values that he represents.
The colossal name, Olanipekun was also built on his humanitarian gestures through the years. Long before Corporate Social Responsibility (CSR) became an intrinsic part of corporate philosophy in this part of the world, Olanipekun had been in the forefront of humanitarian services and philanthropism. Within and outside his Ikere Ekiti country home, he has launched interventional projects in education, health, information technology and the Law profession.
When he was appointed Chairman, University of Ibadan (UI) Governing Council in 2009, he did an excellent job. His contributions were both largely interventionist and redemptive, expending his personal money on assisting UI. He never took a dime from UI. To mark his tenure in UI, he built a 400-seat capacity lecture theatre; brought a private orientation into the public sector in UI and changed the operational styles.
A Spartan, abstemious in lifestyle, Olanipekun has been found to be honourable and noble in personal outlook who never waivers in his ideological commitment. He is gracious, generous and a man of sterling integrity with zero tolerance for corruption.
He is a great man that has been used by God to raise many men. Thousands of children of the poor have been raised through his scholarship scheme worth millions of Naira every year. Many have equally benefitted from his scholarship for their Ph.D programme.
The former Attorney General and Commissioner for Justice in the old Ondo State has assisted many lawyers in their careers with his uncommon largeness of heart. Clearly, when some people are committed to self and selfish interests, Olanipekun is committed to the good of the generality.
He is generally respected for his great humility in spite of his intellectual exploits and professional achievements. He has no time to think about petty subtleties of unethical conduct. This legal panjandrum has always maintained a dignified silence and quietly tucked in his rather intimidating corner. He believes it is better to react to some life's irritations with no reaction.
With him, you are assured of wise-cracks, profound thoughts, spiritually ennobling insights, sublime statements and words of wisdom.
Interestingly, it is on record that not long after finishing his tenure in UI as Chairman of Council, Olanipekun was also appointed the Chairman of Council of Ajayi Crowther University (ACU) Oyo. He is still there, replicating all the good work he did in UI. He has built several structures for ACU, tarred roads and keeps spending his money freely on developmental projects that fetch him happiness.
This legend's charity surely begins from home having done so much for his ancient town, Ikere Ekiti. He built a multi-million Naira ultra-modern church for the Anglican communion; donated computer centres to some 323 secondary schools in addition to the Health Centre. Wole Olanipekun Scholarship scheme has also been the path through which many indigent yet brilliant students across the country get support for the past 20 years. Yet, this suave gentleman does not demonstrate egomaniacal pomposities. He is prudent and parsimonious, preaching the virtues of humility, dedication and nobility.
Without a doubt, Olanipekun who is no less a paladin of moral, legal, social and political rectitude lives a life of sacrifice and service with his deep benevolence finding expression in his genial looks. To me, a life that touches others' lives forever. From his sartorial preferences to his leadership style, he stands pretty tall and far away from the archetypical lot. His signature smile is attractive, sparkling and memorable. His is a story of decency and dignity.
Call him a deft minefield walker, you will probably not be wrong. Olanipekun has successfully meandered through some of the many traps of life, characterised by treachery, betrayal and outright envy. He is an institution of learning, school of wisdom and a mobile library. A rare embodiment of courage, Olanipekun has charisma and credibility.
Chief Olanipekun is a Fellow of the Chartered Institute of Arbitrators (FCIArb.), Fellow, Institute of Chartered Mediators and Conciliators (FICMC), Fellow, Nigerian Institute of Advanced Legal Studies (FNIALS) and Fellow, College of Education, Ikere (FCEI). He was awarded with the degree of Doctor of Letters, Honoris Causa (LL.D) by the University of Ibadan, in November, 2014 and on 4th November, 2021, he was conferred with the degree of Doctor of Letters (D.Litt.) by Redeemers University, Ede, Osun State. He holds the National Honour of Officer of the Order of the Federal Republic of Nigeria (OFR).
Chief Wole Olanipekun (SAN), within and outside Nigeria has mentored hundreds of lawyers, who see him as a teacher, counsellor, role model, father and shepherd. Several lawyers have also passed through his Chambers, starting from 1982 to date, and a good number of them occupy high and vintage positions at the Bar, Bench, in politics and the corporate world. Ten distinguished learned colleagues who cut their legal teeth under him, including his two sons, Dr. Dapo Olanipekun and Bode Olanipekun have both attained the prestigious rank of Senior Advocate of Nigeria.
Olanipekun is happily married to Princess Omolara Olanipekun (Erelu), and the marriage is blessed with four children who are all lawyers; two sons and two daughters, all of whom are also happily married. His two sons, like their industrious father, are also Senior Advocates of Nigeria.
As he celebrates his 70th birthday, one can only say, well done to the legal icon, Chief Wole Olanipekun (SAN), in whom we are well pleased. May you continue to be sensitive to the leading of the Lord as greater grace and glory befall you.