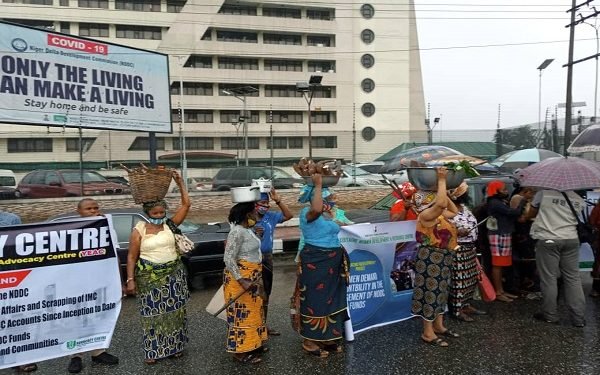 Blessing Ibunge in Port Harcourt
Hundreds of women under the aergis of Wailing Women of Niger Delta (WWND) yesterday barricaded the headquarters of the Niger Delta Development Commission (NDDC) in Port Harcourt, Rivers State.
The women in their black attires and with their placards and banners, demanded for the inaugurate the substantive board of the commission.
The women, who stressed that what is going at the commission is illegal, called on President Muhammadu Buhari to ignore the antics of the Minister of Niger Delta Affairs, Senator Godswill Akpabio and inaugurate the board.
Some of the inscriptions on the banners were: "Niger Delta Women insist on a board for NDDC", "Enough of illegal Sole Administrator", "80 per centof our women are vulnerable due to negligence."
The women, who wore mourning faces, sat on bare ground blocking the main entrance of the headquarters lamenting that Akpabio had arrogated his personal ambition above the collective interests of the Niger Delta.
The women, who also requested the publication of the audit report, demanded slots allocated to women in the coming board of the commission.
The Coordinator of the group, Adinenbo Odighonin, said: "What we want is simply, that the illegal sole administration to be dissolved. We want Akpabio, Malami and Buhari, with immediate effect, to constitute the board of the NDDC. What is currently going on is contrary to NDDC Act. It Odighonin said they would no longer entertain further excuses following the conclusion of the forensic audit and submission of its report to President Buhari.
She said they would continue to hold their protests until their demands were granted.
However, an Assistant Commissioner of Police, U. M Ugochi, who addressed the protesters, promised to take their grievances to the management.
He said: "I seek peace. I am here to know your anger, needs and request. I am going to take it to management. We are going to resolve this issue. Count on me your request will be sent to authority and we will handle it".