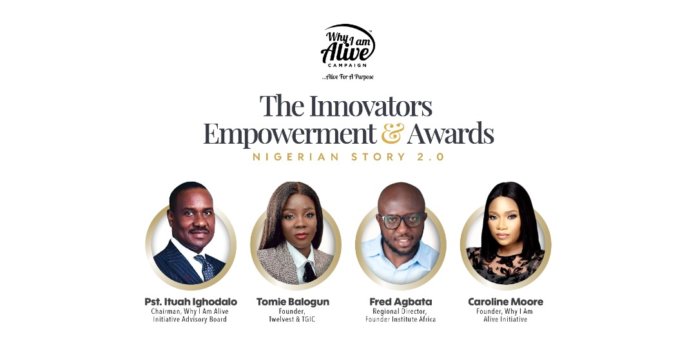 The Why I Am Alive Initiative (WIAAI) has invited entries for its 2021 Innovators Empowerment and Awards to reward the best home-grown innovations from young Nigerians.
According to the WIAAI, the programme seeks to celebrate outstanding breakthroughs that deliver practical and viable African solutions that are innovative and sustainable.
The programme which will recognise and financially support the brilliance of young Nigerians in diverse areas of human endeavor such as fashion, art, food, philanthropy, design, technology, architecture among others is scheduled to hold its final event in Lagos on November 20, 2021.
At a media parley to herald the empowerment and awards programme, the organisers revealed that a team of judges comprising renowned boardroom gurus, technology experts, and venture capitalists, will evaluate and select the winners based on their uniqueness within the market, ability to solve problems, price value, and suitability for use.
The judges, among others, are the Chairman of the WIAAI Advisory Board, Pastor Ituah Ighodalo; Venture capitalist and founder of Twelvest & TGIC, Tomie Balogun; Regional Director of Founder Institute Africa, Fred Agbata.
The founder of WIAAI, Caroline Moore, who affirmed the WIAAI's purpose to drive and encourage the innovative spirit in Africa, said: "We are pleased to launch the Innovators Empowerment and Awards and are confident that this will prove bigger and better in terms of participation and quality of submissions"
Also, the Chairman of the WIAAI advisory board, Ighodalo, has been involved in different projects to facilitate achieving a desirable Nigeria, and he expressed his delight with this initiative.
According to him, "One of the tools of development we need to ensure that every country functions properly is the empowerment of its people, as well as the ability of its people to be self-sustaining. So this campaign is trying to ensure that we can identify people with good ideas, encourage them, listen to them, and if possible match their ideas with funding which is critical."
Also, Venture capitalist and Founder of Twelvest & TGI Club, Balogun, noted that she was happy to be part of the 2021 event because it supports a culture of innovation and competitiveness while spurring growth.
Balogun said: "I am so excited to be part of this because there are a lot of people with dreams. For me what I will be providing is to educate them on how to ensure that their innovation can attract investment because it is one thing to have an innovative idea, it is another thing to attract investment."
On his own, Agbata he revealed that as a judge, he would look out for anything that will solve real problems and check if there are people willing to pay for the solutions-attacking issues like healthcare, logistics, education, and environment. He said. "I will also be looking out for innovators who understand the numbers game because at the end of the day there is no charity," he added.
Interested persons are advised to apply through https://bit.ly/whyiamaliveapply. The application will close on November 5, 2021.