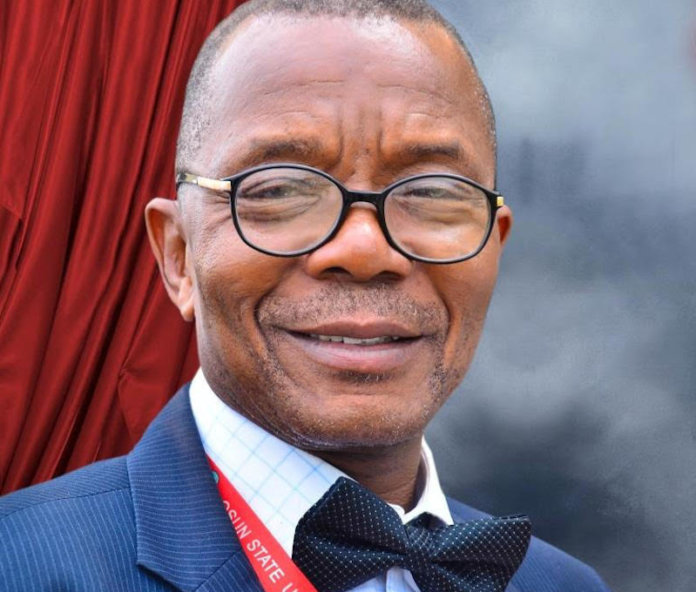 Prof. Labode Popoola is the Vice-Chancellor, Osun State University, Osogbo. In this interview with selected journalists, including Funmi Ogundare, the professor of Forest Economics and Sustainable Development, whose tenure will end on November 4, explained why society should be interested in how public universities are run and utilise resources to ensure accountability in the system. He said funding of education in the country should be taken seriously, among other issues. Excerpts:
You have been vice-chancellor of Osun State University for the last five years. How would you describe your tenure so far?
Well, it is like every other journey, you have the good, you have the bad, you even have the ugly. But all said and done. I want to believe that we are leaving behind a better university than we met it. I like talking frankly: I did not inherit a university in the real sense of it, and the records are there. The university I inherited was anything goes. Yes, the university in a name, but a university where academic culture was completely missing. A university where commercialisation of everything was the norm. A university where law and order was not a culture. A university where corruption was the order of the day. I guess it happens in many other universities, but the so-called autonomy that we have is like a veil, so the public does not see it. So it was really tough, very, very tough at the beginning, and of course, we are always reminded that trying to reform will always come with obstacles. And we really had the obstacles, and of course, we were always in the news, in the first one and half years; needless battles, but we overcame. And I want to give credit for this to the kind of principals that we had and still have. I had a visitor, the then Governor, Mr. Rauf Aregbesola, who understood what a university should be and gave us a free hand to run it. I also had a council, and I still have that council, which knows what a university should be and believed in the kind of serious reform that we needed to have, and I had their support. As tough as it was in the first 18 months, things moved on gradually because it was so bad that at a point in time, I wanted to resign and go back to the University of Ibadan (UI). But I recall some good members of council prevailed on me not to. I also recall that the visitor then, Mr. Rauf Aregbesola called me and said, 'Labo, you are on a mission. You are not going anywhere.' So that is what kept us going. Since 2018 November, when we had the peak of the madness, we have been at the cruising level, and it has been wonderful. Now we have what we can call a university.
In what ways were you able to reform the university, and what issues did you address?
You see, universities run on academic culture, integrity is one, selflessness is one, finesse, neutrality, accountability and openness; these are the culture that universities world over are known for. So anything outside of that will not be meaningful to someone like me. I believe that there are still people who think the same way that I do. So, we were able to instil that largely by resisting those who were against the reforms. You see, the turbulence was enough to frustrate any human being. As I said, we resisted them, but we also had the support of our principal, the council, and the visitor to the university. So yes, largely we are back, we are operating according to the rules and regulations of the university, the establishment laws of the university, the conditions of service at the university. So corruption has reduced drastically, because we have this credo, 'we don't give, we don't take bribe here', and that is exactly what it is, and we have means of knowing if it is happening. So largely, that reduced the cost of running the system, it reduced project cost, and we now have an efficient service delivery, we have quality delivery of projects. If you move round, you will find out that we have value for money. They did not come easy. That is the reality.
Can you give us another example of what used to be and what is obtainable now?
Well, we had a situation where lateness to work and absenteeism were the order of the day and we applied the rules and regulations. That has also reduced. We had a university where students were very lawless. All you heard about UNIOSUN then were students in cultism, students who were involved in 419, Yahoo-Yahoo, we were always in the news. But, what we did was that we brought the leadership of the students, we selected some of them that we thought were reasonable and we engaged them for the whole of three years, giving them leadership training. We organised retreats on an annual basis for three good years to let them know the essence of leadership. That now culminated in the first-ever student union executive. This university never had one. They elected their own leaders and they are now in place and they are doing the job that an executive should be doing. They are enlightening the students, creating awareness and serving as a bridge between management and the students. But we also did something, we selected amongst the students, the troublesome ones after they graduated, one per campus, to now work with our students' affairs division. So they were our eyes and ears on the six campuses. We engaged them. They were the ones actually leading the crisis when I first came. So we called them to ourselves by the time they graduated and told them that now you are graduates, you will know the difference between being a student and being an employed graduate. We engaged them in our student's affairs division, one par campus. So they understood the students better than we did and they are still there. We now have a student body that is very responsible. You hardly hear about crisis from our students. You hardly hear about some of these negative tendencies about our students.
How important do you think student leadership is to the smooth running of the campus?
The reality is that boys will always be boys, just like girls will always be girls. But unfortunately, student unionism, the way we knew it when we were in the university, is not the way it is now. They are involved in external politics. As a matter of fact, many of them see it as a springboard to join the larger society in politics. And so they like to play the hero even where there is no reason to do that. That is why we engaged them in leadership training. You see, if we had just succumbed to the quest for student union leadership, probably we would still end up with the same problem other universities end up with. But like I said, we engaged them, we involved them in leadership training for three good years. We bring in people from outside, not even us. We bring in mothers, fathers, people who have seen it all and people who will understand their language. We went on retreat for a minimum of three days, so we all mingled as if we were mates. So that brought in some confidence that this is not we versus them. It is about all of us. So by the time we now got the constitution of the students' union ready, we allowed them to think out the constitution, we went through it together, and they adopted it by themselves. Then we gave them a free hand to go and elect their leaders. And they elected their leaders without rancour. But one thing we also did was that we deliberately put in the constitution that anyone that will emerge as the president must be on the verge of first class. So the first president actually is a student in Electrical Engineering and clearly a first-class student. So it wasn't a question of an all-comers affair. So the best amongst them were selected. So you cannot be a third class or somebody who is lagging in class and say you want to become a student union hero. It is already in their constitution, so it is not possible.
Your tenure will end on November 4. Do you feel fulfilled?
Yes, largely fulfilled. But you know as much as possible I don't like blowing my trumpet. I like people to say what they see or tell the story of how they feel. Because again it is not about me, I applied for this job. I wasn't offered on a platter of gold. No. I applied for it, about 23 of us. I came first with a gap of about 30 points. So it means I put an assignment on my head and I had a vision and mission document. Every now and then, I go to that vision and mission document and ask, has this been done? Or has that been done? I want to say that over 90 per cent of things that I willingly wrote that I would do have been done. So if that is a measure of fulfilment, that is my description of it.
Speaking of corruption in the system, has there ever been a time when you had sex for marks or buying grades issues?
Again, the major one is actually still in court, so I will be very careful in the way I comment on it. I inherited a case of a lecturer. There was a video recording of the malfeasance between a lecturer and a female student. Whether money or marks transpired, I wouldn't know. But it was scandalous, and the matter is still in court. The lecturer was dismissed, and there were similar others. But one good thing we did was we put in place a sexual harassment policy. Sexual harassment is not just about a male lecturer harassing a female student. It could be either way. So the policy clearly states what sexual harassment means and how we can detect same, and the penalties for same. So we took it very seriously, and every member of staff has a copy and the students also have copies of that. So, that actually also sends some jitters. We have not been having it. You see, you never can tell. You don't know what happens outside the wall of the system. But the only recent report we had turned out to be a red herring. In fact, the student has just written a letter of apology. Because if we hear this sort of thing, we will investigate, and if you are found guilty, we apply the laws. so sexual harassment is actually taken very seriously because there is a policy on that.
Human rights groups have urged the EFCC and other anti-graft agencies to focus on universities. What do you think about university corruption?
The corruption in the university system is huge and I am saying so boldly. By the way, I was a 'customer' at EFCC. If you go online, you will find so many things written about me. I made bold to say and I say it before man and God that never in my life have I ever given or taken a bribe. That is the simplest form of corruption. There are several others. If I have never done that and petitions were written against me by people who are corrupt, doing it and I blocked the leakages and they wrote petitions against me, first to the council of the university. It is important we record this. I was investigated for about three or four months. The university governing council gave me a letter of exoneration because there was absolutely nothing. Then having not being satisfied by the petitioners, they wrote to the state House of Assembly and I think I was investigated for about six months. I have a letter from the state House of Assembly exonerating me. They went to the EFCC. I was even detained. Of course, I was released and investigated for another six months. I was expecting an outcome. There was no outcome because I was told that once they did not invite you again, it means that they did not find anything. I did not bother my head because I knew that there was nothing like that. But I guess the vindication eventually came when they decided to sue EFCC that the commission did not indict me. But back to the point you raised, there is corruption in the Nigerian university system. Part of the corruption is what I have just told you. People who were depending on the system illegally, but because there is an affront against them, they fought back so that I could be removed. When I first came, a professor came to this office and brought a document for me to sign money they call IGR to be shared among some professors and some people. I said why should this happen? He said, 'oh, here we share 25 per cent of IGR'. Don't you take your salary? He said, 'yes, we worked for the IGR'. How did you work for it? You are supposed to work for the university, and the compensation is our salary. Of course, I refused to sign it. You should expect what such people will feel about me. So I can say of this university that there was corruption and there is corruption in the university system in Nigeria. The EFCC, whichever agency, even the councils, should beam searchlight in the university system. You know our unions always complain about poor funding. Since I got here, at least I have got over N3 billion from TETfund. TETfund is government money. Yes, the government can never fund education enough. There are some universities that are getting more than that and who are still getting more than that, particularly federal universities. Society should ask, what have you used these monies for? I can account for every kobo that came in during this tenure.
You were quoted as saying Nigerian universities are training graduates for jobs no longer in existence. Do you think anything has changed?
A lot has changed. I think I made that comment in 2018 in a convocation lecture at Kaduna State University and I also mentioned it elsewhere. You see, we have a curricular, but there are some basic things in all curricula that may never change. You see, when you have hydrogen and oxygen in the right quantities, you will get water. That will never change. Reproduction in humans and animals will never change. Photosynthesis is a process and it will never change. But the environment changes some of these things. How are we reacting to the changes in the environment? We are talking of unemployment. How are we reacting to this in the way we teach Economics? How are we reacting to this in the way we teach entrepreneurship? If you are teaching Biology and Physics, are you bringing in values, about character, about conduct in society, values about how somebody can be useful to himself and society? Those are the issues. So yes, I think a lot has changed and I want to give kudos to NUC. As we speak, there is a lot of transformation going on in the curricular of the universities in this country that NUC is doing. But the other thing is about attitude. See you can also have good curricular, what about the attitude about the teacher? The attitude of the students? So all of these come together, but all in all, I think there is improvement and it can be better.
Most vice-chancellors usually have issues with the unions on campus. How would you describe your relationship with ASUU, NASU, SSANU and other unions?
Of course, there are four major unions in the university system. Now I have had the privilege of working in the university system now for about 30 years. That is the only job I understand anyway. I know that there are three scenarios. When there is peace between the unions and management, it means one; there are some things going on between them. They are enjoying themselves in the relationship. That is one way. Two, it can also mean that the leadership of the union is reasonable and sympathetic to the course of the university. When there is a crisis, it means they are not dancing. It could be that the VC is not doing what he is supposed to be doing or the expectations of the union leadership. By expectations, I don't mean workers' welfare because that is what unions are for. It means their expectations are not being met by the vice-chancellor. You can conclude on which scenario I fall into. But having said that, unionism in this country has also become personalised. A union leader feels that he is in a position to get things for himself, using the number of workers. Even when he/she is fighting a selfish course, he does it in the name of unionism.
We had a scenario here, somebody who had a case to answer, but because he didn't want to answer the case, mobilised in the name of the union. Now the workers knew better that he wasn't fighting their course because they know that 25th of every month or earlier, their salaries are paid. I am not sure there is any university that pays ahead of us. We are a state university. We don't pay half salary. We pay full salary on the 25th of every month. Staff members know that their promotions are not delayed. They did not need any union to fight for that. They know that their entitlements are not withheld. But there is a need for unionism in every system because of workers welfare and to checkmate the excesses of management. In the absence of that, there should not be any agitation. So my own opinion is that people should not turn unionism into a weapon, using it for selfish purposes. That is what we have in many scenarios in this country. Otherwise, I have no problem with unionism.
How would you describe your tenure in terms of attracting local and international grants to the university?
Well, attracting goodwill to a university again doesn't have to because universities do not have boundaries; universities are universal. But I would say that every year, we have been able to attract eminent individuals globally to this university. We have hosted the vice president of this country. He was supposed to come in 2018, there was disruption, but in 2019 he came, making us probably the first state university that ever hosted somebody at that level in this country. We have hosted Prof. Jeffrey Sachs, who is an advocate for United Nations Secretary-General on the Sustainable Development Goals (SDGs). You don't have such people so easily. We have hosted Amina Mohammed, the Deputy Secretary-General of the United Nations. We have hosted a professor from the University of West of England, a Nigerian, Professor Lukeman Oyedele. These are all people of goodwill. We have hosted the former President of Ghana, John Mahama. Now when you are talking of attracting resources locally, it is no longer news that the roads through which you came here were constructed through philanthropy. Our Chancellor, Mrs. Folorunsho Alakija, gave us N250 million out of the N350 million that it cost us to put that road in place. It is also no longer news that the state-of-the-art teaching hospital is under construction and almost completed. We have a member of our council, Mr. Tunde Kunle, who gave five bungalows and another storey building that used to be in his country home. He gave it to us, and we are using that as a medical outreach for the university. Even our pro-chancellor and chairman of the council made a lot of financial and material donations and so many of them. And our members of staff have also been able to attract grants here and there. We hosted the executive secretary of the African Forest Forum, they hosted a workshop here and it was because of the goodwill. They didn't have to come to Nigeria anyway.
Universities are meant to be solution centres. Why has the Nigerian university system not been able to solve basic problems?
Well, you have already said it. You said two things; universities are supposed to be solution agents and even at the United Nations level, there is a network called Sustainable Development Solutions Network (SDSN) and the memberships is about universities. I am a member of the leadership council at the UN level and I am the director from Nigeria. I believe that universities should be solution providers. But you see, you need to belong to a social media platform where university operators are. We complain the most about everything. We are the ones that will tell us the roads are bad. We are the ones that will tell the whole world that there is no electricity. We are the ones that will complain about health. So we have actually joined the society in complaining. It is unheard of. In other parts of the world that I know and I think without being immodest, not less than 100 countries that I have had the privilege of visiting, two institutions hold countries in place, the military and the university system. When there are problems, those are the two institutions. But unfortunately, we are not doing very well in that area and I personally feel bad about it. You have said, why can't we provide our own power supply? It may not be 100 per cent, but there should be evidence that a university is able to, which is what we are already doing here. Our street lights were put in place by our students from the engineering department. We didn't have to give a contract to get that done. We have our students engage in entrepreneurship, learning some trades that will stand them in good stead in the larger society. Instead of complaining about unemployment, they should be able to go out there to create employment or not to become a burden to society. It is part of the solutions that we are talking about. We have been able to put in place a loan scheme. We call it a start-up fund for our students. Instead of our students graduating and going out and complaining about no job or that government is not employing them. The loan is so little, N200, 000 loan about 1 per cent rate payable over a period of five years. If you are an alumnus and alumna of this institution, you can have that and many of them are taking advantage of that. So yes, universities should be solution providers. Unfortunately, we probably are the ones complaining the most and it should not be.
How has UNIOSUN impacted its immediate community?
I have just told you a few things, for example, we don't want our students to be a burden to society. We are supporting them through entrepreneurial training, through loans, then, more important, we created a communication programme. I think it is on Rave FM, we call it UNIOSUN solutions forum and it is aired every Tuesday. We only discuss solutions. The problems are known. Oh, no water! We have talked about this for ages. Oh, diseases! They keep on emerging. Poor power supply, corruption in the system, poor governance, we know all of these. So we instituted a radio programme every Tuesday, we call it UNIOSUN solutions forum and experts go there to discuss solutions, that benefits society. So that is some of the things we have been able to do.
Would you say UNIOSUN has attained world-class status?
That is subjective. For example, I will not envy the University of Ibadan, but I will aspire to be like the University of Ibadan. Do you know the reason? The University of Ibadan is 73 years old this year. Age is a factor, so if the University of Ibadan is ranked number one, I will not envy UI because what UI has, we don't have. UI has over 300 professors; some of them are world-class. I have barely 50 professors. So why will I compare myself with Oxford? It is part of the mistake we make. We talk about ranking. Oxford has been around for 100s of years. Cambridge has been around 100s of years, but we can only aspire. So I can only say that UNIOSUN of 2016 is not the UNIOSUN of 2021, for several reasons that you can see. But if you are now talking about ranking, when I came here, the university was number 37 in Nigeria. We are now number 29, eight point leap in five years. I don't know when the next ranking is coming, but we are likely to still move higher. But I will not envy Cambridge. I will not envy Harvard. I will not envy Oxford. I will not even envy the University of Ibadan. Because there are some things they have that we don't have, we are only aspiring to be like them.
If you could turn back the time, would you still leave your comfort zone to take this job?
You see, it is about service. There was no comfort zone anywhere. I said earlier that I applied for it, and it wasn't giving to me. And I had an idea of what I was coming to encounter here and I was prepared for it. It wasn't about the perks of the office. I don't even see any perks here. Because at a point in time in UI, what I was earning was probably higher than what I was earning here. I have my basic salary and I have a consultancy which the systems allows me to perform. I had some grants that, every month legitimately, I could be entitled to as much as $1,500 or $2,000. I choose to come here and the service also has value. Probably my name or some people who now know me would not have known me if I still remained in UI. So I am glad I had this opportunity. It is a privilege. And I am saying this. I didn't see any perks or any luxury. In any case, where are they? You can't find me with a pilot. At times I drive my car to work because I know it is wrong for me to drive an official car. If my driver is on leave, I drive myself in my personal car to the office. You can't find me with a retinue of security. I came here to work. If you find me in a suit, it means there is a special event, maybe a convocation. So nothing has changed in my life, what I would have been missing is teaching, but I am still doing it. So I am just myself, and I don't have to turn back the hand of the clock. And by the grace of God, on November 5, I am back in my department at the University of Ibadan.
What would be your advice to your successor?
You see, nice guys don't run the university system in Nigeria. So if you want to be nice or you want everyone to say you are nice, most likely you will be doing some wrong things. So that is my advice to whoever will succeed me.
You've been in the university system for a long while. Looking back at where you are coming from and where you are now, what will you say is the missing link?
I guess we have addressed this issue. Let us create a university. You see, a university is like a monastery where everything is done orderly; once we go back to that system, orderliness, openness and accountability.