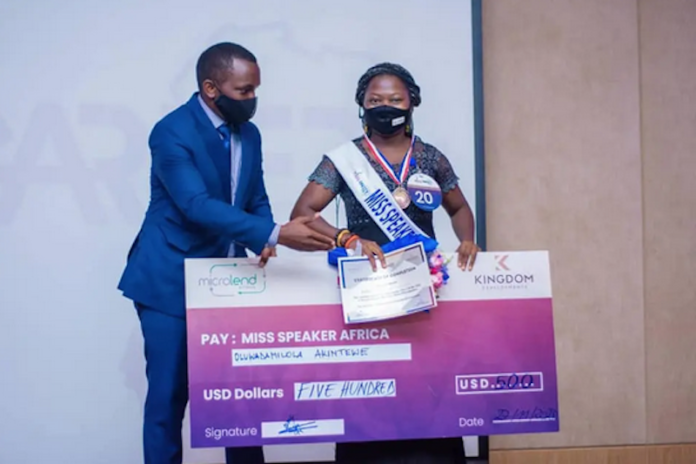 Nigerian student Oluwadamilola Akintewe has been named a top 10 finalist for the Chegg.org Global Student Prize 2021, a new $100,000 award to be given to one exceptional student that has made a real impact on learning, the lives of their peers and on society beyond.
Akintewe, a 22-year-old student at Adekunle Ajasin University, Ondo, Nigeria, was selected from over 3,500 nominations and applications from 94 countries around the world.
The Varkey Foundation launched the Chegg.org Global Student Prize earlier this year, a sister award to its $1 million Global Teacher Prize, to create a powerful new platform that shines a light on the efforts of extraordinary students everywhere who, together, are reshaping our world for the better.
Chegg.org has partnered with the Varkey Foundation to create the new Global Student Prize. Dan Rosensweig, CEO & President of Chegg, said:"While many stakeholders are busy debating, these students are busy doing. Congratulations to all the finalists of the Global Student Prize. They truly are the changemakers our world needs."
According to Akintewe, she was inspired by her humble background to always be committed to improving the lives and empowerment chances of girls and women in Nigeria.
She launched LetGirlsLead to provide mentorship and support for secondary school girls in her Ondo home state. Working with youth organisations, they teach girls entrepreneurial, financial and digital skills, so that they may become self-sufficient, and she set up a scholarship list to help them apply for places at universities and gain further qualifications.
She also launched Project Rebirth, which uses entrepreneurial action to deliver financial equality and inclusion for low income and rural women in Ondo. They take business development and financial literacy classes and learn sustainable and eco-friendly fashion design. The 140 women who have been impacted by the Project also get loans to buy sewing machines and launch their own businesses.
As a former victim of gender-based violence, Oluwadamilola has herself dealt with mental health issues and trauma and is promoting a wider social change through gender advocacy. Reacting to the alarming rate of sexual violence in Nigeria during the pandemic lockdown, with social distancing the new normal she leveraged social media to raise awareness, founding the Forbidden Topics Facebook platform, now with over 1,100 followers, to amplify female voices against social injustices and break the silence.