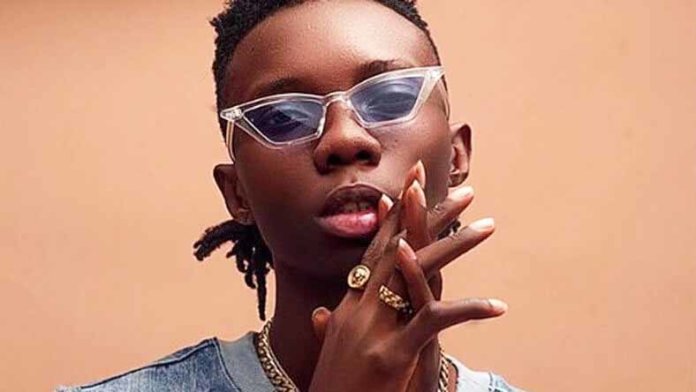 For Blaqbonez, an artiste who unwinds playing games, playing football, and having sex . . . the title 'Sex Over Love' for his album which dropped yesterday is not anathema, writes Ferdinand Ekechukwu
He tells you "Sex Over Love is my truth. It's me saying that this love thing is not for me. I'd rather have sex if I had to choose, I would choose sex every day." Crazy right? Well that is the inspiration and it worked out so far for the rapper, Blaqbonez. "The inspiration is my personality, my life. I'm a crazy person, my mind works in crazy ways. It's worked out pretty well so far, I would say. I get a lot of love," He explained in a recent interview. On this album he offers every version of Blaqbonez with some great music, and some surprises.
"Sex Over Love" album has 12 tracks and a bonus 'Haba', which is the first single off this body of work. From the album, Blaqbonez followed with the release of another single, 'BBC'. The bawdy 'BBC' was his first big step alongside a Tiwa Savage assisted remix that reverberated with his sensual intent for the project. Some weeks in the past, Blaqbonez launched the alte bop 'Bling', which is part of this new album. Blaqbonez signed to 100 Crowns, an imprint of Chocolate City, features Ghanaian songstress Amaarae and Spaceship singer, Buju on this track.
And with 'Bling' on the lineup, Sex Over Love is proving to be the encompassing experience Blaqbonez has promised it will be. Other artistes on this album include Laycon, Superboy Cheque, Bad Boy Timz and more. "This album is my own gospel, its wild, it's provoking but it's mine. Here's the album cover & tracklist. 'Sex Over Love' out this Friday!" he wrote on his Instagram page shortly before the album release.
Born Akumefule Chukwu-Emeka George in Lagos, Blaqbonez is popular for his versatility, energy, multiple personas, and his competitive style of rap. He famously spurred controversy in the Nigerian rap scene in 2019 when he crowned himself the "Best Rapper In Africa." In March 2020, Blaqbonez released 'Haba' to public acclaim and launched his #StreamHaba campaign which became a viral sensation on social media. Adept to the use of different personas for some of his past projects from "President Emeka" to "Mr Boombastic", he manages and embodies these monikers to the best of his aim.
"It's easy really because when I take on these personas, I embody them. I think like that person. And they are all conceptualized and planned ahead of time," he explains. "It's never a spur of the moment thing like, 'Oh, I'll be somebody new today.' By the time, fans hear about it, my team has heard, the label has heard, my manager [Morin] has definitely heard."