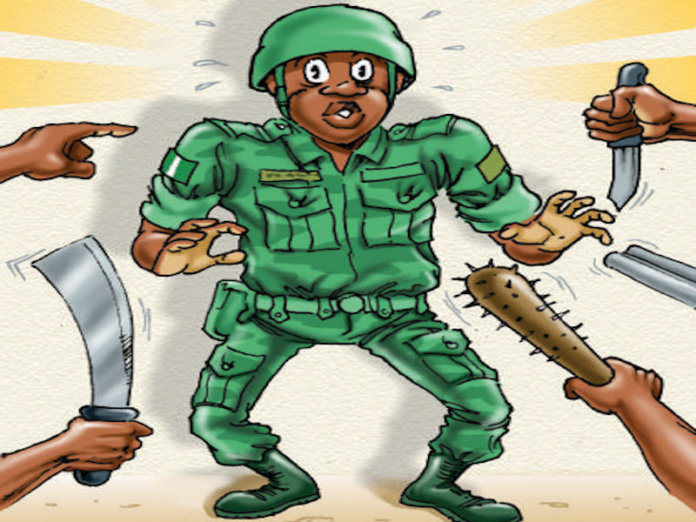 Frequent attacks have added to the woes of security agencies.
The authorities should embark on strategies to rekindle confidence in them
Barely a month after the publication of a report that at least 497 police officers and men were killed in 554 incidents across the country in eight years, dozens of others have been brutally hacked down. But it is not only policemen that are being killed in what has become a criminal offensive against uniformed personnel in Nigeria. On Friday, the Army Headquarters confirmed that their troops initially declared missing had been found dead in Konshisha local government area of Benue State. The troops, comprising one officer and 10 soldiers, came under attack while on a peace-keeping operation in the state.
We commiserate with the families of the slain soldiers in Benue State and urge the military authorities to conduct a thorough investigation to fish out the real perpetrators. Invading communities where innocent villagers become victims of a crime they did not commit can only compound the problem. But the brazen way criminals now operate across the country and the audacity of their attacks on uniformed men should worry the authorities. That citizens would turn against the very people who are paid to protect them signifies on one hand a loss of confidence in the security agencies and on another, a flirtation with anarchy. These bode ill for the country.
In the recent report by SB Morgen about police killings, of all the six geopolitical zones in the country, the South-South region tops the chart with 163 incidents which resulted in the death of 174 policemen in the years under review. But the statistics of the past one month is chilling with dozens of policemen killed, especially in the South-east. More worrisome is that this is a growing trend under the current democratic dispensation. A deputy superintendent of police was once beheaded following an ambush during a legislative rerun election in Rivers State. Two years ago, in an incident that further underlined the prevailing lawlessness, seven policemen on duty were gunned down around the Galadimawa area of the FCT, Abuja.
From the north to the south, men in uniform are now sitting targets for extermination by sundry criminal cartels which then raises pertinent questions: Why are these criminals increasingly directing their guns against those whose duty it is to keep all of us safe? Why have our security agents, particularly the police, become easy game for hoodlums across the land? Much more importantly for our national security, how will law enforcement agents who cannot protect themselves secure and protect ordinary citizens?
From the military to the police, civil defence and others, it is important for law enforcement agencies to also look inwards to understand what is fuelling this criminal enterprise against them. We also recommend a reorientation of their men, especially those who interface with the public. Offences that could have attracted warning get visited with instant punishment and the idea of guilt by association like it is now the case in Benue State should be discouraged. Besides, in several instances, those paid to enforce the law prefer to encourage rather than prevent offences from being committed, all in a bid to extort people. Citizens find all these very frustrating and tend to react negatively. But there can be no justification for the targeted killings of police and military personnel on lawful duties.
In the interest of national security, there is an urgent need for government and its security outfits to roll out a comprehensive confidence building strategy that would rekindle the trust of citizens in these institutions. This begins with a change of attitude towards law enforcement, which should emphasise crime prevention rather than enforcement. Those who carry arms on behalf of the state should be more friendly, taking time to explain to citizens why the law must be obeyed in the interest of the society. A friendly security agency will be fed with more intelligence to combat crime than one that is inherently cruel. Above all, the authorities should investigate how and why those who are meant to protect the people have themselves become vulnerable to violent attacks.
Quote
A friendly security agency will be fed with more intelligence to combat crime than one that is inherently cruel