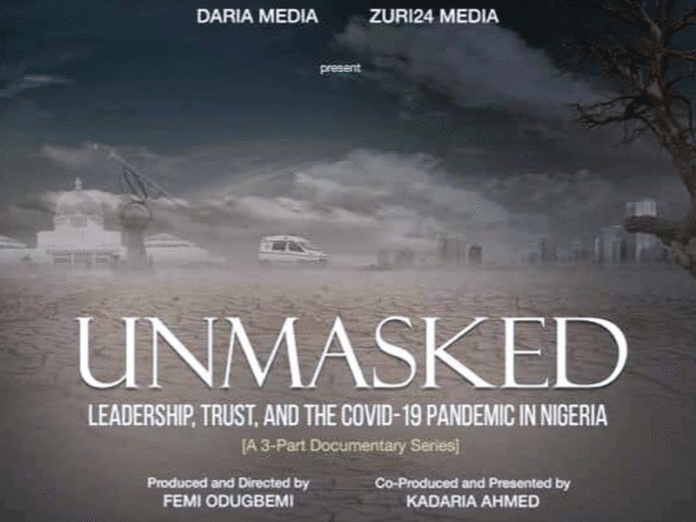 By Vanessa Obioha
Following its premiere at the recently concluded iREP International Documentary Film Festival, 'Unmasked: Leadership, Trust and the COVID-19 Pandemic in Nigeria' will debut on the small screen Thursday, April 8.
A collaboration between Zuri24 Media and Daria Media, the over one-hour long documentary is an extensive narrative that chronicles the COVID-19 pandemic in Nigeria and its effects on the economy.
It exposes the underlying factors that influenced some of the happenings during the lockdown period while probing the leadership of the country in tackling the health threat.
Concentrating on Lagos and Kaduna, the epicentres of the pandemic, 'Unmasked' captures how leadership can play a dynamic role in times of crisis.
The cost of misinformation is at the heart of the three-part documentary, plumbing the populace festering mistrust and resentment in government.
In praise of the documentary produced by filmmaker, Femi Odugbemi, and co-produced and presented by journalist and media entrepreneur Kadaria Ahmed, American filmmaker Nnegest Likke describes the film as an exceptional film that serves as "a catalyst to unmasking an even more potentially deadly, dangerous and widespread pandemic going on in Nigeria".
She added: "While the existence of governmental corruption and mismanagement is neither something new nor exclusive to Nigeria, it was the way in which 'Unmasked' dealt with the now overly-saturated topic of 'corruption in Nigeria' that made this beautifully crafted, eye-opening story so refreshing.
"We hope as many Nigerians as possible watch this documentary and hopefully see it as the start of an important national conversation on rebuilding our community with investment in our human capital. Healthcare is foundational to that. There will be a next pandemic and it must not meet Nigeria unprepared again."
The first part of 'Unmasked' will air Thursday evening on Channels TV, while the second and concluding part will air on April 15 and 22.