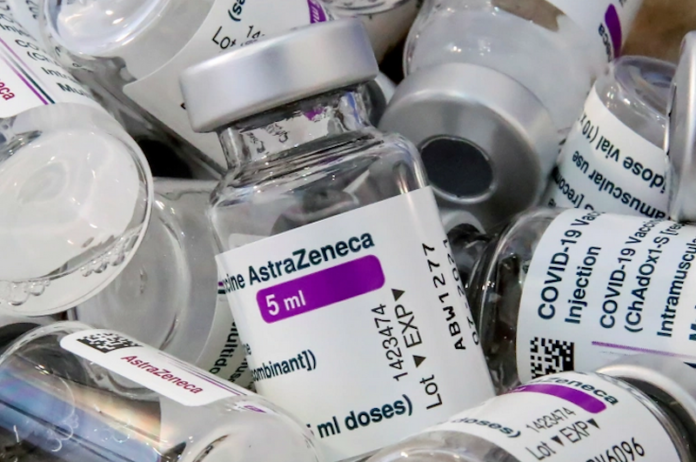 By Onyebuchi Ezeigbo with agency report
Under-30s in the UK are to be offered an alternative Covid vaccine to the AstraZeneca jab due to the evidence linking it to rare blood clots.
According to BBC, the recommendation comes after a review by the UK drugs regulator found that by the end of March 79 people had suffered rare blood clots after vaccination – 19 of whom had died.
The regulator said this was not proof the jab had caused the clots. But it said the link was getting firmer.
The review by the Medicines and Healthcare products Regulatory Agency (MHRA) found: the 79 cases and 19 deaths occurred after 20 million doses were administered – giving a risk of about four in one million of developing a blood clot; nearly two-thirds of the cases of rare clots were seen in women; the people who died were aged between 18 and 79, with three of them aged under 30; and all the recorded cases occurred after the first dose, although the lower number of second doses meant it was not possible to draw any conclusions from this.
It comes as the EU's medicines regulator says unusual blood clots should be listed as a possible very rare side effect of the AstraZeneca jab, but that the benefits outweighed the risks.
A New York Times report Wednesday noted that the European regulator, the European Medicines Agency, stopped short of advising that use of the vaccine be curbed in the 27 European Union countries, saying that it was up to the national authorities to decide who should receive which vaccine.
Until the announcement, Britain had never wavered in its use of the vaccine, making it a holdout in Europe even as many countries detected unusual, sometimes fatal, blood clots in some recipients. But evidence has mounted that very small numbers of Britons had also been afflicted, forcing the country to reduce the use in younger people of a vaccine that is the backbone of its world-beating inoculation program.
The latest development is seen as a setback for the world's most widely used vaccine and a source of worry to the more than 100 countries relying on it to save lives amid a global surge in coronavirus cases.
AstraZeneca vaccine has been distributed across Nigeria with over 964,387 people said to have received the jabs. So far, no adverse effect has been recorded in the country.