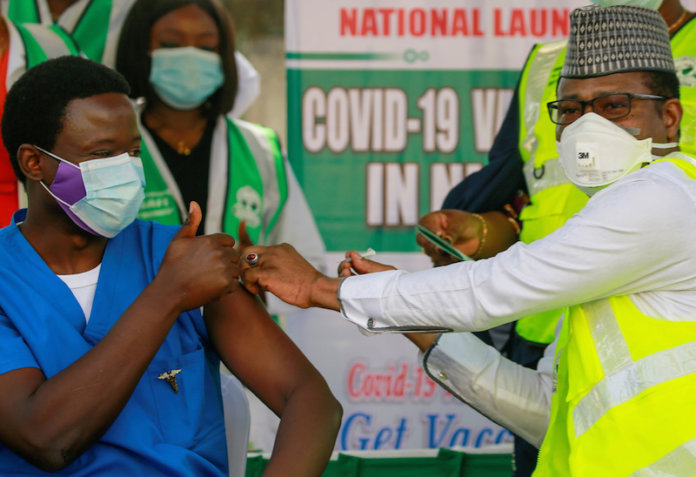 Onyebuchi Ezigbo in Abuja
As the national vaccination against COVID-19 enters its fourth week, the federal government has said that 513,626 people have received single dose of the Astrazeneca vaccine jab as at yesterday, Sunday, March 28.
In an update on the ongoing vaccination across the country, released by the National Primary Healthcare Development Agency (NPHCDA), the agency said 513,626 doses of AstraZeneca vaccine have been used out of the 3,940,000 doses recently donated to Nigeria through the COVAX facility.
Unlike the situation as at Monday when vaccination was in 33 states and the FCT, the number of states that have started vaccination had risen to 35, with only Kogi left out.
The statistics showed that states like Lagos, Ogun and Kaduna states led in the number of people vaccinated with 110,042, 47,507, and 38,063, respectively.
According to the update, all the states of the Federation and the Federal Capital Territory, Abuja have commenced the vaccination exercise except Kogi State which is yet to begin vaccination against COVID-19.
The vaccination figures as at yesterday showed that Lagos had vaccinated 110,042; Abia, 22; Adamawa, 14,074; Akwa Ibom, 3,106; Anambra, 2,631; Bauchi, 32,482; Bayelsa, 2,223; Benue, 4,833 ; Borno, 8,289; Cross River, 3,690; Delta, 6,304; Ebonyi, 1,187; Edo, 12,495; Ekiti, 9,494; Enugu, 4,298; FCT, 18,080; Gombe, 3,520; Imo, 7,793; Jigawa, 23,089; Kaduna, 38,063; Kano 18,915; Katsina 28,918; Kebbi, 532 and Kogi, zero.
Others are: Kwara, 26,573; Nasarawa, 11,509 ; Niger, 1,662; Ogun, 47,507; Ondo, 18,368; Osun, 17,202; Oyo, 1,798; Plateau, 7,856; Rivers, 8,795; Sokoto, 2,287; Taraba, 111; Yobe, 14,748 and Zamfara, 1,174.
Nigeria is currently leading 13 other African countries in the number COVAX vaccine deployment with 3.94 million doses of Astrazeneca vaccine.
Following the vaccination of 513,626 persons, the country now has 3,426,374 doses of Astrazeneca vaccines remaining to be deployed.
While responding to fears of possible adverse effects of the Astrazeneca vaccine on persons who have been vaccinated, the agency said that records at the various vaccination centres across the country did not indicate any adverse records from those so far vaccinated.
"No Nigerian has so far developed any adverse side effects due to the vaccination. While we have observed some mild body pains and fever at some of the centres, it is important to state that it is possible for you to take the vaccine and develop other diseases that are unrelated to the vaccination process," he said.
NPHCDA's Executive Director, Dr. Faisal Shuaib said the agency would continue to collaborate with the National Agency for Food and Drug Administration and Control (NAFDAC) to conduct pharmacovigilance exercise on the rollout of the Astrazeneca vaccine.