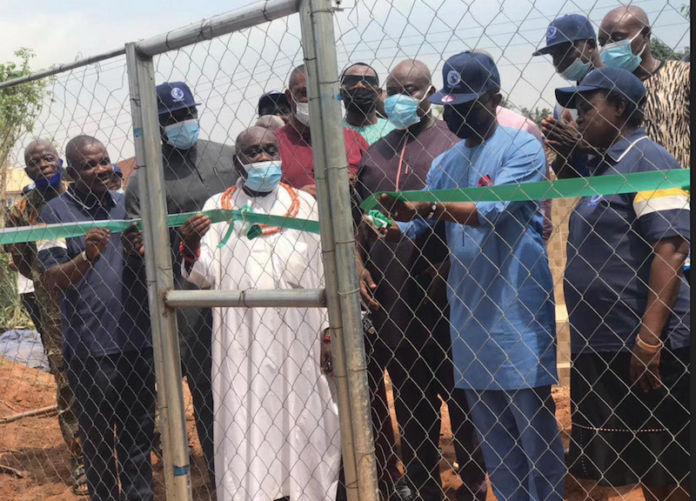 The Benin Owena River Basin Development Authority (BORBDA) Last Monday roll out the drums to mark the 2021 World Water Day when it commissioned various sources of water to its catchment states. Adibe Emenyonu, who witnessed the ceremony, captured all the excitement
On March 22 every year, the world celebrates World Water Day. The event, which has become a ritual globally, is commemorated to better appreciate water's immeasurable value as a precious gift of nature.
The value of water is much more than its price. In other words, water has enormous and complex value for our households, food, culture, health, education, economics, and the integrity of our natural environment.
Like the late Afrobeat musician Fela Anikulapo-Kuti said in one of his evergreen songs, 'Water No Get Enemy,' water is used in our everyday living to cook, bathe, wash, farm, etc.
Therefore, this year's celebration with themed, 'Valuing Water' was chosen to emphasise the importance of water not only on its economic value but its complexity for households such as food, culture, health, education, and the integration of our natural environment.
The celebration also calls for sober reflection on the need not to overlook any of these values; else, humanity risks mismanaging this finite, irreplaceable natural resource.
In commemoration of this year's event, the Benin Owena River Basin Development Authority (BORBDA) decided to celebrate the day across its catchment states of Delta, Edo, Ekiti, and Ondo. It will include various activities like the inauguration of various water projects executed in the last year.
These projects are solar-powered boreholes at Ogbe Secondary School, Benin City, and Oghede-Ego Community in Ovia North-East local government area both in Edo State and a solar-powered borehole at Aule, Akure in Ondo State.
Others are installing the Central Pivotal Irrigation System (CPIS) at Ayede Dam, Ayede Ekiti, solar-powered borehole at Oketoro community, and Iyin Ekiti. Also inaugurated is the installation of a fish cage on Ogwashi-Uku Multipurpose Dam in Delta State.
Speaking during the inauguration of the projects, the Managing Director of Benin Owena River Basin Development Authority, Saliu Ahmed, said the facilities underscored some of the core mandates of the establishment which is to undertake comprehensive development of both surface and underground water resources for multipurpose uses; construction and maintenance of dams, dykes, wells, boreholes, irrigation, and drainage system.
Others, according to Ahmed, are to supply water from the BORBDA's completed storage schemes to all users and construct, operate, and maintain infrastructural services such as roads, bridges linking project sites, etc.
He said part of the authority's mandate, which is to provide water, motivated it to mark this special day in the world with communities across its catchment states.
He stated, "For us at the BORBDA, this event gives us another opportunity to reflect on our commitment to providing clean water and, in particular, make a note of the importance it plays with particular emphasis on its conservation and management."
Besides, the BORBDA boss added that apart from the projects commissioned, the authority is currently constructing a dam to provide a water scheme for treatment and water supply to the Otuo community and environs in Edo; and to continue to maintain the Owena multipurpose dam in Ondo.
He said the essence of all this is to ensure an adequate supply of drinking water to the communities across and make all year-round farming possible on the farmlands around them.
"These water bodies have potentials for gaming and tourism, hospitality, power generation, aquaculture, and irrigation. From cooking to drinking, washing to farming, recreation to industrial use, water is the basic needed resource, and water is life.
"Even the richest and wealthiest person, young and old, cannot live without water. We all need water, and together we must preserve it," the BORBDA boss explained.
In his goodwill message at the occasion, the Minister of Water Resources, Mr. Suleiman Hussein Adamu, noted that the lack of potable water at home to over 2.1 billion people globally affected their health, education, and general well-being.
He said this year's World Water Day theme was apt and exceptional, "as it gives us another opportunity to reflect and reorientate our perspective about what water means to the people, its value, and how to better appreciate the immeasurable value of this precious gift of nature."
He advised people to recognise the vital role water plays in their lives to appreciate its importance by avoiding wastage.
"As we commemorate this very auspicious day, we should recognise the immeasurable role water plays in our lives. We must contribute our quota to mitigate the global water crisis and reflect on how important it is to continue to ensure that someday soon, everyone can have access to clean water while conserving the natural resource.
"I enjoin every one of us to continue to take action to tackle the global crisis in different ways so that sources do not dry up or get compromised in any form before we learn its worth. We must conserve water usage, keep the tap closed when not in use, do not unnecessarily prolong bathing time, do not ignore water leaks, engage in rainwater harvesting, stop every act of water pollution. With this, we can make a difference," he said.
The climax of the event was the inauguration of water projects which elicited excitement from the benefiting communities.
At Oghe-Ego Community, the Ohen of Eghede-Ego, Pa Osaseren Osadolor, commended the management of BORBDA for constricting the borehole. He also thanked Dennis Idahosa, the lawmaker representing Ovia Federal Constituency in the House of Representatives, for attracting such a project to the community whose only source of water before the borehole was rainwater.


At Ayede Ekiti, the community head, Omoniyi Omonide, praised BORBDA and those who made the irrigation and solar-powered borehole project possible. "The community and its environs will not only have drinking water but can now farm all year round," said Omonide