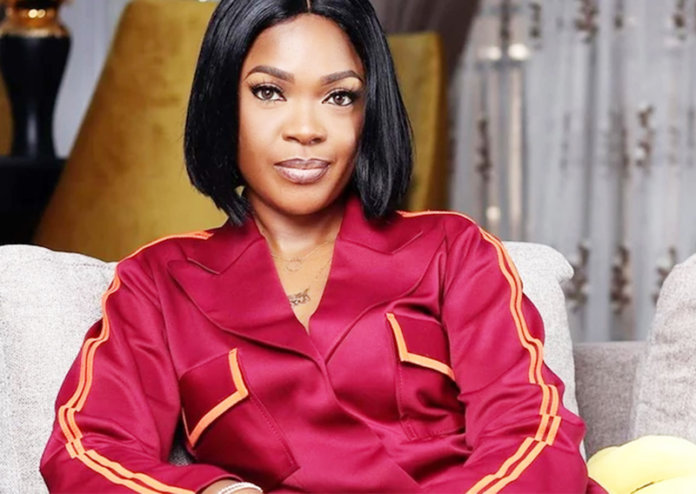 25 years after missing out, star actress Omoni Oboli returns as a hooker in the sequel to the 1996 blockbuster, "Domitilla, writes Ferdinand Ekechukwu
The mention of Nollywood classic movie, Domitilla, evokes nostalgia for aficionados who were around then. The movie which was a favourite in the home video industry in the '90s is now set for a sequel 25 years after the original. News of a 'Domitila' sequel was first announced last year with a release date scheduled for mid-2021. Well, a recent exchange between one of its principal producers and actress, Omoni Oboli and a fan has ignited talks around the forthcoming drama. The actress while chiding a fan who knocked her for a kissing scene with Richard Mofe-Damijo in her 2019 movie, 'Love Is War' says she'll play a hooker in the forthcoming 'Domitilla' sequel.
The follower told her in the Nigerian tradition, it's a shame for a married woman to kiss a man who isn't her husband: "I am just watching one of your movies when you're running for governorship election against your husband Richard Mofe-Damijo, see how you guys are kissing each other in the name of film. You're married woman for God sake and we have tradition in that country. What a shame?"
But the star actress and mother of three did not find such comment funny. She responded, telling the nosy fan to expect more of the make-believe in the sequel to the 1996 blockbuster while calling out the critic.
She wrote: "These are the issues…how do we educate her now? Oh sorry it was a question! What a shame? I'm playing a prostitute in my next banger! I guess that will make me a prostitute in real life! Oh well…looking forward! Las las everybody will be alright! Domitilla is coming!!! You really haven't seen anything like it! Y'all know I don't play."
The new 'Domitila', directed by Zeb Ejiro, will follow the adventures of a young Domitila who accidentally witnesses the mysterious death of a politician. With law enforcement on her and her friends' trail, Domitila decides to go to any length to prove her innocence.
The FilmOne Entertainment, Zeb Ejiro Productions and Omoni Oboli's Dioni Vision collaboration will also see the actress double as creative director and producer. Incidentally, Oboli had auditioned for a role in the first movie but did not get it because of her size at the time. She was quoted to have said: "When I was a teenager, I auditioned for Domitilla but I didn't get any part; perhaps, I was too tiny. Today, I'm proud to be one of the stars, executive producers, producer and creative director of the sequel. It's going to be a very exciting ride and I can't wait!"
The old Domitilla (1 & 2) starred A-list actors such as Anne Njemanze, Sandra Achums, Charles Okafor, Basorge Tariah Jr., Kate Henshaw, Maureen Ihua, Adah Ameh, and Enebeli Elebuwa, to mention a few. The buzz for this film was remarkable, and the word 'Domitilla' was on everyone's lips. Revealing the life of an average prostitute and the quest for survival, 'Domitila' was a combination of serious humour, empathy and emotion, all struggling for a place in the heart of the viewer. Although the lead character, Njemanze, had earlier starred in an equally successful movie, her role in 'Domitilla' shot her to lifelong stardom. One is eager to know what cast would make-up the new Domitilla.