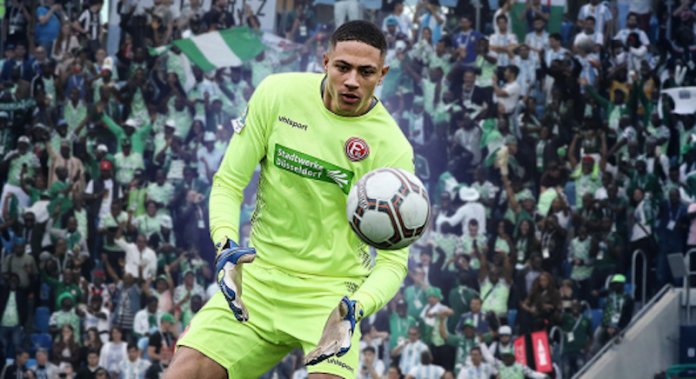 In spite of not being popular among soccer-loving Nigerians as he was partly blamed for the lacklustre performance of the Super Eagles against Sierra Leone in the AFCON qualifier match at the Samuel Ogbemudia Stadium, Benin; Coach Gernot Rohr however insists Maduka Okoye is Nigeria's first choice goalkeeper and the Sparta Rotterdam's man is set to continue as Nigeria's No 1
Coach Gernot Rohr has declared that Sparta Rotterdam's Maduka Okoye is now Nigeria's first-choice goalkeeper, just days before the coach names his squad for the Super Eagles' final two games of the 2021 Africa Cup of Nations qualification campaign.
"No. 1 is Maduka," Rohr told ESPN. "These decisions, I take them with goalkeeper coach Alloy Agu because he is a specialist for goalkeeper training.
"Myself and Alloy, we agreed that it's actually Maduka. We have the experienced Daniel Akpeyi doing well with his club in South Africa.
"We have the young Francis Uzoho coming back after injury, but he has to play also now not only on the bench. We have also Matthew Yakubu. There's a good potential now because this position was a big problem for us so we have more now."
Rohr's comments may provide official confirmation of Okoye's current status but it is by no means the end of the journey, as Nigeria have been on a goalkeeping merry-go-round since Vincent Enyeama's abrupt retirement in 2016.
Uzoho was promoted to first choice by Rohr and was between the posts for Nigeria's 2018 FIFA World Cup run, but a bad error against Seychelles during the 2019 AFCON qualifiers, which resulted in the Pirates scoring, led to him losing his place and temporarily demoted to the under-23 side with Akpeyi recycled back up.
Uzoho returned to good form, in time to feature in the 2019 AFCON third-place match, and he retained his place on the team until he suffered a serious injury during a friendly with Brazil in October 2019. He landed awkwardly and tore ankle ligaments, ruling him out for up to six months.
Okoye, barely 20 at the time, and who was on his first trip with the Nigeria team, was called in as a replacement and did a steady job in a 1-1 draw against the Selecao.
Rohr turned to Akpeyi for the start of the AFCON qualifiers but the keeper was injured playing for Kaizer Chiefs, and Okoye again stepped into the breach.
Okoye was in goal as Nigeria surrendered a 4-0 lead to draw 4-4 against Sierra Leone, but he did not take as much flak as would have been expected and redeemed himself in the return leg as Nigeria drew 0-0.
"You cannot drop a player because you say he plays one bad game," Rohr told ESPN of the pressure he had faced to drop the youngster for the second leg.
"It is bad for his confidence."
Unconvinced by the personnel at Rohr's disposal, former Nigeria's goalkeeper and coach Ike Shorunmu urged the German to make a quick decision about his No.1 goalkeeper before the final rounds of AFCON qualifiers.
The Super Eagles coach, meanwhile, is also pushing back on the NFF decision to play the last of those qualifiers against Lesotho in Lagos.
Rohr said early last week that the game would be played in Lagos, where they last played a decade ago, but he says his players prefer the venue in Uyo.
The Super Eagles last played in Nigeria's commercial capital in 2011, when they recorded a 2-1 friendly win over Sierra Leone; they have played their home games in Abuja, Asaba, Benin, Kaduna and Uyo.
"The second game, we will do it in Teslim Balogun Stadium in Lagos," Rohr said.
"We know that this is a very special occasion with the pandemic, and we cannot have the usual venue in Uyo.
"But my players they like Uyo because of the facilities, because of the stadium."
The Teslim Balogun Stadium, which has recently undergone a facelift, with the artificial turf replaced by grass, was the last place the Super Eagles played in Lagos.
Reacting to the news that he is Nigeria's number one goalkeeper, Okoye said: "I was very delighted and honoured because representing this beautiful country as the number one goalkeeper is something special.
"I am happy that Gernot Rohr chose me and I am going to pay back with good performance."
Okoye was not in the good books of Super Eagles fans after a schoolboy performance that saw him concede four goals on matchday three of the AFCON qualifiers against Sierra Leone, but he hopes to make amends and wants to prove he's the right candidate to be the country's number one.
"The performance has to be good, the best has to be a clean sheet of course. I am going to work hard and prepare good for the matches."