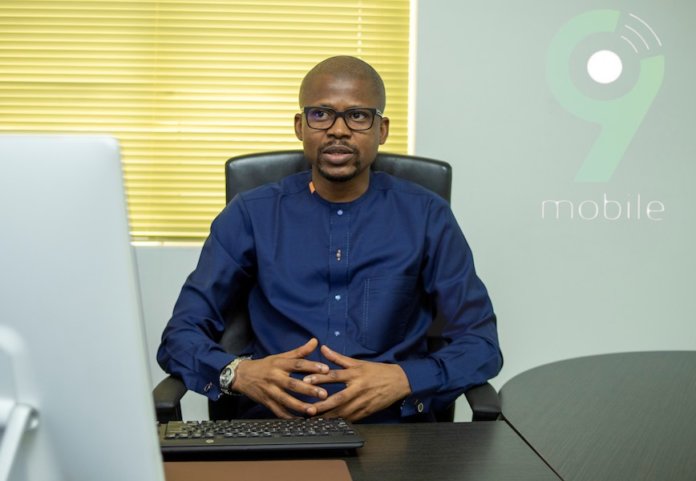 Chief Human Resources Officer of 9mobile, Dr. Ibrahim Umar is a professional in organisational effectiveness, efficiency, and productivity. In this interview with Chinedu Eze, he discusses his role, milestones, and vision for the company. Excerpts:
Give us an encapsulated view of what you do and what your company does?
The 9mobile brand emerged following the changes in the ownership structure. The current owners took over about two and a half years ago, in November 2018. They have set about repositioning the business so it takes its rightful place within the industry. And the first thing to do was to create financial stability and then make sure that we have the right strategy and the right people to run the business. That was what brought me on board. We have resourced some key roles, some local, some international. We have been able to stabilise the company towards the middle of last year, and we are starting to see growth. In the last half of 2020, before the NIN (National Identification Number) directive was given, we were growing consistently month on month up until December. So, by and large, I think there is a vast improvement. We can do more, and we are certainly getting ready to do more.
How has been your training and personnel engagement?
The new capacity development strategy is what some call '70-20-10′ or '80-20′. Seventy percent of capacity development happens on the job; 20 percent from learning from others, and ten percent from training. So, coming back to your question, how do we develop our people? First, we work with the best technology firms in the world to ensure that we have the right processes, the right system, and the right technology. In 2019, we took on a new solution from one of the major global vendors whereby we sent about twelve people overseas to understand the system so that they could return and pass on the knowledge to their colleagues. We do that a lot, and we know there are additional soft skills that people will need to imbibe. Despite the COVID situation last year, we partnered with a global brand that offers virtual learning development. Over five hundred employees have benefitted as part of our capacity development. The majority of what we are doing is learning on the job, coaching, and mentoring people. We have several interventions internally, for example, job rotation. We move people around from one part of the business to another to understand what is going on and the business direction. We do that for people to understand areas that are not their core functional areas and the bulk of what is happening in the business.
When you came in 2019, how did you deal with the staff looking at the transition and the anxiety that followed it?
It was not easy, honestly, and everybody looked up to HR. It was a difficult time to join the organisation. After a very detailed engagement with the board members to understand their vision and commitment for the business, I joined the organisation, and I laid out a plan which they bought into. Coming on board, the first thing I had to do was build trust in the leadership because there was a communication gap of sorts. Employees were finding out things about the organisation from the media and not from the leadership. That was quite unsettling so, I had to go around the country to build trust between the leadership and the employees.
That was the first thing we did. We went around to assure people about the business's future because they were kind of apprehensive. We had to reassure people about their future and the future of the business. We needed to demonstrate strategic clarity across the business; to tell people, "okay, your future is secured, but this is why." That also took much time because we had to do town halls and roadshows crowned by a strategy session featuring most senior management leaders at the end of 2019 to walk them through the direction of the business. It is critical to provide strategic clarity. We also brought in some of our board members who explained the reason, the intent for investing in the company, and why they want to keep the business.
What role does HR play in the branding of the company?
HR must do employer branding. It is part of what we do because we need to make the organisation attractive to people to come and work. Also, to make sure that we make it attractive for the people inside because our employees are our most significant assets and our biggest ambassadors. If you treat them well, they will sell you right to their family and friends. We have also been deliberate in some of the things we have done and plan to do. We have several things that we are trying to do this year. One of them is to launch a massive internship programme to bring onboard about 100 young graduates through a comprehensive cross-functional engagement process. We are trying to do that to make sure that we open ourselves up for Nigerians to come in and experience the authentic 9mobile brand.
We also want to continue to do our campus engagements. We currently have several relationships with Nigerian universities. We have a long-term relationship with Ahmadu Bello University, where we have sponsored some masters and doctoral students in telecommunication engineering. We want to expand that portfolio to include other universities. This year, we are doing something massive with the National Youth Service Corps (NYSC) to offer that employer branding to young Nigerians to see us for what we indeed are, representing that youthful brand.
We are now witnessing the rise of a new normal, which changes the entire dynamics for how brands earn customer attention, deliver value, and build relationships. How vital is employee experience (EX) in the brand's design thinking so much so that brand experience (BX) and customer experience (CX) feeds off it? What is the experience so far?
We generally believe in co-creation because it is very simplistic to sit down and think you know it all and can fix everyone's problem, but what we know in business is that you are better off co-creating solutions with your consumers and subscribers, so we do believe in co-creation. Internally last year, we launched something called "Idea Hub". It aims to bring ideas into the business to foster better product development, better customer experience management, and employee engagement. So, the Idea Hub is more like an innovation hub whereby people can bring their ideas, we explore them, and regardless of the level you are in the organidation, everybody is saying what they think. The whole process is to filter those ideas to then be able to externalise them, and that is key.
The next phase of the Idea Hub is to take it out to a situation where we can co-create solutions with our customers, and so, in terms of our philosophy, it is that of co-creation. We believe that our consumers know what their pain point is, and we will serve them better if we engage with them to understand that. Last year, despite the COVID-19 situation and observance of approved guidelines and protocols, we held some customer and consumer forums that were open, transparent, and a learning opportunity for all of us. We took senior management leaders to the forums. We were taking notes from our customers who were telling us, this is what we want, this is how we want it delivered, and for us, that process is what we want to take further and expand. We are doing the same thing inside the organisation. So, for us, it is the future of design thinking where you co-create solutions with your customers and with your employees for the betterment of the business.
Does 9mobile's HR design look at a sequential end-to-end process that aligns people, processes, and systems to deliver service seamlessly?
HR has changed, and we must change along with what the new requirements are. Human Resources Management today in major corporations is about Business Consulting. And so, if you are going to do Business Consulting for the business, you need to be agile. It is not sequential. When I first came, we had to evolve our processes. All HR processes had to be revised to ensure that they are agile and adapted to the business requirements. You cannot put rules and say, well, this is what everyone needs to do even if that is hurting the business. So, we are agile in both the spirit and the implementation of our policies. We identify the business needs and goals, and we support it to get there. We are your internal consultants. So, yes, I think it is not sequential.
We have got a process. For example, let us take recruitment; recruitment usually assumes a particular process, but the business said to us that we want to approach it differently. We do not want to do interviews. We want to do presentations so that we understand the skill set that people have during presentations. We will adopt that. We are flexible to their requirements; ethical settings and professional standards guide us, and that for us is the framework that we guide ourselves with. Anything in-between is responsive to what the business wants.
Richard Branson has been widely linked to the quote, "take care of your employees, and they will take care of your business." Do you share the same sentiment?
I share the same sentiments, but I must commend our people who have remained with the company despite the challenges we faced in the past. They built that resilience to stay with the business, to hang in there. There is nothing that we have now in this business more valuable than our employees, not even the technology. They are the most critical resource that we have today, and our shareholders know that. That is why they support the HR position on "we grow together", ensuring that our people will benefit in the future growth of the business.
Today, organisations adopt employee-friendly measures such as flexible timings, work-from-home options, paternity leave, and longer paid maternity leave to make work more adaptable and enjoyable. Considering the recent happenings with COVID-19, how is 9mobile plugging into this trend?
All that you have mentioned; paternity leave and all the rest, we have the policies, and I think it is good. I am proud of the telecoms sector because it has been one of the key drivers of flexibility right from the onset. I remember that things like paternity leave for many sectors are quite alien to them, but for the telecoms sector, it is there, and it is not just us alone. The other key players are on board. But when you talk about adopting flexible working and especially with the advent of COVID-19, I think we started "work from home" earlier than most organisations in the country. We started the pilot last year in March, even before the government directive set in.
We trialed this. I remember specifically between the 14th and the 16th, we had this meeting, and we thought, you know what, this is getting out of hand. Let us see what will happen, and we decided to shut down our offices and mandated a certain percentage of staff to try working from home and see what will happen. We gave people access, including our call centres. Weeks later, it came in pretty much handy when it became almost impossible to go to work, and so, we have been quite flexible in terms of how people work and where they work. Last year, we allowed about 50 staff to relocate permanently to their preferred locations across the, and now everyone in the business is working flexibly, working where they want to and how they want to. We enabled that by removing several barriers by giving people access to their work tools, special data packages, and zero-rating several applications.
As CHRO, you are the vanguard of 9mobile's organisational culture, philosophy, and approach to business, as well as its reputation among its internal stakeholders. What is the one thing or the lofty place you will want to take the organisation to?
What I want to see more than anything else is the culture of openness and innovation. I want a situation whereby people would be able to speak truth to power, whether you are the CEO, the CHRO, the ED. You go into a location or in our organisation; people should come to you honestly and talk to you as a colleague. If there are challenges, people should be open to you and tell you what those challenges are.
We are working towards ensuring people are as open as possible, and we are beginning to see results in those areas. I think that is the one thing that will gladden my heart; if by the time I am leaving this organisation, we have a complete culture of openness. People are transparent, and management is transparent, and people can work together without any barriers: that 'Oh, he's a senior executive or he's that, or she's this.' Let us treat each other respectfully based on the culture of openness and innovation. I want this organisation to establish itself as the most innovative telecom company in this country. For me, those are the two things that would give hope to our employees in terms of all the opportunities that lie ahead.