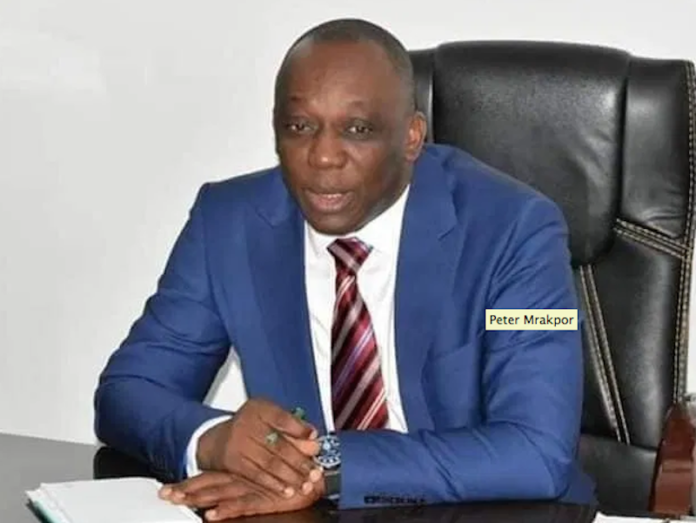 *  Debunks alleged marginalisation of Delta Central by Okowa
Omon-Julius Onabu in Asaba
The Delta State Attorney-General and Commissioner for Justice, Mr. Peter Mrakpor (SAN), has lauded religious leaders for their modest contributions towards peace and support for stability of the state government, including spiritual intercession.
Mrakpor, who made the commendation in Asaba, the state capital, during a grand reception party for the Association of Delta North College of Bishops, attributed his stream of successes in the legal profession to divine intervention, and thanked the bishops for their consistent prayers, especially "since he became their Legal Adviser, which had paid off through my emergence as a Senior Advocate of Nigeria."
He revealed that becoming a SAN had been a long-cherished dream "since I was called to Bar in December 19, 1989.
"Out of the 172 persons that applied for the Senior Advocate of Nigeria, only 72 were successful," he observed, adding that his appointment as a SAN was an act of God, especially against the backdrop of the orchestrated attempts by "certain mischievous elements that tried to pull him down, including through baseless petitions."
Mrakpor expressed appreciation to the state Governor, Dr. Ifeanyi Okowa, for giving him the platform to render public services especially in the area of the dispensation of justice in the state.
The state attorney-general also thanked the judges of the state judiciary for their overwhelming support before and during his struggle to attain the position of SAN, noting that apart from being recognised with the appointment, "it had also been one of my topmost priorities to become a fellow of the Chartered Institute of Arbitration."
Mrakpor observed that: "The recognition as a SAN would continue to inspire me to render more services for the betterment of the state and the society in general."
He, however, reiterated that Delta Central senatorial district had benefited immensely from the massive projects and appointments, just like other parts of the state in the Okowa administration.
The commissioner debunked allegations in some certain quarters that Delta Central senatorial district is being marginalised by the Okowa administration, saying those making such unsubstantiated claims were merely playing politics as there was overwhelming evidence to the contrary.
In his response on behalf of the association, Bishop Onyeka Agbabi, who noted that the association was designed to promote the unity and spiritual growth of the state as well as the advancement of government development, commended Mrakpor for his outstanding contributions to the association.
However, Agbabi pledged the association's continuous prayer for the state attorney-general and the success of the state government.
Earlier, in a short sermon, Bishop Clement Ifeanyi Ogumu, harped on the importance of peace to the development of any given society, stressing that notwithstanding the challenges and obstacles one might face in life, God would always provide the needed peace at the right time for attainment of progress in life.