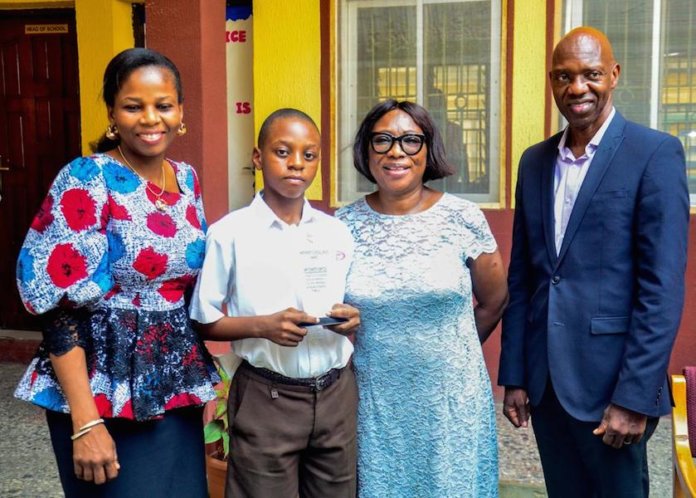 By Funmi Ogundare
Mind Builders School, Omole, Lagos, recently honoured one of its pupils, Master Henry Esemitodje, 11, who had emerged the winner of The Ultimate Mathematics Ambassador (TUMA) 2021, organised by the Ambassadors School, Ota, Ogun State.
Having clinched the first position for his school out of 589 others drawn from Lagos and Ogun states that participated, he received a cheque of N500,000 and trophy for his effort.
Speaking at the brief ceremony, in Lagos, the Education Director of the school, Mrs. Bola Falore expressed excitement about Esemotodje's success saying that about 20 of her students participated in the competition, out of which, five got to the finals which saw him emerging the winner.
She commended him for his feat, as well as his parents for their efforts saying that it takes hardwork, passion and zeal to achieve such a feat.
"I commend Henry for making the school proud. It shows the core values for excellence of the school."
Falore expressed concern that most children have phobia for figures, but that they usually allay their fears that maths is fun.
"There are ways you can take mathematics without being too rigid. What we have done here is to send most of our teachers for training on how to teach the subject especially at the upper primary classes and ensure that parents especially the mothers, create time for their children. The school cannot do it alone, even if we do and we don't get the cooperation of the parents, we can't get it right.
Asked if it was the first time the school would be winning the award, the director said it was the first time they will be getting to the final stage, adding that it had won so many laurels in music, Spelling Bee and debates in the past.
She advised students to follow their passion.
"Nowadays educators are more concerned about money, but they need to influence lives, as that is the essence of education . They need to have passion for what they do with all responsibility."
A member of the Parents Teachers Forum (PTF), Mr. Kunle Akinnibosun emphasised on the importance of maths on our everyday life, saying that there is a lesson to learn in achieving our goals.
"The school made a goal, cascaded it to the teachers and the work began, " he said, while admonishing other pupils not to feel intimidated by Esemitodje's success, but to be focused on their own goals.
"The reason why you are in school, is for you to learn," he said.
He appealed to the teachers to go the extra mile to teach the pupils effectively so they could achieve their goals.
In his remarks, Esemotodje, 11, who got a plaque and a compendium of photographs taken at the maths competition, expressed excitement that the competition has brought him to limelight saying that the feat was achieved through his hardwork, commitment and diligence.
"My teacher gave me extra time after school hours to study topics apart from the ones studied in class. I feel happy and proud of myself being celebrated today."
He advised other pupils to work hard and go the extra mile to learn more than what they studied in class.
His father, Mr. Igho Esemotodje expressed delight about his son's achievement saying its being a lot of hard work on his part and dedication on the part of his mother who had ensured that she followed up on his assignments.
In preparing him for the competition, he said he had to do a lot of psychological work on him and make him believe in himself, while considering his lapses.
"He participated in the competition last year and came third position, and this year, we had to review his performance. We knew that his strength was very good in terms of formulas and theories. In one of the competitions, he was the only one that got all the questions correctly. So we focused on that and he worked tirelessly to be the champion."
Asked if he is preparing Henry to participate in a Mathematics Olympiad, he said, "Henry is also thinking in that direction, he is very ready to go beyond this level. His elder brother In Turkish International School, passed through it and did so well .Out of 181 schools that participated, his school emerged the top six and he was number one on the list. This happened just last week. He was a gold medalist.