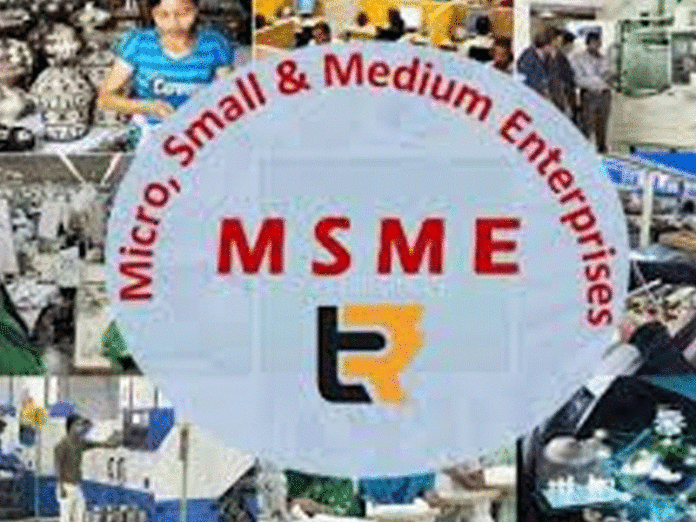 Nume Ekeghe writes about a new payment solution introduced by Access Bank Plc to support micro, small and medium scale enterprises who are drivers of the economy
The Nigerian economy has over the years been bolstered by thriving micro, small and medium scale enterprises (MSMEs), with 41 million of them responsible for over 84 per cent of the labour force and contributing over 50 per cent to Gross Domestic Product (GDP).
Asides this, they account for 96 per cent of operational businesses meaning that with some 42 million enterprises as every nine in 10 manufacturing companies in Nigeria are MSMEs.
These figures show the importance of the growth of the sector to the Nigerian economy.
MSMEs have been named a critical sector not just to increasing employment level, but also to national income, personal wealth creation and overall national growth. However, the Covid-19 pandemic had dealt a big blow to the sector.
The lockdown experienced in 2020 as a result of the pandemic worsened the market situation resulting from less in-person interactions, less in-person payment options, lesser need for brick-and-mortar store businesses.
Statistics from a survey carried out by Fate Foundation on areas impacted by lockdown shows that about 72 per cent of businesses say their cashflow had been severely impacted.
This puts cashflow as the number one challenge businesses faced and are still facing in the country due to the pandemic.
MSMEs Many Challenges
Many businesses also had challenges with sales as in-person purchases declined drastically due to the restrictions that came with the pandemic and revenue was listed as the third challenge businesses had to batten in the wake of the pandemic. Unfortunately, these three areas are critical elements banks look at to assess and qualify business owners for loans.
This development has made more apparent the lack of infrastructure and access to digital resources for small businesses. It is also showing that technology is not necessarily a level playing field for market players.
Basically, most businesses in the bid to survive had transited to social media and those who could afford it had opened shop in online stores.
Small businesses in the country are quite challenged, with most experiencing declining productivity rates largely caused by deficiencies in power supply; substandard trade facilitation infrastructure; lack of right-sized and right-priced financing, multiplicity of taxes, levies, fees; lack of innovation; and limited availability of requisite talent.
In addition to these, they now have to face a growing challenge in the payment space as in-person sales reduce.
A report by McKinsey & Company showed that payment is one of the key areas that have seen innovative solutions to addressing SMEs challenges.
According to the report on "Harnessing Fintech Potential in Nigeria", simplified access to allow SMEs and other corporates receive online payments from customers is one of the product development areas. Others include MSMEs lending, electronic wallets, merchant terminals, and retail lending among others.
Digital Payment
The report noted that the ease of online order and payment systems has considerable influence on customer acquisition and retention, thus underlining the importance of aligning with nimble and efficient payment services.
It added that digitally savvy, middle-aged and young affluent individuals face poor -user experience on products and find the value-add from using financial products underwhelming.
Also, payment acceptance services are a critical element.
In the context of keeping safe, more businesses are using WhatsApp, Instagram, Telegram, Facebook to sell and those who can afford it are building their own website to transit their business online. However, for many, payment is still a challenge making it a critical digital resource for merchants to receive payments and provide better buying experience to individual buyers.
Whilst noting that payment-focused solutions standalone operators such as Paga, OPay, Cellulant, Paystack and Interswitch's QuickTeller have surged over the past two years in Nigeria, competing with mobile banking applications and bank unstructured supplementary service data (USSD) channels for send-and-receive transactions and bill payments, the report pointed out that banking fintech solutions have seen fast followers.
According to Executive Director, Retail Banking, Access Bank Plc, Victor Etuokwu with efficient digital lending platform, which makes loan more available and convenient, specialised products and services that help MSMEs eliminate or cut down allied business costs and a seamless, fast and well-secured digital payment solution, the bank has continued to demonstrate its commitment to MSMEs.
He said Access Bank's enviable status in the Nigerian and African financial services industry makes it a better choice for SMEs, with assurance of strong financial back-up and sustainability as they progress.
"We decided to further improve our portfolio of supports for SMEs because we believe they are the future of the Nigerian economy.
"SMEs can provide more than enough jobs to the unemployed if empowered and we are committed to helping them realise this potential," Etuokwu said.
One of such is the Access Bank Swiftpay, specially designed for small businesses. Swiftpay is a digital payment service that facilitates the receipt of business payments by enabling customers make quick, easy and secure digital payments on social media platforms to merchants.
The Group, Head, Emerging Businesses, Access Bank Plc, Ms. Ayodele Olojede, noted that the bank introduced SWIFTPAY to support the digital transition and growth of SME businesses."
This product is part of the bank's commitment to support SMEs to meet their business objectives despite the times.
"The new service comes in form of a payment link that can be hosted on merchants' social media pages and sent to anyone to pay and conclude business transactions.
"It is easy and takes less than five minutes for interested merchants to sign up as it is convenient and time saving for everyone," Olojede said.
Olojede explained that Swiftpay is a payment link that takes less than five minutes to sign up for and is hosted on social media page of businesses.
She noted that with the processing charge discounted up to 15 per cent business owners are assured of keeping most of your funds.
Also, business owners using Swiftpay to process payments need not worry about financials as their cashflow and sales record through Swiftpay can be used as documentation to process loans from the bank.
"We are a bank, your account is already domiciled with us, you don't have to go through any additional KYC checks, your business is verified, and we will use your financial records to lend you money.
"Swiftpay is part of a new campaign we have launched ' Your Business Matters'a campaign to let our business customers know their business matters to us and we will continually work with them to support their growth.
What we have done is to partner with google business advisory to help us train our customers on the nuances of online business. They will also be exposed to online tools to optimise business. Our small businesses also have the opportunity of enjoying google ads to advertise online."
Safety of Payments
To ensure that merchants are protected from the online fraud that have permeated the social media and e-commerce space in recent times, she said Access Bank has put in measures to ensure that every merchant registered on Swiftpay carries a 'verified by access 'stamp to authenticate the page giving customers confidence when they transact.
"With the rise in the popularity of social media as e-commerce comes the increased risk of fraud.
"Business identity fraud is on the rise with the use of logos and false pages to appear genuine and defraud unsuspecting potential buyers of funds. With Swiftpay, merchants do not have to worry about this because every merchant registered on Swiftpay will carry a 'verified by access stamp to authenticate the page.
"At Access Bank, we are committed to providing very practical solutions that support the growth of our customers. We know that stronger participation in markets helps strengthen contribution to economic development.
"We recently introduced visa business debit cards to our customers and we are the first to do in the industry in partnership with Visa.
"The business debit card comes with higher withdrawal/spend limit limits for customers, it gives you discounts to courier services, you know logistics is a critical element for online business and it also comes bundled with access to google business advisory services for you to learn how to manage your online storefront.
'Swiftpay' is the latest addition to a bouquet of industry-leading SMEs financial products from Access Bank, including digital lending portal, 'Cashflow Loans by Access', which allows business owners to remotely access loans easily at their convenience through the online platform, and 'TraderLite', a simpler account that enables micro businesses with turnover between N50, 000 and N1 million to operate their businesses with their individual name or registered business name.
Whilst the innovation in digital payment for small businesses is expected to lead to increased sales and patronage for them, other infrastructural challenges need to be addressed for the sector to have the desired impact on the overall economy.