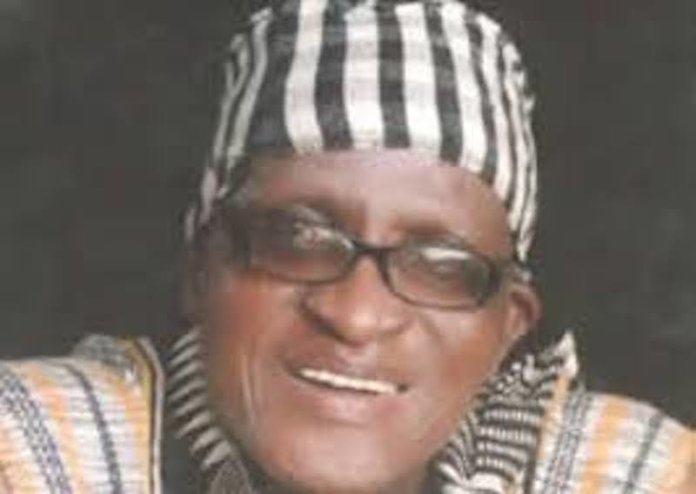 The art community in Lagos joined the family of the poet, journalist, sports promoter and music connoisseur, Otunba Edward 'Eddie' Kolawole Aderinokun in paying tributes at his funeral. Yinka Olatunbosun reports
Many who were present at the funeral of Eddie Aderinokun might have been oblivious to the fact that the late poet was born on July 13, a date that has been registered as the birthday of the Nobel Laureate, Prof. Wole Soyinka. Often, the art community would migrate to Ijegba forest to mark the occasion that has become known as the Wole Soyinka International Cultural Exchange (WSICE). But last Friday when Aderinokun was laid to rest, the art community stood for him with poetry performances and tributes in an event that was both physical and virtual.
Some of his children and grandchildren who joined the ceremony virtually were clad in the powder-blue garb, sitting respectfully in their various homes while the event progressed. Poetry performances by AJ Dagga Tolar and Akeem Lasisi added some life to the sober gathering marked by physical distancing of the masked guests.
The late poet was remembered for playing host to the Lagos Chapter of the Association of Nigerian Authors (ANA) for several years when their monthly meetings were held at his Surulere home. He was known to be very hospitable, offering food and drinks to authors at the meetings during the formative stage. His impact was also felt in the field of journalism as recounted by the former Governor of Ogun State and journalist, Chief Olusegun Osoba in a short light-hearted tribute to Aderinokun.
"I don't know how to start this tribute. We were rivals. He was in Daily Express; I was in Daily Times. But we were good friends. He was in Apongbon; I was in Kakawa,'' he said as he drew parallels between their career in journalism where they both got promoted to the position of Deputy Editors at about the same time.
His son, Segun Aderinokun, who had to endure the pain of losing his father on his birthday paid his tribute in an emotion-laden voice.
"Daddy shared many life lessons with us. Daddy calls me 'my prophet or my pastor.'' He was always quick to celebrate our wins, however little,'' he said.
Another son, Olumide Aderinokun captured the persona of late poet in his heartfelt tribute.
"He was a spontaneous father,'' he said while recounting all the dangerous night journeys he had been with his father.
Aderinokun was known to have founded Nigeria's first pop-rock group known as Clusters in the late 60s when highlife was the leading music genre in Nigeria. His first published collection of poems, Ebony on Snow was followed by another collection Dance of the Vulture in 1990. Others include Indigo Tears: A Travel Diary of Afrika in Verse (1992), Dark Days are Here (1995), Milestones: A Poetic Odyssey (1995) Meridian Hour: History in Poetry (1998) amongst others.