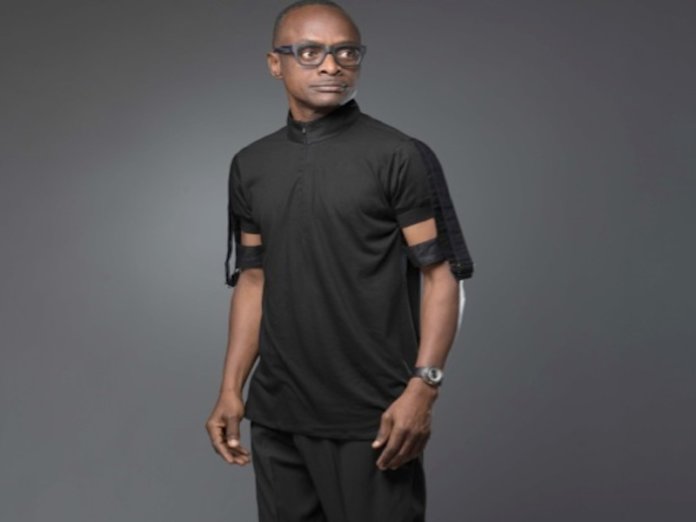 Famed fashion designer Clement Mudiaga Enajemo has been evolving as the fashion world transitions from one trend to another. The clothier fondly known by his brand name Mudi Africa has set its eyes on lifestyle designing. His mission is to transform your space into an appealing and comfortable abode, writes Vanessa Obioha
At precisely 5 pm, Clement Mudiaga Enajemo ordered his employees to shut down. It was a Friday evening, the start of a new weekend, and Lagos's city was already feeling the rhythm of the work-free days. Before eventually leaving his mesmeric office in the Anthony Village neighbourhood, the fashion designer checked with his employees, gave final instructions to his manager and accountant which included doling out small cash to his workers for the weekend.
Since he became a household name, Mudi Africa as he is fondly known has assumed a judicious work habit. He resumes work every day by 7 am, sometimes before his staff, and closes by 5 pm. On a few exceptions, he breaks out of his habitual mould, particularly when he is out of town — he travels mostly on weekends and returns by Monday morning at most. The only time he goes on a long vacation is between December 24 and January 15. When his workers are overwhelmed by orders, he works all night with them. If he needs to go out while at work, he takes an Uber rather than drive his branded car. This way, he keeps his workers on their toes as they have limited knowledge of his whereabouts.
In the past 27 years, Mudi has stayed true to his passion, evolving as the fashion world transitions from one trend to another, and still maintaining a spot in the top rungs of the ladder. Hardly would you mention his name without fetching a complimentary reaction. His name sometimes travels beyond his areas of operations. He has stores in some select African countries including Ghana and Cote d'Ivoire. Last year, while his contemporaries were still navigating the uncertainties presented by the deadly coronavirus, he opened a shop in Abuja, pooling a constellation of elites to the glamorous event.
Of course, eyebrows were raised and the suspicion of his wealth provenance resurfaced. Perhaps, in his early days, such comments would have left him up in arms. Nowadays, he brushes off derogatory remarks like an irritating housefly.
"I'm used to it," he said on a recent Sunday afternoon at Radisson Blu Hotel in Ikeja. "Anything you do, people will talk. I have been in the fashion business for 28 years now. If I'm still where I am, then something is wrong. Sometimes, such comments are products of jealousy, as a way of consoling themselves."
The Delta State indigene lost his Abuja shop in 2018 when the property's new owner evicted everyone. Since then, he's been hunting for a new outlet. Fortunately for him, 2020 was the year he finally secured one, thus the launch event.
The negativity that often accompanies successful people, to Mudi is a fundamental Nigerian problem. He made a comparison with the political landscape where he argued that people with good ideas are often relegated. Merit, according to him, is based on one's bank account. However, more frustrating to the clothier is seeing Nigeria tagged as the poverty capital of the world.
"It's painful because we all know that not everyone is poor. In Nigeria, we believe that money is everything but poverty is a mindset. Most people in government are mentally poor. Those who have brilliant ideas are not allowed to come forward. And people with ideas don't have the patience for protocols."
He tapped the table as he buttressed his points.
"The level of pettiness is so high among those in government that even when you have an idea that will add value to their performance what comes to their mind is that the project will make you shine. Most people in the corridors of power feel very uncomfortable with sharp people and use whatever means to create a wall not to expose their incompetence.
"Let me give you an example. When the former governor of my state, Emmanuel Uduaghan was a governor, I tried all I could to access him to share my ideas, but I was frustrated by those around him. Some of them are the ones blaming him for lack of performance today. Sycophants can easily mislead a leader who is not hands-on, and there is a thin line between sycophancy and true loyalty. Being hands-on is not about knowing how to share a political post but understanding true performance. Since 1999, governors who were and are still hands-on in terms of performance are not more than five," he argued.
When Mudi makes such comments, his friends tell him to join politics. But he's the least interested. His passion still revolves around art. It can be argued that when it comes to art, particularly visual art, Mudi is an eager beaver. It's seen in the creativity and styling of his apparel. Little wonder that his clients are mainly top echelons in society.
Recently, Mudi expanded his love for art and style to the lifestyle world by launching his lifestyle aesthetics brand. Called UDIAG Lifestyle, a play on his native name Mudiaga, the designer is keen on transforming homes, offices, and even the environment with his artistic touch.
"Most Nigerians spend huge amounts of money on building an expensive house, but the environment does not reflect the money spent. There is no harmony, class, or taste. That is where I come in," he said.
Upon entering a space, his first thought is how things are arranged. Are they haphazard? Do the colours complement? Is the place spacious or chock-full of miscellaneous items?
"There are times you enter a space, and it is offensive to the eyes. The rug is clashing with the curtains and upholstery," he shook his head in repulsion. "Your space has to be appealing, and that has to do with style. If you are not creative, you won't have a style. One thing I have learnt over the years is that as a designer, you must have taste, style, passion, and creativity" he explained.
He describes himself as a minimalist and his style as a hybrid of vintage and modernity. He loves adding a retro look to a contemporary space. What Mudi is offering with UDIAG is to make spaces appealing and comfortable.
"People often travel out to buy furniture and new things. With us, you can be assured that we will rearrange your house without buying new things. Less is more," he added.
It is not entirely surprising that Mudi would delve into the lifestyle designing world. A look at his workspace shows that the handwriting has always been on the wall. His showroom is a spacious place with minimal design, from the white walls to the symbolic embellishments. For instance, the first sewing machine he used is creatively linked to a thread-like hangar attached to an enormous fancy needle.
The faces of his mannequins are half cut, showing only the lower part. They only don shirts while the trousers are neatly tucked in an elegant branded bag at their feet. His main office boast of a woven table shaped in the form of a sewing machine. On the walls are two big frames; one a picture of his humble beginnings and the other, an image of his office which usually makes passersby stare in awe.
Every part of his office breathes his brand, even down to the doormat that has his name meticulously cut out.
His abode in the elitist part of Ikoyi is no different.
White walls don his living room, a dual-purpose centre table that can also serve as stools perches at the middle, a TV set is tucked into a white decorative box and could be wheeled to any part of the room for convenient viewing. A turntable surrounded by different sound systems. His wine bar is not the conventional wooden racks, rather, a white fibre-polished calabash hanging strategically on the walls. A white glass cupboard displays an array of stemwares.
He confessed that people are always in awe of his work and living space such that they urged him to go into interior designing. However, he sank his teeth into lifestyle designing in 2018, when he renovated the very popular Post Office Square (Junction Roundabout) in Ughelli Headquarters of Ughelli North Local Government, Delta State which Governor Ifeanyi Okowa highly commended.
That's not all. He spread his artistic touch to the Delta State House of Assembly and complex.
Though clients are trickling in, Mudi is confident that UDIAG will soon become a household name like his fashion brand. The good news is that with UDIAG, you don't have to plan a money heist. For him, a tastefully-furnished space has little to do with money.
"Taste is not all about money; it's about paying attention to details. If you don't have it, you don't have it."