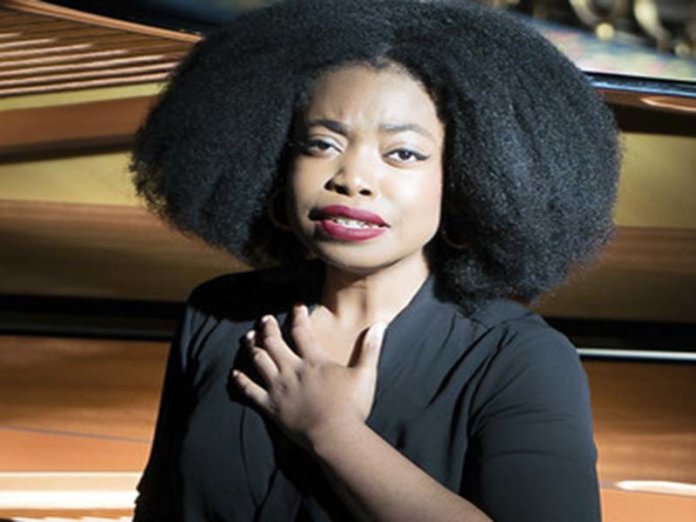 Despite the devastating impact of the pandemic on the operatic world, Francesca Chiejina remains hopeful and steadfast in the pursuit of her lifelong passion. Okechukwu Uwaezuoke reports
CLASSICAL MUSIC
Somehow, the show had to go on. So, operas, which under normal circumstances have always been performed in specifically-designated physical spaces, suddenly had to move on to digital platforms. And London, UK-based Francesca Chiedu Chiejina, for whom the year 2020 had been a particularly strange one, has good reasons to deem herself "quite fortunate".
It was indeed an apocalyptic scenario. Work "dried up" and weeks of despair turned into months as companies began to fold up. "It was a harrowing experience watching friends and colleagues ending up in dire straits because their industry and means of livelihood disintegrated overnight," recalls the Nigerian-American soprano, whose Royal Opera debut saw her playing the role of Ines in Guiseppe Verdi's opera in four acts Il Trovatore.
At the moment when the flame of hope seemed about to be extinguished, an unexpected turn of events rekindled it. "Just as quickly as the work seemed to disappear, theatres, dancers, directors, producers and musicians began to band together to move their work online."
Even as humanity continued to groan under the pandemic's devastating impact, Chiejina took solace in her participation in five digital projects. Besides, Benjamin Britten's 20th -century chamber opera The Turn of the Screw, which was put on by Opera Glassworks, there was also Igor Stravinsky's English-language opera in three acts and an epilogue, The Rake's Progress, which was put on by Blackheath Halls. Then, there was this recital with the London Song Festival of French Music from the 1920s Paris, a small Monteverdi recording arranged for Longborough Opera as well as some operatic arias recorded for Opera Prelude Company.
"It's [been] quite a lot of work, and I'm incredibly fortunate that I've been able to keep stable income at such an unstable time," says the 30-year-old.
Metaphorically speaking, Grimm's tale character Rumpelstiltskin seems to have nothing on her when it comes to the art of spinning straw into gold. She likens the plethora of newly-created classical music content accessible online, often for free, or for a small payment/donation, to the Wild West. "If I'm honest, we're all learning on the job and taking risks that seem to be paying off! I was undoubtedly sceptical at first but the results have been astonishing."
Now, in retrospect, she believes that it's just like human beings to experience devastation and still find hope and opportunity amidst the carnage. "When the world returns to some form of equilibrium, and it will, a lot of the tools we've amassed will help us bounce back into what I predict will be a better normal," she adds, waxing optimistic.
Perhaps, it's Chiejina's penchant for self-analysis that has seen her through these times when she is compelled to practise her craft in the absence of a physical audience. "Although there has been a decent amount of work available, it's not nearly as busy as it would have been normally," she explains. "In the weeks and months where I've not been working, I've really had to redefine what it means to be an artist. I've made the rookie mistake of aligning an unbalanced amount of my identity with what I do. With the blinding noise that is being 'busy' fading, it became therapeutic to create art for the sake of creating, create art as a means of self-soothing, create art as a response to joy and sorrow, and finding it is enough. Funnily enough, they were the very same reasons I began to create in the first place."
Speaking of which she started getting to know herself outside of being an artist. "As a young artist in today's world, the rule usually goes, do a lot of work, figure out your strengths, highlight those, garner a reputation for the said strength, and it should be smooth sailing from there, or so we're told…
"Like many of my colleagues, I was doing the circuit, prided myself on being busy, and was running on fumes. Quarantine came as an enforced break. With so much more time on my hands and being forced to face oneself, there's nowhere to hide."
It was only a matter of time before another piece of the jigsaw falls into place. So, the University of Michigan, Ann Arbor graduate, who also holds a Master's degree from The Guildhall School of Music and Drama in London, began to reconnect with herself. "In a way, I reintroduced me to myself: I remembered who I was before life got so busy. In reconnecting with myself, I, in turn, began to reconnect with old friends and family. As a lot of us did, I picked up a few new skills and hobbies. I feel like a well-rounded and more balanced human being, who happens to be an artist."
Coming to terms with the fact that there wasn't going to be a quick fix for the coronavirus pandemic got her thinking about how her post-pandemic life would be. Would the soprano, who has performed in some of the world's most prestigious venues, remain as busy as she has been? Would this post-pandemic life be sustainable and good for creating high-quality work? "I can't predict how I'll feel or how life will play till the time comes. But I know the world has changed forever… What once was, will never be, and I look forward to embracing the new experiences."
Talking about sustainability, Chiejina considers the swift venture into other careers by her colleagues as one of the most surprising and impressive results of the pandemic. As for the careers – which in administrative and teaching positions – they were part-time and, in a few cases, full-time. There were still others among her colleagues who chose to retrain and acquire new skills.
Nonetheless, Chiejina – who once said she had no plans to part ways with the operatic world – prefers to look on the bright side. Of course, she acknowledges that the pandemic has had devastating effects on the arts, especially on live performances. Still, she thinks that the operatic artform transfers beautifully into a digital medium. Her verdict: "It will never replace it of course, but it does a fantastic job for now."
Meanwhile, her earliest childhood musical memories – sight-reading a piano piece, hearing the music for the first time, and being in complete blissful awe that her fingers, hitting these black and white keys, were creating music – continue to accompany her as a guiding star.
Thanks to her dad, Anthony Chiejina, who is the Group Head, Corporate Communication of the Dangote Group, she and her three siblings (two boys and a girl) were enrolled for violin and piano lessons at the MUSON Centre in Onikan, Lagos.
This was how her love affair with making music – especially of the classical genre – began. And talking about The MUSON Centre in Lagos, her plans to perform at the venue between 2020 and 2021 have been suspended on account of the prevailing circumstances.
Back to her vocation, she had studied with the likes of the American operatic soprano Martha Sheil and James Paterson. She studied under Sue McCulloch at the Guildhall School of Music and Drama while she was studying at the University of Michigan.
Earning her degrees implied exposure to courses like musicology (music history), music theory, acting, dance and movement, human anatomy and physiology, German, Italian, French and a bit of Russian.
At a later stage in her musical education, she passed through masterclasses with Martin Katz, Kamal Khan, Gianna Rolandi, Joyce DiDonato, Brigitte Fassbänder, Edith Wiens and Felicity Lott.
Noteworthy milestones on her career's path include her selection as one of five singers from around the world for the Jette Parker Young Artists Programme in 2016 and becoming a finalist of two major competitions: the Kathleen Ferrier Competition at the Wigmore Hall and the inaugural edition of the biennial Glyndebourne Opers Cup in 2018. Through the exposure from both competitions.