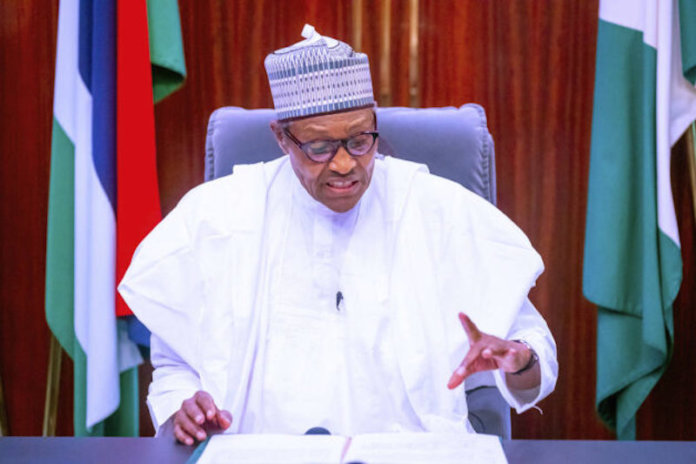 • Says COVID-19, #EndSARS push killing up by 43%
• Recommends 9-point antidote to mass atrocities
Gboyega Akinsanmi
Nigeria's sub-national governments have lost confidence in the capacity of the federal government to provide security amid rising cases of mass atrocities that claimed 4,558 lives nationwide in 2020, Global Rights, an international human rights organisation based in Washington D.C., has said.
The organisation claimed that the reported cases of mass atrocities in 2020 represented a 42.9% increase above 3,188 incidents recorded nationwide in 2019, thereby making 2020 a brutal year for most Nigerians amid the outbreaks of COVID-19 and the eruption of #EndSARS protests.
It reeled these figures in a glaringly damning report on mass atrocities across Nigeria released about 24 hours after a coalition of civil society organisations (CSOs) asked President Muhammadu Buhari to step aside provided he could no longer fulfill his constitutional mandate.
In its 24-page report titled "Save the Date: National Day of Mourning," the organisation revealed that mass atrocities-related killings by region affected no fewer than 1527 (33.5%) in Northwest with Katsina, the home state of President Muhammadu Buhari, recording second highest after Kaduna.
In Northeast, the epicentre of Boko Haram insurgencies, the report put mass atrocities-related killings at 1508 (33.08%), North-central 685 (15.03%), South-south 443 (9.72%), South-west 231 (5.07%) and South-east 162 (3.55%).
While banditry claimed 1982, which accounted for 44.46%, the report said the insurgencies by Boko Haram and its splinter group, Islamic State in West Africa Province (ISWAP) cost 1173 representing about 26.30% of the total mass atrocities-related killings.
The report, also, put killings that resulted from communal clashes at 407 (9.13%), extra-judicial killing 271 (6.08%), herdsmen killing 270 (6.06%), cult-gang killings 247 (5.54), isolated killings 185 (4.15), mob action 12 (0.26%), politically motivated killings 7 (0.15%) and pirate attacks 4 (0,09%).
It ranked states of the federation that were adjudged extremely ailing and pathologically fragile to include Borno with 1176 cases of killings, accounting for 26.8% of the mass atrocities-related killings in 2020.
Also classified with fragile states, the report ranked Kaduna second with 628 cases (13.78%), Katsina third with 501 cases (10.99%), Zamfara fourth with 262 cases (5.75%), Niger fifth with 254 cases (5.57%), Benue sixth with 145 cases (3.18%), Delta seventh with 141 cases (3.09%), Plateau eighth with 139 cases (3.05%), Edo ninth with 118 cases (2.58%) and Adamawa tenth with 111 cases (2.45%).
Apparently judging from these indices of killing resulting from widespread banditry, insurgency, communal clashes and intractable farmers-herdsmen conflict, the report claimed that the state governments seemed "to have registered their dissonance and lack of faith in the government at the centre to provide security leadership. "
Supported with incontrovertible evidence, the report observed that the decision of the governors of Southwest states to establish the Western Nigeria Security Network (WNSN) codenamed Operation Amotekun was, for all intent and purpose, a vote of no confidence in the federal government's ability to secure their states.
Also, the report buttressed its claim with nationwide citizens' frustration with the state of affairs, which it said, was palpable throughout the year and especially in October 2020.
Specifically, it noted that the #EndSARS movement was "not just about police brutality, but about insecurity, and social injustice. It was a cry for good governance starting with one theme. Other citizens led movements on security that elicited viral hashtags included the #NorthernLivesMatter movement, and the #SecureNorth protests."
With its spent capacity to guarantee security of lives and properties, the report lamented that the communication gap between citizens and the government at the centre became wider, with the latter misinterpreting the protests to be 'politically sponsored'.
It, thus, deployed brute force in response to several citizens-led movements that sprang up in October 2020, a decision that in no small measures breached people's rights to peaceful protest guaranteed under Section 40 of the 1999 Constitution of the Federal Republic of Nigeria.
The report, also, lamented that the security and welfare of the nation's security forces "did not seem to improve in 2020. Rather, military personnel were punished for demanding better equipment and conditions of service.
It cited how a military court in Abuja in December 2020, convicted a former Theatre Commander of Operation Lafiya Dole, Maj.-Gen. Olusegun Adeniyi, who once led the country's onslaught against Boko Haram and his orderly, Tokunbo Obanla, for contravening a 2018 military social media policy, by sharing videos of their poor welfare on social media.
It concluded that the poor security and welfare of security forces might be responsible for a disturbing development that "one in every five killings recorded in 2020 were of security personnel. This data did not improve from 2019 figures.
"It is worrisome that security officers and their weapons continue to be deliberately targeted," Global Rights said.
According to the report, impunity in its various forms, particularly – corruption, state capture and disregard for the rule of law, continue to jeopardize security across the country, especially with very limited state resources and weak institutions.
Amid the glaring absence of political will to tackle insecurity headlong nationwide, the report urged the federal government to strengthen state institutions and governance structures:
It argued that strengthening state institutions would take more than reforming Nigeria's 'security architecture's hardware, but that the 'software' of strong, and functional state institutions "remain essential for protecting the rights of citizens and ensuring their welfare. "
It, also, sought the need "to
 improve the welfare and work conditions of security forces: The government must also ensure the protection of the nation's security human assets and adequately equip them to deal with the security challenges with which the nation is confronted.
"The police force needs to be fortified to take up the task of internal security. Its personnel alongside other security agencies, must have their work conditions improved, including the prioritisation of their mental health," Global Rights pointed out in the report.
It, equally, challenged the federal government "to reduce the proliferations of arms and weapons across the country," citing a 2020 report by SBM Intelligence on Small Arms, Mass Atrocities & Migration in Nigeria claiming that there were 6,145,000 arms in the possession of non-state actors in Nigeria while the nation's security forces had only 586,600 firearms.
It further urged the governments to invest in human development; respect the rule of law; end impunity of all kinds; ensure efficacious resource governance and safeguard of civic rights and freedom, as spelt out in Chapter IV of the 1999 Constitution.
It observed that young people "face a bleak future in the face of dwindling oil resources from the nation's mono-economy, poor economic infrastructure, endemic poverty, a bugling youth population, youth unemployment rate of more than 14%, the highest number of out of school children in the world, and an educational system that does not appear to be future-responsive.
"It is worsened by a sense of social injustice and failure of the state to invest in the welfare of this vulnerable population. It is a perfect storm for engendering the propensity to engage in crime and perpetrate atrocities.
"Government must lead by example. Respect for the rule of law must start with custodians of the law, public officers, law enforcement officers and institutions. Social contract is built on trust. For citizens to conform to the rule of law, they need to be assured that the leadership of their state will lead by example," the organisation said.