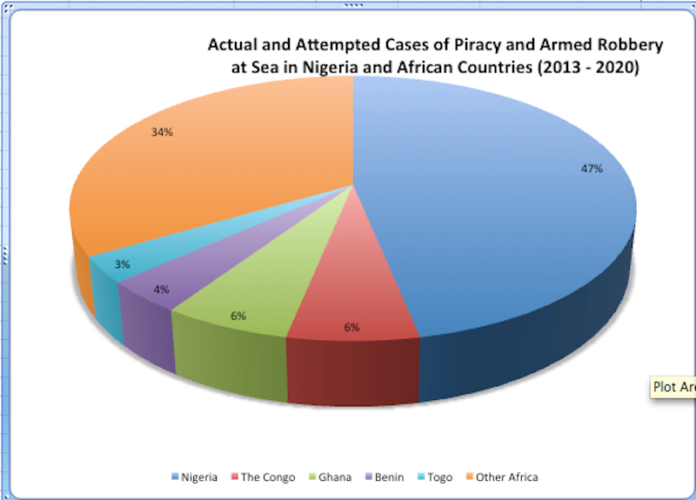 • Nigeria records 250 attacks in eight years
• Gulf of Guinea accounted for 95% kidnapping cases in 2020
Gboyega Akinsanmi
With its 17.95% share of 195 piracy and armed robbery attacks against ships in 2020, Nigeria's maritime environment is adjudged the world's most turbulent waters worldwide, according to an International Maritime Bureau (IMB) report analysed by THISDAY.
IMB, a specialised division of the International Chamber of Commerce (ICC), also revealed in its report that with 35 actual and attempted attacks in 2020, Nigeria precisely had a 39.97% share of 88 cases reported in Africa's waters.
These cases were revealed in ICC-IMB Piracy and Armed Robbery Against Ships Report (01 January – 31 December 2020), indicating that there was no improvement in Nigeria's fight against piracy and armed robbery at seas in the year under review.
This is despite, a 121% increase in budgetary allocation between 2011 and 2020 to the Nigerian Navy, an arm of the Nigeria Armed Forces, mandated under Section 214 of the 1999 Constitution to protect and secure Nigeria's territorial and international waters.
Since piracy and armed robbery against ships have been on the increase in Nigeria's waters a decade ago, a survey of Appropriation Acts between 2011 and 2020 revealed that over N856.29 billion, which represented about 24.21% of total defence budget, had been allocated to the Nigerian Navy.
From N59.02 billion budgetary allocation in 2011, THISDAY's survey revealed that the navy's share of the defence budget increased to N130.81 billion, which translated to 121% budget increase, perhaps the second highest percentage increase in the history of defence budgeting.
In 2011, as shown in Appropriation Acts, N59.02 billion was budgeted for the Nigerian Navy; N74.14 billion in 2012; N73.39 billion in 2013; N70.11 billion in 2014; N74.99 billion in 2015; N85.88 billion in 2016; N89.58 billion in 2017; N97.13 billion in 2018; N101.24 billion in 2019 and N130.81 billion in 2020.
The allocations, according to THISDAY's survey, did not include what the Nigerian Maritime Administration and Safety Agency (NIMASA) and Nigerian Ports Authority (NPA) paid private maritime security companies (PMSCs) within the same period under maritime security and surveillance contracts.
With these budgetary commitments to fighting criminalities at seas, according to IMB's report, Nigeria recorded 35 of the 88 attacks in 2020, precisely accounting for 39.97%; Benin Republic 11 (12.5%); Ghana nine (10.22%); Angola six (6.8%); Guinea five (5.68%) and the Congo three (3.4%).
While the actual and attempted attacks did not increase between 2019 and 2020, the report revealed that Nigeria recorded a 45.45% increase between 2017 and 2018, though declined by 27% between 2018 and 2019.
Across Africa's maritime environment, IMB's report showed that Nigeria had 31 (39.24%) of the 79 attacks in 2013; 18 (32.73%) of the 55 attacks in 2014; 14 (40%) of the 35 attacks in 2015; 36 (58.06%) of the 62 attacks in 2016; 33 (57.89%) of the 57 attacks in 2017; 48 (55.17%) of the 87 attacks in 2018; 35 (49.29%) of the 71 attacks in 2019 and 35 (39.77%) in 2020.
Between 2013 and 2020, the report revealed, no fewer than 534 actual and attempted attacks were recorded in Africa's waters. Of this figure, Nigeria recorded 250 cases, which by implication accounted for about 47%.
Within the timeframe, according to the report, the Congo had 6.36% with 34 cases; Ghana 6.18% with 33 cases; Benin Republic 3.93% with 21 cases; Togo 3.18% with 17 cases and other countries had 33.52% with 197 cases.
In its executive summary by the Director of ICC-IMB, Mr. Michael Howlett, the report revealed that 135 crew members were kidnapped globally from their vessels in 2020, with the Gulf of Guinea accounting for over 95% of crew numbers kidnapped.
Howlett, further, wrote in part: "A record 130 crew members were kidnapped in 22 separate incidents. Since 2019, the Gulf of Guinea has experienced an unprecedented rise in the number of multiple crew kidnappings.
"In the last quarter of 2019 alone, the Gulf of Guinea recorded 39 crew kidnapped in two separate incidents. Incidents in the Gulf of Guinea are particularly dangerous as over 80% of attackers were armed with guns, according to the latest IMB figures.
"All three vessel hijackings and nine of the 11 vessels fired upon in 2020 related to this region. Crew kidnappings were reported in 25% of vessel attacks in the Gulf of Guinea – more than any other region in the world.
"Once kidnapped, crew members are removed from their vessel and can be held on shore until their release is negotiated. The furthest crew kidnapping in 2020 occurred almost 200 nautical miles from land with the average kidnapping incident taking place over 60nw from land.
"The rise in kidnapping incidents further away from shorelines demonstrates the increasing capabilities of pirates in the Gulf of Guinea," Howlett said.
Given these developments, ICC-IMB recommended that all vessels in the Gulf of Guinea should remain at least 250nw from the coast at all times, or until the vessel could transit to commence cargo operations at a berth or safe anchorage.
Howlett observed that the latest statistics "confirm the increased capabilities of pirates in the Gulf of Guinea with more and more attacks taking place further from the coast.
"This is a worrying trend that can only be resolved through increased information exchange and coordination between vessels, reporting and response agencies in the Gulf of Guinea Region.
"Despite prompt action by navies in the region, there remains an urgent need to address this crime, which continues to have a direct impact on the safety and security of innocent seafarers."