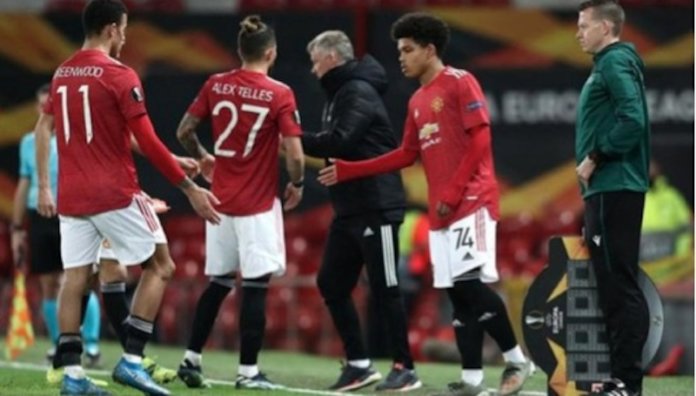 When two years ago England-born Nigeria's Shola Shoretire came off the bench in Manchester United's victory over Valencia in the UEFA Youth League to become youngest-ever player to star in the competition,little did anyone know that less than two years down the line, another record is coming down at Old Traford, courtesy of this little sensation
Two years ago, at 14 years, 10 months and 10 days old, Shola Shoretire made his debut in the 2-1 win over Valencia to become the youngest player Manchester United have fielded in an official youth team league or cup match to beat the previous UEFA Youth League mark of Benfica goalkeeper Mile Svilar.
On Thursday night, Shoretire became the youngest player to appear for Manchester United in a European game as Ole Gunnar Solskjaer's side eased into the last-16 of the Europa League with a goalless draw against Real Sociedad.
At 17 years and 23 days, Newcastle-born Shoretire beat the record of Norman Whiteside by 108 days when he came in for Manson Greenwood.
Shola Shoretire was understandably ecstatic after setting a new record for Manchester United during the Reds' 0-0 draw with Real Sociedad.
When the teenager replaced Academy graduate Greenwood in the 76th minute, he became the club's youngest ever player in a European match, at the age of 17 years and 23 days.
The previous record holder was Norman Whiteside, who was 108 days older than Shoretire when he played in a continental fixture for the first time.
Curiously, the competition, venue, scoreline and nationality of the opponents, Spanish, were all the same. United drew 0-0 at home to Valencia in the UEFA Cup, the Europa League's former guise, when Whiteside made his debut in Europe, on 15 September 1982.
Reacting to his latest achievement, Shoretire said in a tweet:"What a feeling to make my European debut! To become United's youngest ever player in Europe is an incredible honour and a proud moment for me and my family! On to the next round #MUFC"
It was also another proud night for United's Academy. Six of the 16 players Ole eventually fielded against Real Sociedad have risen through the Reds' ranks – Dean Henderson and Mason Greenwood both started, while Shoretire followed former youth-team players Marcus Rashford, Axel Tuanzebe and Brandon Williams in coming on as substitutes. Another Academy product, Ethan Galbraith, was also on the bench.
Solskjaer said after the game: "Shola's got some skills, attributes that we think are going to make him a very good player here.
"It's a platform of course tonight – just 15 minutes, so it's something to build on, something for him to remember at Old Trafford. If the fans had been here, he would have enjoyed it more because they give you so much more energy. Football is strange at the moment, it is different, but I'm sure all the fans will see him later on."
The United boss says Shoretire has his feet on the ground, with a bright future ahead of him, predicting he will get more playing time when fans eventually return to Old Trafford.
"He's a young kid we believe in," Solskjaer said. "He's got a great attitude, he's an athlete, technically very, very good and makes good decisions. We want to gradually feed him into this team. He's got his feet firmly on the ground hopefully we'll see loads of in the future."
"But then again, with the fans, he would have enjoyed it more because they give you so much more energy than football at the moment. It is strange, it is different, but I'm sure all the fans will see him later on."
Like United coach Michael Carrick, Alan Shearer, Peter Beardsley and former United skipper Steve Bruce, Shoretire was a member of the famous Wallsend Boys Club when he was very young, although his talent was obvious early on and he spent a brief period training with Manchester City before signing permanently with United as a nine-year-old.
After playing in the Youth Cup at 15 – and memorably in a quarter-final against Wigan after spending the whole day in school – it is no wonder United had the terms of Shoretire's professional contract sorted well before the day he signed it on his 17th birthday.
By that point, head of academy Nicky Butt had been part of the decision to push Shoretire into the under-23 set-up to see how he adapted.
The progress has been swift given he now has two first-team appearances to his name after becoming the second youngest player to play in the Premier League for United in their win against Newcastle on 21 February.
"He's a young kid we believe in, a great attitude, you can see the shape of him, physically, he'll be an athlete and technically he is very, very good," said Solskjaer.
"He makes good decisions, we're going to gradually feed him into this team. He's grounded, works hard in training, and is a likeable boy we can see in the future."
With Amad Diallo, the 18-year-old Ivorian, also given his first Old Trafford appearance against Sociedad, Solskjaer will be pleased to see more talented youngsters emerging at the club where he was tasked with implementing a cultural reboot when he replaced Jose Mourinho as manager in December 2018.