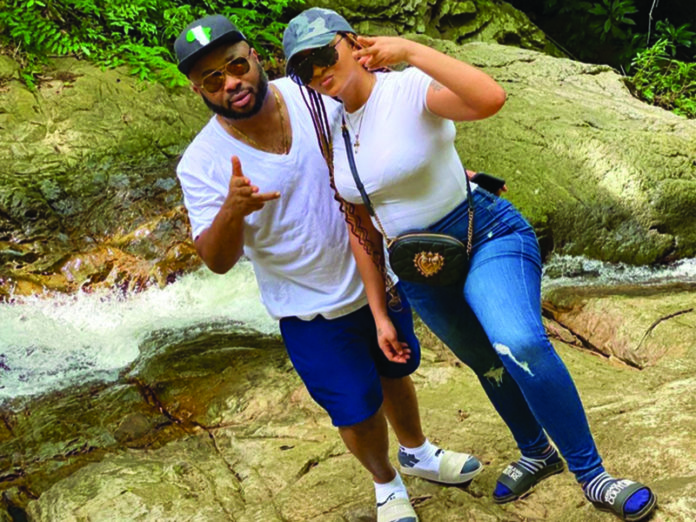 Gambian-born Nigerian actress, Rosy Meurer, is having a swell time with Olakunle Churchill, the ex-husband of her colleague, Tonto Dikeh. The lovebirds recently announced that they had formally wedded. But the controversy over their wedding lingers. Ferdinand Ekechukwu reports
Rosy Meurer has been in the news ever since Olakunle Churchill introduced her as his wife on the occasion of her recent birthday. She's either flashing her sparkling "wedding ring" or flaunting and posting pictures of "Big Church". Born in the Gambia to a Dutch father and a Nigerian mother from Delta State, Meurer is well known, more as the woman that ruined Tonto Dikeh's marriage than as an actress. Meurer would later admit that "she got more jobs and money after Tonto's marriage crisis allegations".
The light skin mulatto has in the wake of her dalliance with Churchill also stirred controversy from some keen observers who dragged her for marrying her former boss. Meurer had earlier denied being in a relationship with the businessman, whom she referred to as a "brother and mentor". Unperturbed about the moment, Meurer took to her Instagram page to flaunt photos of herself and Churchill on a love trip following declaration of their marriage. The actress was pictured with Churchill helping her down a hill while they rocked similar outfits.
She captioned it with these words: "We're a team. Whatever you lack, I got you. We will balance each other out. Minor setback? Guess we'll make a major comeback. Bad day? Well I promise you better night. You need support? I'll be your backbone. I'll keep you motivated and at the top always. You don't ever have to doubt my loyalty. You got me. I got us. Something to make your new week amazing." Churchill had introduced Meurer, his former PA and actress who was at the center of his divorce with his wife. In a birthday message Churchill penned for Meurer on February 15, he described her as "Mrs. Churchill". He also disclosed that she stood by him when the world was against him and also took missiles for him. "A special sunrise, on this precious day, a great woman was born. During my hard times when depression would have taken the better part of me, you were my bedrock. When it was like the whole world was against me, you stood by me, even took some missiles because of me.
"When I thought I lost it all, you encouraged me to hope on God that he will give me back all l have lost. Happy birthday Mrs Churchill. Age with grace, l have got your back 247 by the special grace of God."
Shortly had he made the post that his Instagram account was inundated with comments. His post also made the rounds on blogs, and attracted lots of mixed comments, with many bashing Churchill and Meurer for earlier denying their relationship. Meurer who reacted to the birthday message, affirmed that she had never doubted him.
Meurer wrote: "Aww thank you so much. I appreciate you always. We thank God and I've never doubted you. This is coming amid reports of Rosy Meurer being pregnant with her first child. Back in 2017, when Tonto Dikeh confirmed separation from husband Olakunle Churchill, she accused actress Rosy Meurer of having an affair with Churchill, something she denied vehemently.
Meurer had addressed the allegation of snatching Churchill from Tonto Dike. In the video, she said it was just like asking her if she's sleeping with her brother when asked if she was having an affair with Churchill. Giving her own account in a question and answer session on her Instagram page, Meurer told her curious followers that she was not responsible for the collapse of her husband's previous marriage to Tonto. She said even though she described Mr. Churchill as a brother in the past, they are not related by blood, and that her marriage to him is nothing but the will of God taking place in her life. "No one broke anyone's home. It is just what it is. Life happened. Some things you don't plan," Meurer explained. "I let God's will in my life take place. I lost my own relationship in the middle of all the online banter then, something that didn't concern me. Life goes on. He's like my brother doesn't make him my blood. I've known him for donkey years, he had his life and I had mine. I never looked at him in that way. He got married eventually and unfortunately only God knows what really happened and why it ended the way it did and why I was dragged into what I had no knowledge of. I still remained a part of his life like I always have.
"Just this time, he was broken and just off, shattered. I still had no interest in him. Still looked at him the same way with just so much pity this time. Time healed him. Two years ago, he proposed, one year ago he did the necessary rights. By the grace of God, today, we are happy," she wrote.
The Gambian-born Nigerian actress added that she never dreamt that she would end up marrying Churchill and that if anyone had said that to her before, she would have told the person to dream on because she was in love with another man at the time. When Tonto alleged that Churchill was sleeping with Meurer, buying her gifts and taking her on trips, she also revealed that she was one of the reasons for her marital crisis which eventually led to a divorce. According to Churchill, "We broke up in 2016," after which Tonto moved on but not without both estranged couple dragging each other mercilessly. That their whirlwind romance which kick-started at a nightclub, and soon led to the aisle, hit the rocks didn't really come as surprise to many. Tonto further accused him of being a bisexual, labeled him a 40 seconds sprinter on bed. Instagram was the medium of choice as words were hurled across enemy lines. Churchill slammed a 500 million suit against Tonto for stuff she said in an interview – including scathing allegations that Churchill was involved in cybercrime activities (Yahoo-Yahoo) and his father was former president Obasanjo's gardener rather than relative.
Rosy Meurer, who is the first child in a family of three, ventured into acting in 2012 when she starred in Emem Isong's movie, 'Spellbound'. She got her big break in the Gambia following her encounter with some Nollywood actors who came to shoot a movie. That was how she landed her debut movie role and also met a director, Desmond Elliot, who advised her to try acting in Nigeria.
''When he got back to Nigeria, Desmond Elliot called me and said Emem Isong had a role for me in her movie. I traveled to Lagos and I starred in my first Nollywood movie titled Spell Bound,'' she revealed in an interview.