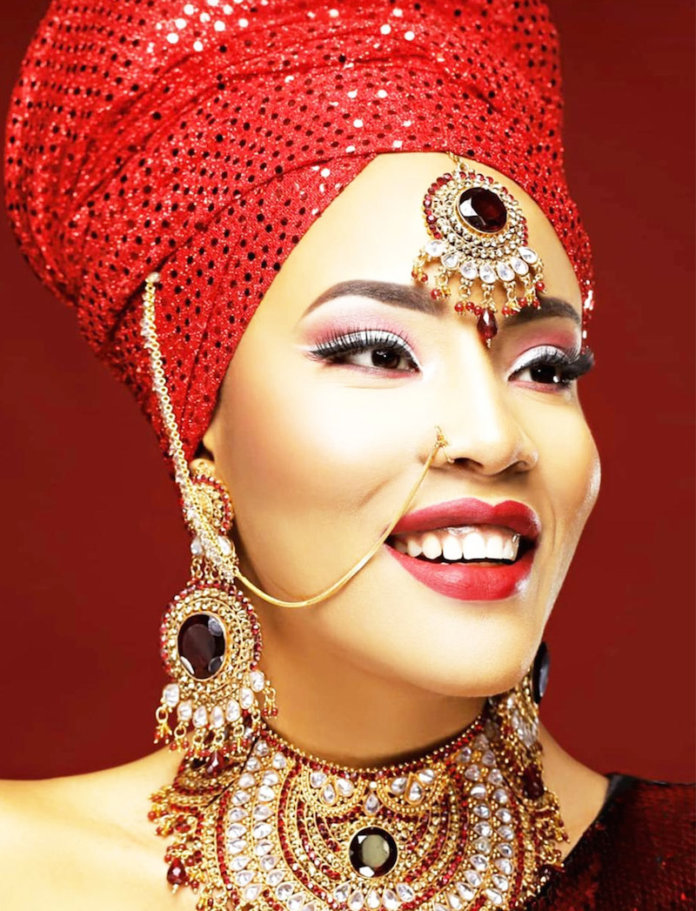 Multiple-award winning Krystal Okeke is a Nigerian-American model, mother, humanitarian and one of the few young and prospectively successful Nigerians in Diaspora whose love for arts and culture hove her to the set of a soon to be released Nollywood movie, "Girls of the Throne". Ferdinand Ekechukwu reports
Soft spoken. Svelte and sexy. You could tell her beauty radiates from within at first glance. Perhaps discontented, you take a second look at her but then you are ensnared by Krystal Okeke's light complexion which projects her stunning appearance. That's not all to her. Krystal is beauty as well brainy and she knows. Late last year, the US-based model re-united with family and friends from the diaspora in Nigeria.
On this occasion, the Miss Illinois USA Universal 2016 had barely walked into an award ceremony in December 2020 when she caught attention at the Abuja event. There she was, recognised for her meritorious and distinguished service, including her most recent honour as Nigeria Young Female Diaspora of the Year at the Leadership Excellence Awards, and the prestigious National Peace Awards, both in 2020. It was a year that really blessed her regardless of the circumstances occasioned by the pandemic.
Krystal explains: "2020 for me, regardless of the situation of the storm, I was really blessed. I got a lot of awards in 2020. My little daughter, kleopatra, who is five years old, graduated from school. I myself graduated from school with a very powerful degree and I was able to travel to Nigeria. I attempted to do movies and it was one of the greatest experiences ever. You know it is out of my usual, which are modeling, journalism and travelling and touching peoples' life. But also in 2020, I was able to feed a lot of the under privileged community, doing a lot of charity works in the pandemic. So, 2020 was one of the busiest years for me, it was one of the most successful years too."
The humanitarian is greatly celebrated for her consistent works with the less privileged in the United State of America. As one of the few young and prospectively successful Nigerians in the diaspora, Krystal has remained committed to the advancement and improvement of humanity, while engaging several interventional programs to support vulnerable societies, salvage displaced persons and misplaced destinies. A change agent she is. It saddens her that Nigerians in Diaspora aren't doing enough to support and impact the society back home. "We are doing our best but we are not trying enough," she says emphatically.
You could feel her passion as she takes further. "There are some of us that dedicate our lives to making a difference in the society and I could call names, a lot of names… But I always tell Nigerians in Diaspora that it doesn't matter how rich you are, use the little you have back home because that's the whole idea why we left Nigeria in the first place. Yes, our economy has fallen, yes we have horrible government system, yes there are hungry people in Nigeria, yes, so many things are happening. But everybody runs away from Nigeria; runs away physically, runs away mentally, because running away mentally is you being abroad – England, Brazil, China – and not coming back home to invest.
"As a young woman, and all the experiences I have had, regardless, I come back to Nigeria at least two to three times in a year. I give back the little I have and this is not bragging; this is just a passion. I know not everybody can be change agents but I think Nigerians in Diaspora can do more and that's my goal being an ambassador of Nigeria in Diaspora."
Given her position as CEO of America Kids Multicultural World, Founder of America Nation Multicultural Foundation and CEO of Miss and Mrs. America Nation beauty pageant, Krystal has helped to mold life, hone career and prospects.
While growing up, Krystal watched Miss World and Miss Universe beauty pageants, which influenced her modeling at a very early age. In 2012, while still in Nigeria, she officially started her career as a model. After few years, she moved to the US, to further her modeling career. "Started out at a very young age, did a couple of runway shows; New York Fashion Week, Chicago Fashion Week, back in Nigeria I did a couple of fashion shows growing up at my high school, Imperial.
"I was so much into modeling and fashion. It was quite challenging being in the industry here in the United States. Obviously, Chicago isn't the high marketing city for modeling; New York is the place and Los Angeles. So, anytime I wanted to do modeling, I had to like travel out there to do that to get casted. And again people will tell you literally that you look like a face, you know like the same face with other black girls. So, it was quite hard to come out from that shell," Krystal recalls.
She had three attempts to win Miss Illinois USA, before finally winning Ms. Illinois USA Universal 2016 in her fourth attempt at pageantry in February 2016, alongside her daughter, Kleopatra Vargas, who was crowned Baby Miss Illinois.
Winning Ms. Illinois USA Universal 2016 earned her the right to represent the state of Illinois at Ms. USA Universal 2016. In July 2016, she emerged in the top three, earning 2nd runners up and winning Illinois State ambassador at Ms. USA Universal 2016 which held at Peppermill Reno, Nevada. Born in Chicago, Illinois, US, Krystal is from Anambra State. Growing up in the northern part of Nigeria was one of the best experiences of her life. Her parents were able to give her a very good life and raised her in a way of being content. She spent her formative years in Kaduna State where she lived learning the culture, before returning to the US. Krystal has always had great memories of those fond moments, attending high end schools.
"My family was very united and we loved each other," she reminisced. But once, her close bond with her mum was shattered when she was taken to a boarding school. At some point, she was the only Christian student in a class of 27. She learnt to pray the Islamic way even though she was a Catholic.
The Nigerian-American model has often displayed love for arts and culture donning native attires as the occasion demands. Once in an amazing angelic hijab outfit showcasing the absolute attractiveness and beauty of the Fulani tradition, she defined the choice of the costume as identical to her origin and formative years in Nigeria.
When she got on set of a Nollywood movie following her visit to motherland, with famous Nollywood stars for the movie "Girls of the Throne", Krystal's character was not only impressive, but creatively amazing. Positive feedback followed her debut. As per responses via online media, Kyrstal's Character was striking, however inventively astonishing. Krystal played a key role in this fascinating movie on power, influence and affluence.
In the upcoming film, Kyrstal's Character was one that moderately required vibrancy, charming predominance, experience and energy, nonetheless, and her presentation altogether showed the real essence of the character she spoke to.
Krystal said: "It was a unique experience shooting long hours and trying to figure out what the next scene maybe…" She however revealed it wasn't really her first time on set of a movie: "I have been part of some movie projects in USA."
Lots of Nigerians, especially key players in the movie industry are yet anticipating "Daughters of the Throne", as it narrates the politics, loyalty, and betrayal in feminist royalty. A release date is yet to be set for the premiere. "Hoping sometime in summer," the beauty queen added.
Attachments area