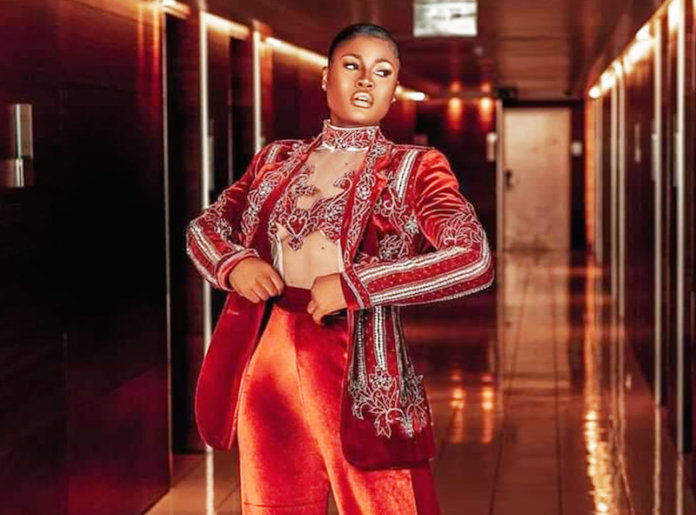 Alex Amuchechukwu Asogwa, 25, is a writer, model, dancer, creative director, a content creator and brand influencer. Popularly known as Alex Unusual, her screen debut was on a Nestle baby food advert at just 6-months old. Alex, the first of three children participated in the 2018 Big Brother Naija reality TV show where she emerged as third runner-up. She honed her passion for acting and filmmaking at the New York Film Academy. Alex's first production titled Nucleus, is ready and will be released on YouTube March 7, 2021. The new filmmaker talks to Ferdinand Ekechukwu about her life, movie, and expectation in the film industry
Congratulations on your first movie production. Would like you to share a brief synopsis of the movie and how you hope it would impact its prospective audience?
The short film, Nucleus, is a love story that can easily be related across the globe. It addresses love while it can still be felt. The title inspiration was drawn from the word "Nucleus" which is the central and most important part of an object, movement and group. Love is a "nucleus" of human life because we need it to coexist, hence, the reason why the movie, Nucleus, is a love story. The movie will be out on the 7th of March which succeeds the month of love – February. The so-called 'Month of Love', many people express and celebrate love with only those they want to rather than those who need to be shown love (especially on Valentine's Day). This movie reminds us that there are people yearning for love but neglected probably due to other's pride, malice, societal influence or whatever reason it may be. It is also to remind people that love can be expressed anytime to anybody, it should not be reduced to just a special day or month.
So you believe in love?
Yes, I believe in love so much I don't joke with it. I am a sucker for love.
What backstory inspired the making of Nucleus and its unique characters?
In 2017, I lost my little cousin who was 5 years old. Prior to her death, I had missed her birthday. I don't think I have forgiven myself till now. In 2018 and 2019, a lot of bad things happened; we lost a lot of people. In 2020, Covid-19 was rampant and a lot of people who we thought were healthy died unexpectedly. Some people go to bed and don't wake up. We see films about love but we hardly see love films telling people about what really matters, that's what makes Nucleus special. As for the movie characterisation, I chose people I knew would deliver my roles eloquently.
Actors like Ngozi Nwosu, Asogwa Amuche, Ojiaku Chiamaka, John Tyler Ekanem, Chinelo Ojiako, and Asogwa Theodora.
Throughout the entire process of making the movie what would you identify the challenges experienced?
The will to begin the entire process was the first challenge. This led to procrastination. It is so terrible that it can chain you down and increase your problems. Fortunately, I have known one of my purposes in life is to build and enhance love knowingly or unknowingly around the world. So, as hard as starting was, I had to push myself to keep going. I don't like to run from challenges so I never give up. It took a little while for me to come up with the words for my short film as it involves voice-over narration. I put so much pressure on myself and it affected my thought process. I even let people's expectations slow me down a bit but I quickly came off it after speaking to a few reliable people. And then there is the general issue of capital, one that all filmmakers face.
At what point did you come to the realisation that you wanted to venture into filmmaking?
During my university days, I was the dance coordinator for a theatre group (called Federation Theater). My closest male friend was a drama coordinator and I loved to come up with impactful stories which I would give him to bring to life. I noticed that I usually paid attention to details and would direct people to act what I had envisioned when I wrote the stories. In Big Brother Naija, people didn't get to see that side of me during the presentation task.
In fact, when I came out I realised I was termed "laid back and lazy". The thing is I was always that one that put things together behind the scenes, coming up with scripts for tasks, costuming, make up, writing and directing the stories that were finally acted. I was the foundation for the majority of the good performances. As I am not one to clamour for glorification, I had no problem staying backstage as the organiser. It became apparent that I loved filmmaking and the content creation process. After being on the set of Ayo Makun's Merry Men 2, it gave me clarity on my passion. I discovered that I loved the filmmaking aspect more. So I went back to school and switched courses.
You attended the New York Film Academy, how has your experience from that move impacted or influenced your life and career?
Hmmm, for film, it's not about studying, it's about practicing. I'd love to venture further into the areas of script writing and directing. Attending the New York Film Academy further enhanced my knowledge, opened new doors, connected me to people and opened my eyes a lot. It upgraded my experience and also further earned me more respect from many.
You've decided to make the movie Nucleus free of charge to the public, how do you intend to monetize it and how can the movie be accessed?
Nucleus is a project after my heart. For me, it is more about the impact than the income. It is a sacrifice. It will be available for public viewing on YouTube.
If there's just one message you intend to pass to the public with your short film, what would it be?
Don't keep malice with anyone. Learn to do away with pride. It's not about who wins the argument but who has a better heart.
Apart from promoting your new movie, what else will you be doing this year?
I have a lot of projects to handle this year. I can't share them for now. I want to be secretive about them till I'm ready to publicize them.
2020 was a challenging year for everyone, what was the most important lesson you had to learn from it. Also, what are you being intentional about in 2021?
My response to both questions is actually the same. I have learnt to love people and show them while I still can – while it still matters. This, I truly intend to be intentional about in 2021 and beyond.
You've become a strong advocate for engaging people on topics related to relationships, children's health, behaviour and etiquette, COVID-19's impact and more. How do you maintain a balance while switching between these different aspects?
I am naturally expressive and confrontational. Although, I have worked on that part as I got older and wiser. This has also helped me increase my knowledge on a wide variety of topics. Maintaining a balance between these various aspects is no child's play. People can be very sensitive and opinionated so you need to be careful with what you say and consider how it would affect them. These days, I am outspoken about issues that affect me.
Away from all the serious talk, how did you spend your Valentine's Day?
I spent part of Valentine's Day with my mom and sister. Later, a friend treated me to a nice dinner, saying that 'I am single to stupor' and she needed to add to my smiles [laughs].
What's next for Alex at this point…What's her goal moving on?
I actually never say until I do, but watch this space! A lot of things have been a long time coming as I do not rush and I try to always go for excellence. I am a lot of persons in one, and it's not child's play that I still have people watching out for me even after years of being a "global popular girl" without conscious controversies. It goes to prove that I have a lot to offer.
You recently clocked 25. What are some changes (if any) that you would be making in your personal and professional life?
For me, 25 is a pivotal age with a lot of self-realisation, fear, pressure, and growth awareness.
From here, there is no going back. What I do from now sticks forever. I have to be more intentional, cut off any weight that hinders my progress and focus on my purpose. I am still a kid at heart but I am a big girl now. I feel the need to positively touch more lives.
What are your overarching aims and goals as you clock this new age? Do you want to take it easy or do you intend to be a 'badass' about your goals?
'No rush' has always been my watchword. Step by step. If I ever need to take a few steps backwards to understand properly and strategize, I will. But when necessary, I will be that boss chic who goes full-on, headstrong!
Any plans for marriage at this age and stage of your career?
When I get to that bridge, I will cross it. I will definitely have the best family on planet Earth in due time.