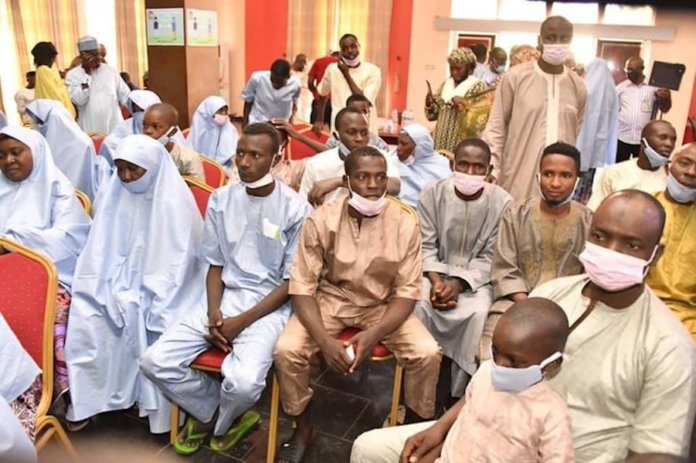 · Govs vow to resist disintegration
· 13 killed, 40 others injured in rocket attack on Maiduguri
· Scores of terrorists killed as military clears Borno communities
By Kingsley Nwezeh, Michael Olugbode in Abuja and Laleye Dipo in Minna, Emmanuel Addeh in Abuja
Some of the freed 53 passengers kidnapped by terrorists while travelling in a Niger State government-owned NSTA bus in Niger State have continued to narrate their experiences in the kidnappers' den.
The passengers recently regained their freedom following the intervention of the state government.
Narrating his experience in an interview with ARISE NEWS Channel, the broadcast arm of THISDAY Newspapers, one of the freed victims said they could neither sleep nor drink water.
He said the bandits subjected them to serious torture, threatening to kill them.
"You can't sleep the way you want, wake up the way you want, eat the way you want. Even drinking water was a problem. They will be beating you and shooting guns up and down," he said.
According to him, "The bandits insisted that it's either they should come and bail us all or they will kill all of us."
He disclosed that they trekked for 24 hours in the bush and could only stop when they asked them to stop.
"Before you match the brake, they started shooting. It was when they shot the car that I just stopped," the freed victim said in a narration of how he was captured.
He noted that he was pressing his phone when he just felt the bullet on his head. "They said I should continue moving with them."
The freed kidnap victim also disclosed that the bandits complained that they are homeless and their cows stolen and wondered why the government should ask them to leave the bushes without giving them anything.
Another victim also disclosed that the bandits were always communicating with some people.
He said: "There are people they were always communicating with. They said that whatever we wanted to do, we must take permission from them. Whatever you wanted to do, they would ask you what are you going to do? Or they will call you and say, 'come here, do you have money to bail yourself?'
"They will ask you how much? Do you have N5million? Most of us will say, no that the highest we can give you people is N100, 000 or N150, 000. Before you know it, they will just beat you.
"I thank God, but they seriously beat me and my friend."
According to him, the bandits started beating them on Friday.
"On Saturday morning, around I.30am, they asked my friend and me to wake up and they carried us to one place and they asked us 'can you bail yourself' and while we were asking them how much, before we knew it, they started beating us.
"Then one of their leaders came out and asked them to stop beating us and they asked us to return."
He also narrated his experience on Saturday night when the elderly one among the bandits was communicating with someone outside and the gunmen asked all the victims to lie down, while they were waiting for instructions from outside.
Govs Vow to Resist Disintegration
But Nigeria Governors' Forum (NGF) yesterday attributed the worsening insecurity in the country to a calculated effort to destroy Nigeria, vowing not to spare any effort to frustrate the attempts at dismembering the country.
Its Chairman and Ekiti State Governor, Dr. Kayode Fayemi, who led his colleagues on a visit to Minna to sympathise with Niger State Governor, Mr. Sani Bello, over the security crisis in the state, including the abduction of 17 pupils of Government Science College, Kagara, and 15 others said, governors would fight to save the country.
He spoke just as the military high command yesterday said troops, on the orders of the Chief of Army Staff, Maj. Gen. Ibrahim Attahiru, have cleared Marte and other towns occupied by terrorists in Borno State.
The military also debunked claims that the terrorists hoisted their flags in the seized communities.
Fayemi stated that the country was witnessing terrorism, and rallied all stakeholders to defeat it.
He said: "The agenda is to destroy the Federal Republic of Nigeria; let's not make any mistake about it. That is the ultimate agenda. We will fight this agenda with every fibre in our body and indeed we will fight it in order to save our country.
"What we are witnessing is terrorism; there is no other name for it. Yes, we may call it banditry; we may call it kidnapping; these are remnants of the actors of the North-east that have found themselves in other parts of the country whether they are known as ISWAP, or Albanawi faction or known as Shekau people, they are remnants of what we are still dealing with in that part of the country."
He charged Nigerians not to give up hope, saying: "Even in these difficult times, we must put all our efforts together, demonstrate resilience, reassure our people not to give up hope because we can only defeat terrorism collectively not in isolation."
According to him, what Nigerians want is to sleep with their two eyes closed and not to trade blame or engage in a circle of lamentations.
Fayemi, therefore, expressed the need for everyone to come together as a country instead of engaging in a blame game either as leaders or citizens.
He also called for an improved relationship among the security agencies, adding: "The nation's security institutions need to come together; there should be better coordination, better sharing of intelligence and a concerted arrangement and synergy that will enable us to defeat this menace."
He said the governors had identified with the struggle of the people of Niger State in the last two weeks.
"We feel your pains we feel your fears and anxiety," he stated, adding that the situation is not peculiar to the state.
In his remarks, Bello described the visit of his colleagues as a morale booster to the government and people of the state, saying the kidnap of the schoolchildren is an agenda to stop people from going to school, which will fail.
Bello urged the federal government to work with the states to find a lasting solution to the problems of insecurity in the country.
On the delegation were the Plateau State Governor, Mr. Simon Lalong; Sokoto State Governor, Hon. Aminu Tambuwal; Kwara State Governor, Alhaji AbdulRahman AbdulRasak and their Nasarawa State counterpart, Alhaji Abdullahi Sule.
13 killed, 40 Others Injured in Rocket Attack on Maiduguri
Meanwhile, residents of Maiduguri were left scampering for safety as multiple rockets were launched into the troubled birthplace of the terrorist group, Boko Haram.
As at the time of filing the report last night, a team of security, military, Civilian JTF and humanitarian workers were still combing the town for corpses even as the injured were assisted to the hospital.
An initial count of corpses has it that 13 persons were lost even as over 40 persons were reportedly injured.
The major casualties were recorded at a football pitch in Gwange near the House of Late Maj. Gen. Mamman Shuwa, who was one of the earlier casualties of insurgency in the state.
At the football pitch, nine boys who were playing football early evening were killed by the shot rocket.
Many others were injured at the football pitch by the rockets, which many said were 10 in number fired simultaneously.
Other parts of the town were not spared the rocket launch believed to have been shot to destabilize the town, paving the way for a massive attack by the insurgents.
At Adam Kolo part of the town, the rocket killed four persons and injured many others.
Multiple sources said four persons were killed in the explosion in the area, which also resulted in injuries to many others.
One of the sources said a Mercedes Benz parked in the area was totally destroyed.
He said that the corpses were removed and taken to the State Specialist Hospital.
He said those that were injured were equally assisted to the hospital to be treated.
When our correspondent drove to the place about 6:30 pm to have a clearer picture of happenings, the entire area was cordoned off by Civilian JTF and some soldiers.
Many people were seen fleeing into other parts of the town with the fear that it may be a prelude to further attacks.
One of those that spoke said: "This is strange, in all the years of the attack on Maiduguri, we have not seen such massive rockets landing on us.
"We just need to flee into town for it is getting dark and we do not know what lies ahead."
The military had to push the insurgents who were stationed around the town away with air bombardment to stop the town from getting infiltrated by the insurgents.
One of THISDAY's top security sources, who was contacted said he could not talk as he was still involved in getting those injured to the hospital and getting the town secured from infiltration.
All attempts to get the military and other security agencies to talk on the incident officially was unsuccessful as messages sent to their known spokesmen were not replied, and calls to their mobile lines were not picked.
Scores of Terrorists Killed as Troops Clear Borno Communities
The military high command, however, said earlier yesterday that troops on the orders of the Chief of Army Staff, Maj. Gen. Ibrahim Attahiru, have cleared Marte and other towns occupied by terrorists in Borno State.
THISDAY learnt that scores of terrorists were killed during the battle while land mines designed to hinder the movements of troops were destroyed.
Marte, a local government area in the troubled state was recently reported to have been attacked and taken over by Boko Haram.
Addressing troops of the Nigerian Army Super Camp 9, Dikwa, Borno State last weekend, Attahiru had directed them to clear the insurgents from the areas within 48 hours.
But the Nigerian Army said Attahiru led troops to clear the towns of insurgents.
Army spokesman, Brig. Gen. Mohammed Yerima, told THISDAY that Attahiru led troops to rid Marte and other towns of insurgents.
He said claims that insurgents hoisted a flag in Marte were unfounded.
"Were they there? The chief of army staff was there himself. Was he not there by himself? He went there with troops and cleared everything; so, is it this morning that they will say insurgents hoisted their flag? Were they there?
"We have to work to build this nation and not to bring it down," he said.
Yerima said Attahiru led the troops in order to boost their morale.
"This is an incident that happened and the chief of army staff was there by himself. He boosted their morale. He changed the deployment.
"Don't allow anybody to bamboozle you. If there is any development, I will let you know," he said.
One of the leaders of Civil Joint Task Force in Borno State, Baba-Shehu Abdul-Gani, also confirmed to THISDAY that Boko Haram has been pushed back from Marte LGA.
Abdul-Gani said the soldiers were in Marte and had taken control of the local government area.
He said: "I can tell you that the troops of the Nigerian Army are now in Marte and there is no more sight of the terrorist group."
The army chief had given the troops 48 hours to clear areas around Marte, Chikingudu, Wulgo, Kirenowa.
"You must not let this nation down. Go back and do the needful and I will be right behind you. You should rest assured of all the support you require in this very onerous task.
"You are aware of the recent attack on Dikwa and Marte, you should not allow this to happen again; go after them and clear these bastards," he had stated.
The COAS had commended the efforts of the troops in the fight against Boko Haram.