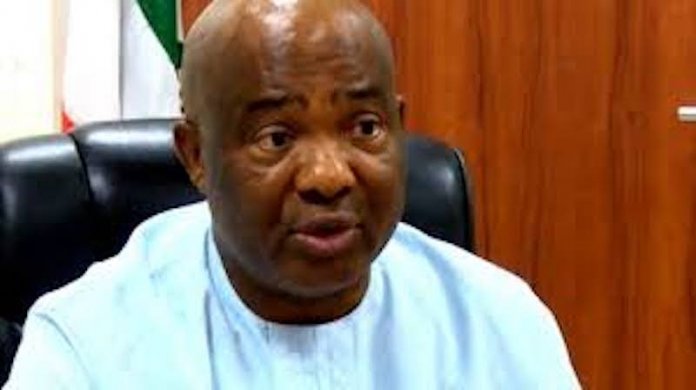 By Deji Elumoye
Governor Hope Uzodimma of Imo State yesterday justified the recent invasion of Orlu town by soldiers saying he invited the military to ensure safety of lives and property.
He also stressed that he has nothing personal against his predecessor, Senator Rochas Okorocha.
Uzodimma, who spoke with reporters after meeting with President Muhammadu Buhari at the Presidential Villa, Abuja, said he invited the military to Orlu to avoid total breakdown of law and order in the area.
According to him, when sporadic shooting and killings persisted in Orlu and the police became overwhelmed, he had no choice but to alert the President on the need to send military to help in stopping the mayhem.
"On the issue of bringing the military to Imo State, you recall, during the #EndSARS protests, a lot of property were damaged in Imo State, police stations were burnt down, soldiers were killed, their rifles removed from them. And immediately after the ENDSARS, we thought it was over then issues of kidnapping, where you know, a Catholic Bishop was kidnapped and eventually killed. And these militants come out and begin to shoot.
We lost lives, market women were killed, old women were raped in Orlu area of Imo state and they visited this serious terror on the citizenry. And then I came here, pleaded with Mr. President for his support and he sent additional support by sending in police and the military also came in. And that is where we are. It was on my invitation that the military came. And I did that because I know the situation was beyond the local arrangement, we needed help. And the help was given to us".
He added that normalcy has returned to Orlu town while those arrested during the crises will face the full wrath of the law.
"As I speak to you the situation has come down to normal, people are now going about their businesses. And those caught will soon be charged to court. And all those military riffles from the army, the police, AK-47, and so on, were recovered by the people that came. We are a government levelled with the responsibility to protect lives".
Uzodinma stated that he has no personal rift with his predecessor, Okorocha but basically official issues bordering on recovery of government property.
On Okorocha's alleged plot to assassinate him, the governor asked"who will assassinate him? I don't know about any attempt to assassinate Okorocha , because I have no personal issues with him".
According to him, Okorocha tried to unseal a recovered government property already seized by the state government.
"The only thing I know is that few days ago one of the property sealed by government, the former governor went there with his thugs. You people saw it; it was live. He went there with thugs himself physically, wounded the policemen there, wounded the Civil Defence Civil people, the Civil Defence officer is currently still in the hospital and then broke in and entered. Of course, you must have heard him say that he is richer than the government and that he is above the law.
"I am not directly involved. It is a position taken by the government. There is a difference between governor and government. The government of Imo state sealed a property. And I think that if there is anything anybody considers that is not right, the person should go to court to address the issue. Not to take laws, take to self-help."