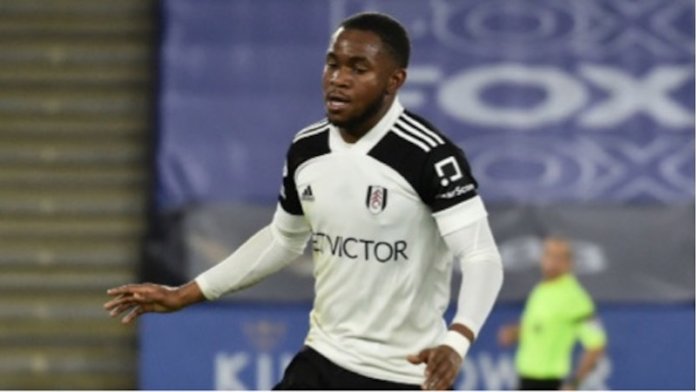 Though he had represented England at the age-grade level, and was a part of the England U-20 side that won the World Cup in 2017 and made 11 U-21 appearances, Ademola Lookman has never hidden his wish to player for the country of his father. It was indeed a dream come true when he was cleared by FIFA to play for Nigeria
World football governing body FIFA during the week approved the applications of Fulham striker Ademola Lookman to play for Nigeria.
Lookman, who was a key part of the England U-20 side that won the World Cup in 2017 and made 11 U-21 appearances, made the decision to switch his international allegiance to the birthplace of his parents last year. National coach Gernot Rohr has stressed the importance of regular club football in selection for the Super Eagles and Lookman has been impressive since joining Fulham on loan from RB Leipzig, scoring three goals in 15 appearances – mostly recently against league leaders Manchester United last week.
Though, Ademola Lookman once turned down an invitation to play for Nigeria, preferring the colours of the Three Lions of England, but with Manager Gareth Southgate not looking at his direction for the 2018 World Cup, a further push from Nigeria however convinced him.
The Nigeria Football Federation President, Amaju Pinnick, had severally indicated his resolve to bring good footballers of Nigerian dissents from all over the globe to the national team.
In early 2017, Lookman turned down the opportunity to switch allegiance to Nigeria after an approach from Rohr but was selected in the England U-20 winning team to the 2017 FIFA U-20 World Cup, where he scored three goals.
Lookman has had an unconventional route to the top. The jump from League One to Premier League has drawn parallels with Dele Alli's move to Tottenham, but while Alli was on MK Dons' books from the age of 11, Lookman did not set foot in a professional academy until he was 16.
Charlton U-21 coach and former Wimbledon striker, Jason Euell remembers how Lookman came to the club's attention. "It was right at the end of the U-16 year in 2014," he tells Sky Sports. "The majority of scholarship decisions had already been made, but every year our U-16s play a game against Inner London, an FA side for the best players in south London."
Charlton had received a tip-off about Lookman. The youngster was playing what Euell describes as "innocent Sunday football" for an amateur team called Waterloo FC in the London borough of Lambeth, but he produced a dazzling performance for the county side in front of Charlton's watching coaching staff.
"He had no academy background at all," says Euell. "Sometimes it can happen that a player slips through the net, but we were lucky to already have a relationship with the county and with Waterloo FC. We signed him on a scholarship straight away."
Lookman was drafted into Charlton's U-18 side during his first season at the club, scoring 17 goals in 29 appearances as they clinched both regional and national titles. It wasn't long before Premier League clubs started to take note, but Charlton are experts in youth coaching and understood the need to be cautious with his development.
"We knew the talent he had but sometimes it's about taking your time with someone like him," says Euell. "He had been training once or twice a week but he had to get used to every day, professional football while doing his school work."
Lookman was eventually promoted to Euell's U-21s, and in November 2015 he made his senior debut in a 1-0 defeat to MK Dons. Charlton's season would end in relegation to League One, but a little over a year on from playing Sunday league football, Lookman took the step up in his stride, scoring five goals in 24 appearances and landing the 2015/16 Championship Apprentice of the Year award.
Lookman's breakthrough was recognised with his first England U-19 call-up last May. His outstanding attributes are his pace, dribbling and powerful finishing ability with both feet, but without any professional coaching before he joined Charlton, there were areas of his game which required extra attention.
"There were a lot of things he missed out on, and that was the learning and understanding of the game," says Euell. "Young lads always say they can play football, but then comes the tactical side of it, the game understanding and the decision-making process.
"We didn't want to stop Ademola from doing what he does because that's what makes him special, it was just about getting him to understand when and where to do certain things. At every level, every game is different. He had to learn what was needed from him in and out of possession."
Charlton rejected an offer from Crystal Palace in the summer, but Lookman never lost focus and added seven goals in 25 appearances for Charlton in the first-half of this season. Euell chuckles as he recalls having to drag him off the training pitch at Charlton's Sparrow's Lane headquarters. That determination to improve should serve him well at Everton.
"He's a great character and everyone else at the training ground would say exactly the same thing," says Euell. "He is just a humble boy who loves his football. He hates being injured and he always wants to do extra work. He just wants the ball at his feet and wants to improve. He's one of those guys who absolutely hates losing."
Charlton manager Karl Robinson only coached Lookman for a few weeks having taken over at The Valley in November, but he described the teenager as an "incredible talent" and a "joy to work with" when the deal was confirmed.
Born as Ademola Olajade Lookman October 20, 1997, in Wandsworth, London, to Nigerian parents, he attended St. Thomas the Apostle College in Peckham where he achieved three As and five As at GCSE.
Lookman signed for Everton on January 5,2017 for a fee of £7.5m rising to £11m on a four-and-a-half year contract and made his debut for the club 10 days later, scoring on his debut.
He received his first international call up on May 16, 2016 being named in the England U-19 squad for a double header against Mexico. He was subsequently named in the England squad for the European U-19 Championships the same summer.