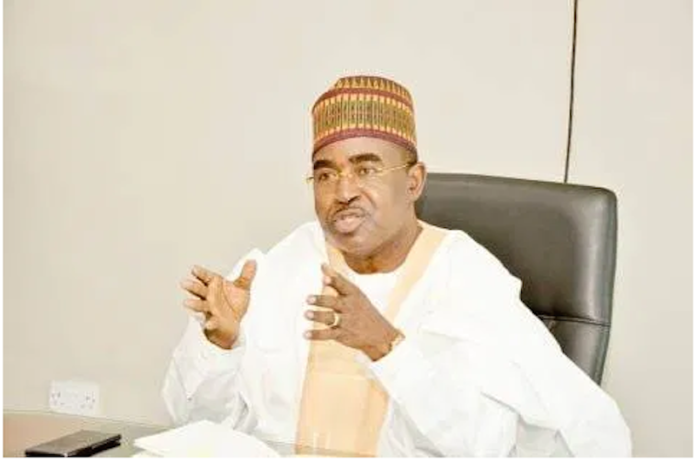 The NDLEA chief executive has his work well cut out, writes Chuks Akamadu
For those of us who have been actively involved in the fight against drug abuse in Nigeria, the recent appointment of Brigadier General Mohammed Buba Marwa (retd.) as Chairman/Chief Executive of National Drug Law Enforcement Agency (NDLEA) was a masterstroke, somewhat, that presents potential for strategic reinforcement and sure more than a faint hope of winning the battle.
With his background as a fine soldier, erudite scholar and an accomplished public administrator as well as the painstaking, rigorous and exhaustive job he did as Chairman of the Presidential Advisory Committee on the Elimination of Drug Abuse (PACEDA), Marwa is, with respect to this appointment, a square peg in a square hole.
As military administrator of Lagos State, Mohammed Marwa literally ran criminals out of town through his administration's ingenious Operation Sweep initiative, which brought crime and criminality in the nation's commercial capital to their knees.
It is for these compelling reasons that a broad spectrum of stakeholders in the anti-drug abuse battle in Nigeria are super-excited about this brilliant choice of President Buhari and, quite understandably, breathlessly waiting for the NDLEA, under Marwa's watch, to commence the urgent task of sweeping Nigeria clean of all narcotic substances and illicit trafficking.
However, while applauding President Buhari for this excellent and timely appointment, I urge him to go the whole hug by urgently releasing and implementing the PACEDA Report in the interest of our nation, whose youths are currently being ravaged by the worsening scourge of drug abuse.
But beyond the retired brigadier general being an excellent choice is the indisputable fact that the job is not going to be a walk in the park for him. It is actually going to be an uphill task and the price that he might be required to pay very steep. Within the agency itself, he has a lot of house-cleaning to do, ranging from alleged financial recklessness to low morale of officers and unreliable data. There is also the obvious challenge of inadequate funding.
With all eyes on the new NDLEA helmsman, the expectations are high. Stakeholders cannot wait to see extensive reform undertaken and sanity restored in the agency. The general public, on their part, would also look forward to seeing well-motivated officers who discharge their duties more professionally and with stronger patriotic accent.
Mohammed Marwa has come at a time when the world average in drug abuse is 5% whilst Nigeria's is alarmingly 15%. Similarly, National Survey on Drug Use conducted in 2019 by National Bureau of Statistics (NBS) in collaboration with the Centre for Research and Information Substance Abuse (CRISA) and sponsored by United Nations Office on Drugs and Crime (UNODC) and the European Union (EU) confirmed that Nigeria has about 14.3 million hard drug users aged between 15 and 64. This is not good news!
How the retired army general would go about reversing this ugly trend is what history is eagerly waiting to witness and document. He has also inherited an agency with appalling staff strength. Until recently, NDLEA had been struggling to carry out its mandate with 5,000 officers and men nationwide. Things began to look up for the agency when Mr. President not too long-ago approved recruitment of additional 15,000 in phases – and that is yet to materialize.
Among others, the new Chairman/Chief Executive of NDLEA will also inevitably contend with young people and housewives who are far gone in the abyss of drug abuse and a growing number of their peers joining them on a daily basis. This is going to be a tricky one for him because there are quite a number of socio-economic factors that support and sustain this degeneracy which are clearly outside the control of NDLEA.
To make matters worse, given the hydra-headed nature of this monster, it's glaring that "law enforcement" alone would not win the battle. We need the collaborative and complementary efforts of diverse stakeholders to bring out the potency in law and its enforcement. Therefore, every sane, well-meaning Nigerian with an ounce of patriotism should hurry up and head for the battlefront, lest this scourge takes us all into captivity!
But by far the greatest challenge would predictably come from the fortresses of men of means and immense power who are said to be behind the illicit drug trade in Nigeria and in most cases, addicts themselves. They are said to be strategically positioned in high places – political leadership (both executive and legislative arms), commanding heights of the economy, military high command, etc.
Daunting as this task may seem, I am inclined to believe that yes Marwa would soon be walking a minefield, but his experience as PACEDA Chairman must have reasonably exposed him to the depth of the rot and the forces at play. My guess also is that same exposure must have prepared him adequately for the onerous and thankless job he has accepted to do.
And to think that the war against drug abuse is an extension of the fight against insurgency, banditry, kidnapping, rape and sundry violent crimes, the change of guard in NDLEA should provide a fresh impetus for synergy and resilience on the part of Nigerians, as the nation braces up for a renewed offensive against the menace of substance abuse, under the trusted leadership of the new "War Commander".
The National Assembly is hereby invited to play an active role, as a matter of urgent national importance, in the impending showdown by realistically addressing the lingering funding gaps in the agency's operations and administration. Please let us bear in mind that no cost should be spared in our bid to redeem the future, since we do not have another country to call ours.
Akamadu, M.IoD is President, Centre for Ethical Rebirth Among Nigerian Youths