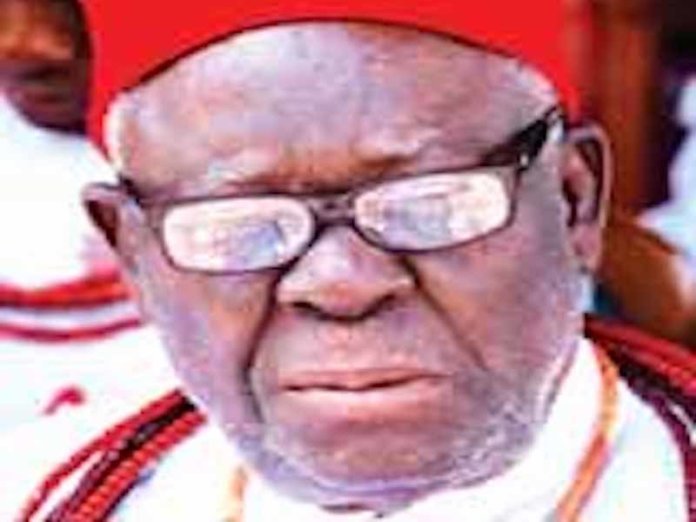 Deji Elumoye, Chuks Okocha in Abuja and Omon-Julius Onabu in Asaba
Prominent Nigerians, including former President Goodluck Jonathan; former President of the Senate, Senator David Mark; and former Governor of Delta State, Chief James Ibori; yesterday commiserated with Delta State Governor, Senator Ifeanyi Okowa, over the death of his father, Chief Arthur Okowa.
Others who expressed their condolence were the Deputy Senate President, Senator Ovie Omo-Agege, and the Peoples Democratic Party (PDP).
The older Okowa, a retired educationist, died in the early hours of yesterday at the Federal Medical Centre (FMC) Asaba after a brief illness, THISDAY learnt.
He was 88.
Born in 1932 at Owa-Alero, an agrarian community in Ika North-East Local Government Area of Delta State, the late Okowa was a renowned community leader in Ika nation.
In his condolence message, issued by his spokesman, Mr. Ikechukwu Eze, Jonathan described the death of the octogenarian as a great loss to the family and Delta State, adding that the wisdom and experience of elders like him remain valuable to the nation's development.
He prayed for the repose of the soul of the deceased and urged the governor and other family members to take solace in the fact that their father led a fulfilled and exemplary life.
"Elder Okowa was a dedicated patriot who gave his best to the nation. His legacies and ideals will be sustained in the lives of all those he mentored, including Governor Okowa and other respectable members of the society."
Ibori also condoled with Okowa.
In a statement signed by his Media Assistant, Mr. Tony Eluemunor, Ibori paid tribute to the governor's father whom he described as a political sage.
"I have known Sir Okowa for decades. He was one of the founding pillars of my political journey and government. I benefited greatly from his profound wisdom. He was an astute political strategist and tactician. We will miss him sorely. His memory will ever remain strong in my heart," he said.
The PDP has also commiserated with the governor.
In a statement by its National Publicity Secretary, Mr. Kola Ologbondiyan, the party described the death as a huge blow not only to the Okowa family, but also to Delta State and the nation at large, saying the older Okowa was a patriot and a shining example of honesty, hard work, humility and love.
It said he committed his active years to the good of humanity and the service of God.
Mark, in a condolence message to commiserate with the governor, the government and the people of the Delta State, and described the deceased as a pathfinder who trained his children to be patriotic and responsible citizens.
According to him, the success story of the governor and his siblings is a testimony to an ideal father who lived an exemplary life worthy of emulation.
He told the governor to take solace in the fact that his father left his positive footprints in the sand of time.
Omo-Agege noted that Okowa's father led a fulfilled life and endeared himself to his people.
He said: "As a father to many other than his biological children, Sir Arthur Okowa meant a lot to the people of Owa Alero in Ika North East Local Government Area of Delta State where he was born in 1932.
"I sincerely commiserate with the family of our dear Governor, Dr. Ifeanyi Okowa and the good people of Owa-Alero over the transition of this great man to eternal realms."